With four months until Ghana's ruling New Patriotic Party holds its presidential primaries, vice president Mahamudu Bawumia is among the favourites to become the party's candidate at next year's presidential elections, which incumbent Nana Akufo-Addo will not contest following two terms in office. Before entering politics as the surprise running-mate pick for Akufo-Addo in the 2008 elections, Mahamudu Bawumia was deputy governor of Ghana's central bank and one of the team that implemented the redenomination of the currency and a reasonably successful programme targeting inflation.
As Akufo-Addo's vice president since 2017, Bawumia has found himself a new mission. While he serves in the traditional role of Ghanaian vice presidents as head of the government's economic management team – during a time in which the country has entered an economic crisis and emerged with an IMF package – he has mostly dedicated himself to the digital transformation agenda, becoming the chief apostle, instigator and overseer of several landmark digitalisation projects that are slowly transforming how Ghanaians trade, access public services, interact with each other and travel.
Critics have been quick to accuse him of deserting the economic mandate, especially in the wake of recent economic challenges, but Bawumia insists that digitalisation is very much part of the economic transformation that his party promised. With another election looming, this time with the Oxford-educated Bawumia himself among the favourites to lead his party, that message will be tested and the impact rigorously assessed. He talks to Omar Ben Yedder about how his recent priorities will feed into his leadership bid.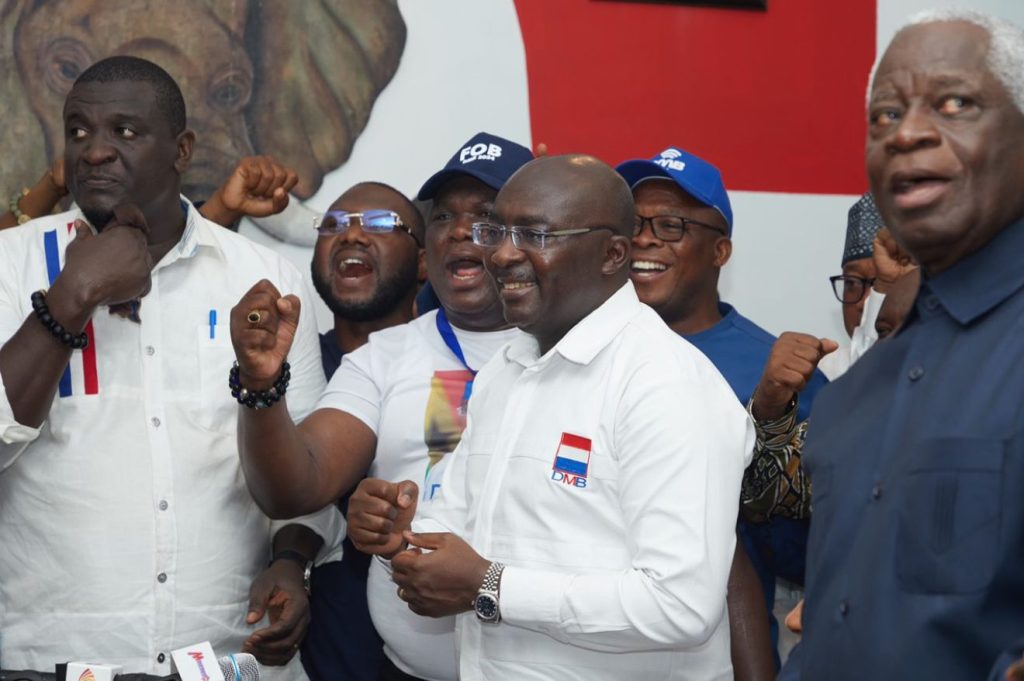 African Business: The digitalisation of government has been a central pillar of this administration – how have you driven digital transformation?
Mahamudu Bawumia: When we came to office, we looked at how best to achieve our objective of modernising our country and creating more inclusion in terms of society and getting more growth. We looked at where the world was heading and how do you get this country ready to participate in the fourth industrial revolution.
Africa missed out on the first, second and third industrial revolutions and we didn't want Africa and Ghana to also miss out on the fourth. We came to the conclusion that digitalisation was the best way to get inclusion in society and that we could leverage technology to address many issues.
You are able to bring in efficiency in the delivery of public services, you are able to reduce corruption, you are able to increase access [to the poorest]. Historically the elites have generally been the beneficiaries of the inefficiencies that have come through since independence. For me and for us, digitalisation is a way of lifting up the poor to participate fully in society.
You look at the situation where many people did not have a national ID. They were not counted as part of society. Most people don't have bank accounts and are financially excluded. How do you participate? We asked ourselves: how do we make it possible for anybody in Ghana to have a bank account?
We introduced mobile money interoperability. We made mobile money accounts and bank accounts interoperable.
Today in Ghana anybody with a national ID card can open a bank account sitting at home. They don't have to go and fill a form, they just need to enter a USSD code [on a mobile phone], enter their Ghana card number, their national ID number – and that's all: their bank account is open and they can begin to transact.
That really helps a lot of people, in the villages, in the rural areas, who would not normally be able to go and apply for a bank account. They are intimidated even just to enter banks.
We believe that digitalisation in all the aspects that we are doing really helps the poor. It helps efficiency of delivery of services. It provides a major pillar for the country. This is where we are going. We want to leverage technology for economic growth with inclusion.
During this administration, has it made things more efficient?
It really has. If you go and you want to clear your goods at the port, it used to be a very laborious process; we've digitalised that process. Even sitting at home, you can go through the clearing process. You don't have to go down [to the port] to pay bribes to people. Even sitting abroad, you can go through and clear your container.
If you are trying to apply for a driver's licence, we have digitalised the whole process and this was always a place where you needed middle people to facilitate the process but now it's world class.
The service that you are getting to get a driver's licence in Ghana is even better than in the UK or the US.
I've got all government services on to one portal, the ghana.gov portal. You can go there and have whichever service you are looking for. Today, you can pay your taxes online – it never used to be the case. Through digitalisation we have been able to widen the tax net.
Related article
Ghana goes paperless amid privacy concerns
When we came into office, only 4% of the adult population had tax identification numbers. Now we have issued the Ghana card, the national ID, to everyone – and we came up with the idea of associating that number to the tax identification number for everybody.
Once we did that, we went up from 4% of the adult population with tax identification numbers to 85% of the adult population with tax identification numbers. They can file their taxes online, on their mobile phone, and they can pay online because of mobile interoperability. Today, anybody who wants to buy electricity doesn't have to wait and go to the electricity office to buy electricity, they can do it on their mobile phone; if your electricity runs out in the middle of the night, you can just reload it.
The same goes for the national health insurance card; previously it used to be a laborious process.
From August, we will issue the national ID number to all newborns, so we can start collecting data from birth. That number will track you all the way through. The same number that is your national ID number, it's also your social security number. Your national health number is also your tax and education number. We have linked all the data.
Looking at the passport office, we have digitalised the process. As a result the number of passports that have been applied for has increased. Before the digitalisation the passport office used to generate a revenue of 1m Ghana cedis ($89,000) a year. Since digitalisation they are generating 56m Ghana cedis ($4.9m) a year.
We went to the electricity company and digitalised their collections. Previously they were generally collecting 450m Ghana cedis ($40m) a month. Now they are doing 1.2bn a month ($106m), a 167% increase.
The whole digitalisation initiative is really helping us reduce corruption, increasing efficiency, increasing inclusion. The objectives are being met and we want to deepen the process.
When you first came into government, education was at the heart of your manifesto: free senior high school, to enrol more kids in education. But critics say it's been a drain on public finances. Where are you with your education programmes? Are you satisfied?
For President Akufo-Addo, and for our government, education was key in terms of transformation of society. All the research that we have shows that human capital is the defining factor for the transformation of countries. We thought that increasing access to education and the quality of education was the key for the transformation of Ghana. We are having too many children dropping out because of the inability of their parents to pay the school fees for secondary education. We made the decision that we were going to implement free senior high school education to bring inclusion to a lot of people who were not included. It's a bold move and it's not an inexpensive move – so we had to make sure we budgeted for the free senior high school education costing roughly 1bn cedis ($88m) a year. There was also the problem of lack of adequate infrastructure for the students in terms of classrooms.
There are two things that I have been very impressed with about what has happened in education, as far as the free senior high school policy is concerned. Number one, we've seen a 75% increase over the last six years in enrolment from 800,000 students to 1.4m students. That's the largest increase we've seen since independence.
What is also very interesting is that more and more girls have gone into school. There used to be a lot of gender disparity – now there is gender parity between boys and girls in senior high school.
The second thing that really has impressed me about this is that the performance of the students in the West African Senior School Certificate exams has also exceeded our expectations. We were worried, because normally when you increase access there is a problem of declining performance – but what has happened is that performance has rather improved across the core six subjects. We've gone up from a 41% pass rate to a 64% pass rate. That's a major increase. We are on the right track. It's not cheap: but we believe that down the road education pays off. We believe that, looking at the country, you need this investment in education for Ghanaians to participate fully in the global economy.
Tell us about the next instalment in your education programme, the one child one laptop programme…
When we were growing up, for me at least, growing up in the northern part of the country at a time when things were very tough, even getting textbooks to read was a problem. Today, we have increased availability of textbooks and of the libraries. We've almost doubled the number of public libraries in the country. And today there is so much information on the internet for students. Your typical library in a school cannot contain all the information that you can get on the internet.
When you look at the world going forward, the sort of things that are happening – the importance of science, technology, engineering, and mathematics (STEM) studies; robotics; artificial intelligence – this is where the world is heading.
We believe that access to laptops and access to wi-fi in the schools allows our children to have access to all of this knowledge and to be competitive with children in the developed world.
It's not a luxury to me: when you think about one laptop for every child in senior high school, it's actually a necessity for us at this stage of our development, so that we are not left behind. The first thing that we did was to make sure that we had wi-fi in senior high schools. Not only did we do the senior high schools, we did the colleges of education, and we did the same thing for the district education offices, because the teachers and those who manage must also be able to be online. Across 13 public universities, we provided wi-fi. It's not just the senior high school – we are looking at the whole commitment across different levels [of the education system].
Now we are bringing in the laptops. The students will have access to material that they would not normally have had. They will have access to past questions. We will [integrate] video [content]. You can be in a [remote] village school, you will be able to see how the best schools are teaching and the best teachers [are teaching], their notes and all of that. Even teachers can find out what their colleagues are teaching. Students can also see what is being taught in some of the best schools in the country, how these lectures are being delivered.
This initiative bridges the gaps between the less well-off schools and the much better-off schools. All these schools are publicly funded. We should allow cross-fertilisation of ideas. Lectures should be made available to everybody, if they are the best in the country. We are doing this to give our students a big lift in being competitive globally. Today if you go to many developed countries, even kindergarten students are using laptops: this is where the world is heading.
What is also important when you look at it in this regard is the budget. We believe that we are going to make savings through this.
How are teaching methods changing?
It's important that if you are going to bring this country towards an education system that is ready for the fourth industrial revolution, you cannot maintain the same [methods of] teaching.
Teachers are being trained in many areas and getting better ways of teaching. We are putting an emphasis on robotics, and STEM. We've set up ten model STEM schools. What is also very interesting for me is that there is [a desire] from the students [to participate] in this area – technology, digital, STEM, robotics. This attitude has seen two high schools win the world robotic competition in America. They beat countries like Germany, like the US, it was just amazing. One was a girls' school and one was a boys' school and they won the world robotics competition…from Ghana; who would have thought?
You give [kids] the opportunity and they will lead the world in many of these areas. What they lack is just the opportunity. These laptops, this access gives our children the opportunity. I believe that all things being equal we should be rolling [them] out in July and August to be ready for September and the Ministry of Education is working on that.
The primary elections are coming up. What are the lessons learnt that you will take into a new administration?
One of the first things that I did as vice president was to set up a delivery unit in my office and that delivery unit has been very key these last six years on making sure that projects are delivered. Many people are surprised how much we have gotten done but I believe very clearly that all the digitalisation works that we have done and other things are very much driven by the delivery unit that allows us to bring all the ministries together, many different ministries, and they drive that project implementation for the different projects.
I think also that the focus on education is one that I believe we should really continue to do because the payoff is quite high down the road.
What will be the essential tenet of your campaign?
There are different areas. Digitalisation and leveraging technology for inclusive economic growth would be one area.
We want to make Ghana the digital hub of Africa. The world right now is looking at systems data, artificial intelligence and all of that.
We can use that to improve agricultural productivity, to improve healthcare and to improve education. These are for me the three big areas. For all the concerns about artificial intelligence and data it is very important that we get the best out of that for Africa.
We need to go into predictive agriculture. Today in Ghana we have drones delivering medicines and vaccines. We are networking all the hospitals so that your records are centralised. We have launched Africa's first national scale e-pharmacy, so that when you have a prescription you can go online and find the nearest pharmacy to you.
If you have artificial intelligence getting all this data, you can have solutions to diseases which, given our own DNA in Africa, may be quite different from other places. We need to get healthcare outcomes which are suitable for us, so we need to develop our own research.
Food security is another area I want to focus on. I want to introduce what I call a golden age of the maximisation of the benefits of our natural resources: gold, lithium and domestic beneficiation. I introduced a new policy recently – gold for oil – in which we are leveraging the gold to pay for oil and not going looking for scarce dollars that we don't have.
And there's the energy transition, with a focus on renewables. And really to unleash the private sector, including in infrastructure. The government can't be doing everything. These are some of the areas I want to really touch on.
Subscribe for full access
You've reached the maximum number of free articles for this month.
Digital Monthly
£8.00 / month
Receive full unlimited access to our articles, opinions, podcasts and more.
Digital Yearly
£70.00 / year
Receive full unlimited access to our articles, opinions, podcasts and more.