As the nation's primary supplier of electricity, KenGen commands a market share of more than 60% in Kenya, with 32 power-plants across the country. Today, with an installed capacity of 1,904 MW, KenGen generates most of its electricity from renewable sources: Hydro (45%), geothermal (39%) and wind (2%). Thermal generation from fossil fuels accounts for only 14%.
As one of the top 10 largest producers of geothermal energy in the world, the Nairobi Stock Exchange-listed company is also spearheading the global energy transition. We asked KenGen's chairman, Julius Migos Ogamba, about the firm's current significance, future ambitions, and visionary strategies that are poised to transform the regional energy landscape.
Could you provide an overview of KenGen's current role and significance in the energy sector in Kenya?
Julius Migos Ogamba: As the leading generator, with 1,904 MW of generation capacity, KenGen supplies up to 80% of the electricity consumed in Kenya, with over 86% of this coming from renewable sources. KenGen is a true champion of clean energy.
How is KenGen leveraging renewable energy sources, such as geothermal, wind, and solar, to meet Kenya's energy demands?
We are on course to achieving 100% clean energy by 2030 in support of the Government of Kenya's clean energy agenda and global commitment to sustainable development. KenGen's business growth strategy is geothermal-led. As such, the projects in the company's pipeline are anchored on green and renewable sources that include geothermal, wind and solar.
The company is in the process of developing additional capacity in green energy in the medium and long term with a focus on geothermal, wind and solar.
Read more about energy in Africa
What kind of role is KenGen playing in the global energy transition?
At the continental level, through our diversification strategy, KenGen has partnered with other African nations especially in the Horn of Africa in accelerating renewable energy access through geothermal resource development. KenGen is at the forefront of greening the African continent through geothermal drilling consultancy services in countries like Ethiopia and Djibouti, in addition to capacity building and geoscientific feasibilities for Rwanda, Comoros and Malawi.
Kenya has ambitious plans to achieve universal access to electricity. How is KenGen contributing to this goal, particularly in rural and remote areas?
As a company, we are committed to and continue to support the government of Kenya in generating affordable, reliable, safe, and competitively-priced electric energy.
We are committed to the reduction of the cost of power and are in fact the cheapest supplier of power to the national grid, which has made electricity connectivity possible in Kenya.
Today more than 78% of Kenyans are connected to or have access to electricity, which is one of the highest figures in Africa. While we have other players who distribute the power we generate to the consumers.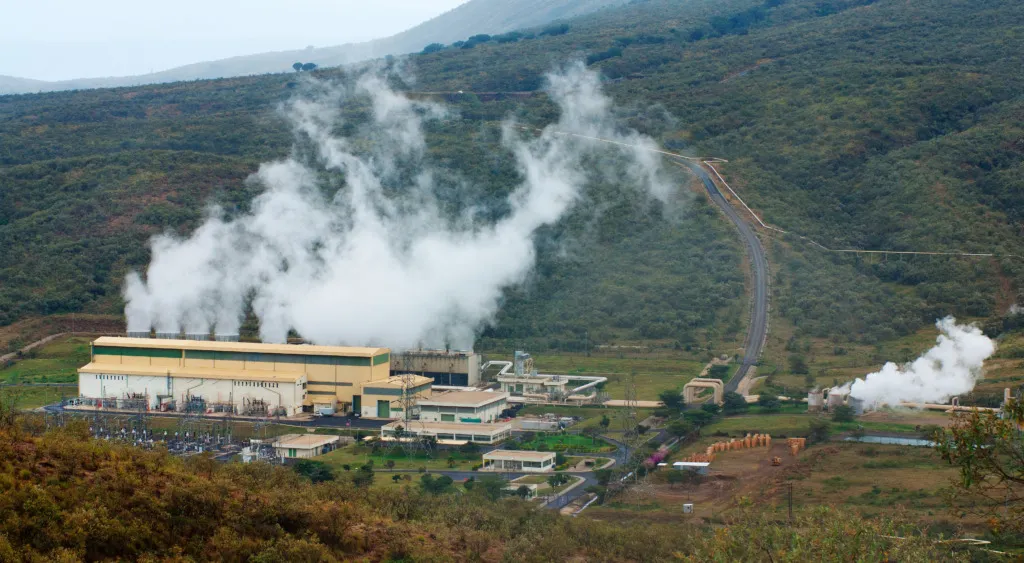 Can you discuss KenGen's current and future partnerships with local and international stakeholders, including other energy companies, investors, and government agencies?
We are currently piloting a green hydrogen project that will generate 100 MW in addition to hydrogen that will be used in the production of ammonia, a critical ingredient in fertiliser generation.
Regionally, we're also keen on implementing our diversification strategy to attract new revenue streams. We continue to cement our regional geothermal footprint with drilling contracts in Ethiopia and Djibouti, while exploring new opportunities in Rwanda, the Democratic Republic of Congo, and Comoros. We will continue to focus on the delivery of the ongoing projects in the Horn of Africa while exploring other geothermal opportunities in the African continent.
Nationally, KenGen is planning to build a Green Energy Park, targeting industries such as fertiliser, iron and steel, textiles, foods, and beverages, among others. The park will provide industries with affordable electricity and steam for use and will sit on KenGen's 1,824 hectares at the Olkaria geothermal hub.
We are open to more strategic partnerships, especially on climate change, deployment of renewable energy technologies, building power plants and financing of green projects.
What major challenges does KenGen face in terms of infrastructure development, project financing, and regulatory frameworks?
As a company we remain alive to the emerging challenges in the operating environment, and we will continue to respond with agility.
One of the biggest limiting factors to green energy project development is funding, which therefore calls for us to seek innovative financing models to help close the gap. For example, we have been able to address this challenge through floating Initial Public Offers (IPOs), government loans and Development Financial Institutions among others.
Another challenge we sometimes face in infrastructure development is getting the social licence to operate when some community members feel they were not involved in the project, which can lead to protracted delays in implementation, especially with new projects in green fields.
Land acquisition for power projects can be difficult to secure, especially community-owned land which may be a bit complicated to acquire.
How is KenGen embracing digital technologies and advanced analytics to enhance operational efficiency, optimise maintenance, and improve grid reliability?
We have embraced technology to enhance operational efficiency, optimise the maintenance of our plants and in turn improve our grid reliability through a continuous supply of electricity.
Currently, we are running a supervisory control and data acquisition (SCADA) system that gathers data in real-time from remote locations to control equipment and conditions for all our plants. In addition, we are also implementing the Internet of Things (IoT) for our geothermal plants.
Read more about energy in Kenya
With the rising demand for electric vehicles and the transition towards electric mobility, how is KenGen planning to support the charging infrastructure?
Last year, KenGen rolled out an elaborate plan to lead Kenya's transition from gasoline-powered vehicles to Electric Vehicles (EV), as another way of combating climate change while solving transportation challenges in the country. We believe that EVs will revolutionise the transport sector in Kenya as the country embraces the shift to them.
As part of our EV plan, KenGen launched an EV pilot project by unveiling its first four Electric Vehicles, to support our diversification ambitions in the e-mobility sector.
The four vehicles, which include two SUVs and two double-cabin pickups, will primarily be used for data collection and policy development as the company prepares to install over 30 EV charging stations across the country in 2023.
The pilot EV units will give KenGen a comprehensive analysis of the feasibility of the electric-vehicle transition while also providing insights on initial technology choices for electric charging infrastructure in the country.
We believe that the development of e-mobility is an area that will require a multi-sectoral approach. Under the leadership of the Ministry of Energy and Petroleum and working together with key partners, we have no doubt that this transition will pick up pace faster than envisaged.
And how long until we can expect to see electric vehicles on the streets of Nairobi?
Within around 5-10 years, as we already have hybrid vehicles powered by a combination of petrol and electricity in Kenya.
Looking ahead, what are KenGen's key priorities and strategic objectives for the next few years?
One of our largest resources is geothermal and all our future investment efforts going forward will be directed to the untapped 9,000 MW geothermal potential in the Rift Valley. As a company, we envisage putting up 3,000 MW of renewable energy in the country over the next 10 years.
This new plan will be driven largely by deploying up to 2,000 MW drawn from geothermal sources and 1,000 MW from hydroelectricity as baseload power to stabilise the country's energy mix, thereby diversifying away from thermal sources and shifting focus to more reliable and cleaner geothermal energy, and is exactly what government envisions.
Want to continue reading? Subscribe today.
You've read all your free articles for this month! Subscribe now to enjoy full access to our content.
Digital Monthly
£8.00 / month
Receive full unlimited access to our articles, opinions, podcasts and more.
Digital Yearly
£70.00 / year
Our best value offer - save £26 and gain access to all of our digital content for an entire year!