This article was sponsored by Masdar
Masdar's achievements since 2006 have helped to cement the UAE as a leader in the delivery of clean energy on a global industrial scale. In recent years, its collaborations with traditional energy giants and governments have placed green hydrogen firmly in its targets as a future energy source to help deliver economic and environmental goals.
Green hydrogen has long been viewed as a future energy source with great potential. Typically produced from water through electrolysers powered by renewable sources, it can power fuel cells that convert hydrogen into clean electricity directly, enabling energy to be stored and transported from remote renewable plants to distant markets. Green hydrogen can also be converted into synthetic fuels and other energy carriers, such as green ammonia.
With such a diverse range of uses and high energy content, it is believed that green hydrogen will play a central role in the decarbonisation of hard-to-abate industries such as heavy industry and transport and help countries reach their net zero goals. For Gulf Cooperation Council (GCC) countries like the UAE, it is estimated that green hydrogen could generate as much as $200bn in revenue by 2050 and create up to one million jobs in the region, according to a report by Dii and Roland Berger.

A long-term player
Masdar has been active in hydrogen production and power generation as far back as 2008, when it became an early mover in the exploration of clean hydrogen production. It now believes the time is right to accelerate investment in this technology, to advance the sector in support of the UAE's economic diversification and the global clean energy transition.
With experts estimating green hydrogen to have a total market potential of $11trn by 2050, Masdar has become involved in the development of green hydrogen projects to tap into this potential in a bid to meet global energy demand with a focus on community impact.
In late 2021 it was announced that the Abu Dhabi National Energy Company PJSC (TAQA), Mubadala Investment Company, and ADNOC would partner under the Masdar brand to create a truly global clean-energy powerhouse that will spearhead the country's "net-zero by 2050" energy transition while cementing the UAE's role as a global leader of the green hydrogen economy. The new shareholder agreement, which will come into effect this year, will enable Masdar to further capitalize on its shareholders' energy expertise to become a global green hydrogen leader.

African connection
In April this year Masdar and Egyptian investment platform Hassan Allam Utilities agreed to cooperate on the development of green hydrogen production plants in the Suez Canal Economic Zone and on the Mediterranean coast. The programme is backed by the General Authority for Suez Canal Economic Zone, the New and Renewable Energy Authority, the Egyptian Electricity Transmission Company and the Sovereign Fund of Egypt.
The programme seeks to have projects with combined electrolyser capacity of 4 gigawatts (GW) by 2030, and output of up to 480,000 tons of green hydrogen per year.
Masdar and Hassan Allam Utilities see Egypt as a hub for green hydrogen production, targeting the bunkering market, exports to Europe, and boosting local industry. Egypt enjoys abundant solar and wind resources that allow generation of renewable power at a highly competitive cost –a key enabler for green hydrogen production.
Egypt is also close to markets where demand for green hydrogen is expected to grow the most, providing robust opportunity for export. Driven by green hydrogen's export potential, its ability to attract large-scale foreign direct investment and opportunities to contribute to the Egyptian government's efforts to increase the share of renewables in the country's energy mix to 42 percent by 2030, the Egyptian Ministry of Electricity is currently revising its 2030 renewable energy strategy to include green hydrogen.
Demonstrating green hydrogen viability 
Among Masdar's multibillion-dollar clean energy investments is a major collaboration to produce green hydrogen and related sustainable synthetic fuels in Abu Dhabi, called Project Green Falcon.
During Abu Dhabi Sustainability Week 2021, Masdar and some key players in the energy field announced plans to explore the production of green hydrogen and its conversion to sustainable aviation fuel (SAF) via a demonstration project in Abu Dhabi.
Led by Masdar and in partnership with Siemens Energy, TotalEnergies, Marubeni Corporation, Department of Energy in Abu Dhabi, Etihad Airways, Lufthansa Group and Khalifa University, Project Green Falcon aims to serve as a base for a large-scale commercial facility. It will be the first of its kind worldwide to demonstrate the production of jet fuel using solar energy, water, and carbon dioxide. The project will allow for concept development and scale up, help establish the regulatory framework for the production and use of green hydrogen and SAF in the UAE and provide the basis for creating a domestic demand for these decarbonised fuels.
The demonstration plant will be powered exclusively by solar energy, providing power to electrolysers to generate the green hydrogen. Most of the green hydrogen produced will be converted to SAF and a small portion may be used to demonstrate the viability of ground clean mobility applications via large transport vehicles such as buses.
Green ammonia
In yet another landmark partnership agreement, in January this year, Masdar and Engie signed a strategic alliance agreement to explore the co-development of a UAE-based green hydrogen hub. The two companies are currently working together to develop projects with a capacity of at least 2 GW by 2030, with a total investment in the region of US$5bn.
As part of that strategic alliance, the companies have partnered with Fertiglobe, a global nitrogen and fertiliser leader. The companies are seeking to co-develop a globally cost-competitive green hydrogen facility in the UAE, with a capacity of as much as 200 megawatts (MW), to support the production of green ammonia.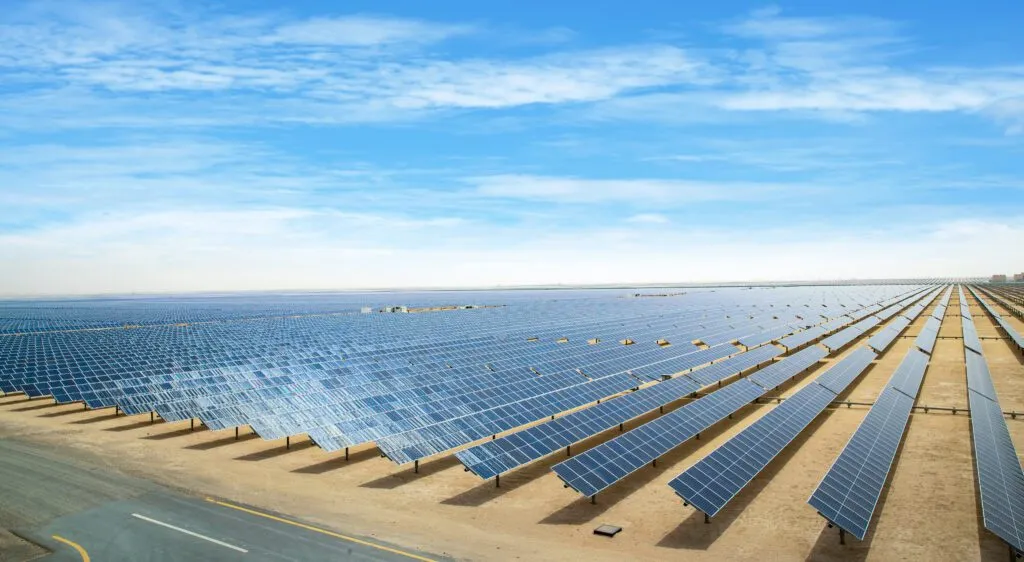 The facility is targeted to be operational in 2025, with Fertiglobe the sole long-term customer. This aim is to capture synergies and complementarities between the partners to establish an "early mover" position in the UAE's hydrogen market. By leveraging existing infrastructure, the companies will initially target local production, with the aim of expanding capacity to create a giga-scale green hydrogen hub for the GCC, with the potential to export to other markets. The strategic alliance will also explore opportunities to develop projects in other geographies.
Global expertise
Tapping into their respective global expertise, in May 2022 Masdar, ADNOC and bp agreed to form a UK-UAE new energy partnership, which resulted in two projects. Under the terms of the agreements, the three energy giants will seek to collaborate on UK and UAE clean hydrogen hub development at an initial scale of 1GW in the UAE and 1GW in the UK, building on the UAE's position as an anchor investor in some of the UK's largest offshore wind projects.
Bernard Looney, BP's Chief Executive Officer, said: "The UK and UAE governments have bold plans for decarbonisation. The UK is our home and we have worked in the UAE for nearly a century. By partnering with the visionary leaders of ADNOC and Masdar, we see massive business opportunity to generate the clean energy the world wants and needs – and at the same time revitalise local economies and create the jobs of the future."