After being twice postponed due to the pandemic, the Commonwealth Heads of Government Meeting (CHOGM) will take place in Rwanda's capital city, Kigali, from 20-26 June.
CHOGM is usually held every two years and brings together the 54 countries that make up the Commonwealth – a club of mostly former British territories and colonies, among them 19 African countries.
Monarchs, presidents and prime ministers from Africa, the Caribbean and Americas, Europe, Asia and the Pacific will travel to Rwanda to discuss this year's theme: "Delivering a Common Future: Connecting, Innovating, Transforming".
Preceded by a number of forums, the official opening of CHOGM 2022 takes place on Friday 24 June and is followed by the main high-level meetings of Heads of Government on Friday 24 to Saturday 25 June.
This year's event will see the election of the secretary-general. Incumbent Patricia Scotland, a Dominica-born British diplomat, barrister and politician, is standing for re-election, but will be challenged by Jamaican foreign minister Kamina Johnson Smith, who has been endorsed by the UK. Media reports suggest that the UK is no longer confident that Baroness Scotland can modernise the organisation.
At the end of CHOGM 2022, Rwandan President Paul Kagame will take over from UK Prime Minister Boris Johnson as the chair-in-office of the Commonwealth of Nations for the next two years.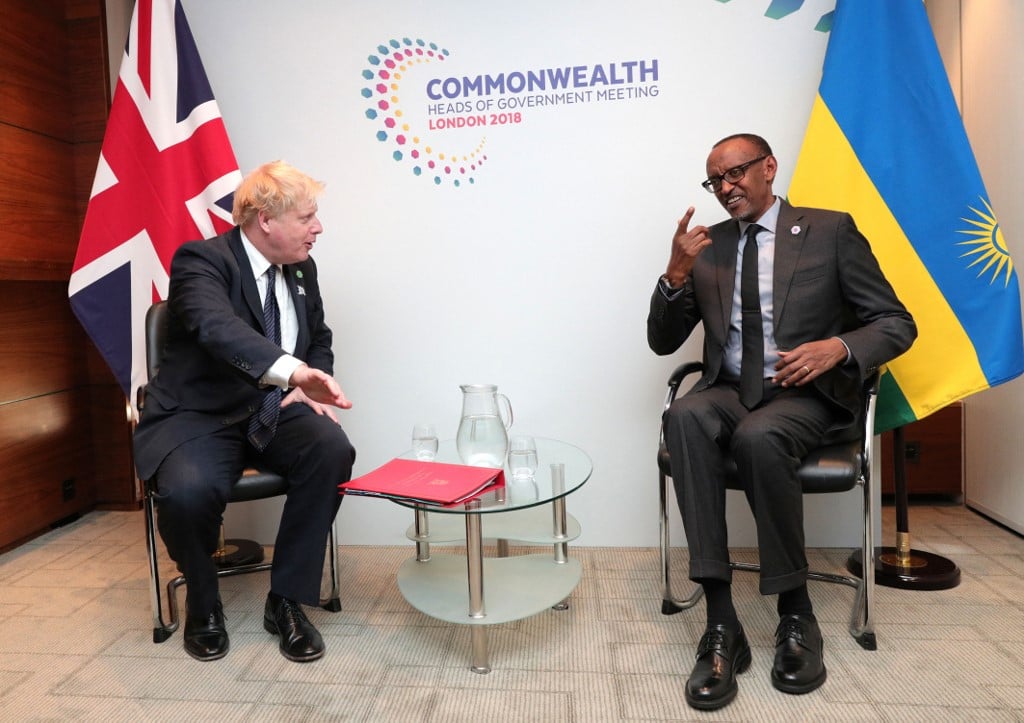 Togo bids for Commonwealth membership
In recent years, the Commonwealth has gathered increasing attention from African countries with a limited historical relationship with the UK, especially since both Mozambique and Rwanda joined the organisation, in 1995 and 2009 respectively.
The Togolese government announced in April that it will officially apply to join the Commonwealth at CHOGM 2022. Francophone Togo is also a member of La Francophonie, an organisation that brings together a large number of French-speaking nations and counts 28 African countries.
For African countries, joining the Commonwealth is more about developing soft power and extending their voice across the globe than increasing their trade relationships with the English-speaking world, according to a leading academic expert.
"Many of these countries are attracted by the Commonwealth as it promotes the English language as the international language of trade and diplomacy," says Philip Murphy, director of the Institute of Commonwealth Studies at the University of London.
"From a diplomatic point of view, the Commonwealth is a value-based organisation that enhances the legitimacy of smaller states in front of the international community," he says.
The Commonwealth claims that it is 19% cheaper for member states to export to another member than to an outside country, although this is hard to independently verify.
"Countries might also have better access to the UK's aid budget, but the commercial benefits from joining are marginal," says Murphy.
The relevance of the Commonwealth in Africa today is diminished by the growing importance of regional blocs within Africa.
"Ecowas, for instance, was important in forcing out the president of Gambia, Yahya Jammeh, when he refused to step down after his loss. But the Commonwealth did not do anything because they did not have the means or legitimacy," argues Murphy.
Kigali prepares to host CHOGM
With this year's meeting held in Rwanda, African leaders are hoping for a more Africa-focused meeting that will put forward relevant topics such as development programmes and the current food crisis caused by the war in Ukraine.
For Rwanda, CHOGM is also a chance to flaunt its diplomatic credentials and show off its capital city, recently described by Kenyan journalist Faustine Ngila as the only city in Africa that understands the concept of sustainability of cities and "a model for the whole continent to follow".
However, Rwanda's role as host may be used by human rights activists to shine a spotlight on its shortfalls.
"I think campaigners around human rights will use it as an opportunity to focus on Rwanda's very poor record," says Murphy. "It's always the danger from hosting these kinds of events. You can't turn the news agenda in the way you want," he says.
The conference comes as Rwanda forges increasingly tight relations with the UK, including collaborating on a controversial deal to take in asylum seekers deported from the UK in return for £120m a year.
On June 14 a flight due to take the first group of deportees from the UK to Rwanda was halted after a last minute injunction from the European Court of Human Rights.
Forums
Ahead of CHOGM 2022, youth and gender activists, business leaders, and civil society representatives will convene special forums to ensure their key concerns and perspectives are considered during the Heads of Government Meeting.
The Commonwealth Youth Forum
The Commonwealth Youth Forum will bring together young leaders from across the Commonwealth to exchange ideas, build networks, identify and debate development issues, challenges, and opportunities, agree on youth-led initiatives to mitigate challenges facing young people and create opportunities to enhance their lives.
The Forum will include the Kigali Startup Festival, celebrating the innovation, entrepreneurship, drive and contributions of Commonwealth youth to addressing some of the world's most pressing challenges.
The Commonwealth Women Forum
Meeting under the title, "Delivering a Common Future: Transforming for Gender Equality", the Commonwealth Women Forum's mission is to assert massive support and promote top-level policies for gender equality and human rights, provide women with opportunities to interact with Heads of Government; and ensure the Commonwealth's gender equality obligations are a concern for Heads of Government.
The Commonwealth People's Forum
Meeting under the title, "Delivering a Common Future: Our health, Our planet, Our future", the Commonwealth People's Forum (CPF) will bring together civil society representatives from around the Commonwealth to examine fundamental challenges for Commonwealth citizens. It is the most critical single occasion for civil society to connect with Commonwealth leaders on global development challenges.
The CPF will include sessions on building resilient and equitable national health systems, climate justice and freedom of expression.
The Commonwealth Business Forum
Hosted as a partnership between the Government of Rwanda and Commonwealth Enterprise and Investment Council (CWEIC) the Commonwealth Business Forum (CBF) will address the CHOGM theme with a focus on "A Global Reset", dealing with the impact of the pandemic and the Commonwealth's role in rebuilding and reinvigorating the global economy.
A host of eminent political and business leaders are due to speak at the CBF, including President Paul Kagame of Rwanda; UK prime minister Boris Johnson; Akinwumi Adesina, president of the African Development Bank; Vera Songwe, UN under-secretary-general and executive secretary of UNECA; and Wamkele Mene, secretary general of the African Continental Free Trade Area Secretariat.
Additional research by Charles Dietz.
Subscribe for full access
You've reached the maximum number of free articles for this month.
Digital Monthly
£8.00 / month
Receive full unlimited access to our articles, opinions, podcasts and more.
Digital Yearly
£70.00 / year
Receive full unlimited access to our articles, opinions, podcasts and more.