The third Turkey-Africa Partnership Summit has taken place in Istanbul under the theme "Enhanced Partnership for Common Development and Prosperity".
The two-day summit, hosted by President Recep Tayyip Erdoğan, marks a new stage in Turkey's relations with the African Union and African countries, according to Turkey's Ministry of Foreign Affairs (MFA).
"This summit is a testament to the fact that Turkey is interested in Africa and Turkey's interest in Africa is not a temporary interest, it is a maintained commitment. Our African brothers and sisters are showing they are interested in better cooperation with Turkey," PresidentErdoğan told the assembled heads of state on the second day of the summit.
Some 16 African heads of state attended the summit, including Félix Tshisekedi, current chair of the African Union, Senegal's Macky Sall, Ghana's Nana Akufo-Addo, representing Ecowas, Rwanda's Paul Kagame, Zimbabwe's Emmerson Mnangagwa and Muhammadu Buhari of Nigeria.
They were accompanied by 102 ministers, including 26 foreign ministers, from 39 countries.
Why did some invitees not attend?
"Interestingly out of the 54 countries invited, several (like Togo) declined the invitation in order to conform with the AU's Banjul formula (strategic partners like Turkey can only convey a limited number of African heads of state at the same time /year)," comments Oxford University researcher Folashade Soule on Twitter.
See below for Soule's view that using the term "the new scramble for Africa" to describe recent Africa + 1 conferences such as the Turkey Africa summit or FOCAC 2021 is misleading.
Moussa Faki Mahamat, Albert Muchanga, AU commissioner for economic development, trade, industry and mining (ETIM) and Josefa Leonel Correia, commissioner for agriculture, rural development, blue economy and sustainable environment (ARBE) and other high officials from AU member states were also in attendance.
On 17 December, PresidentErdoğan and his wife Emine gave a dinner in honour of their guests at the Dolmabahçe Palace.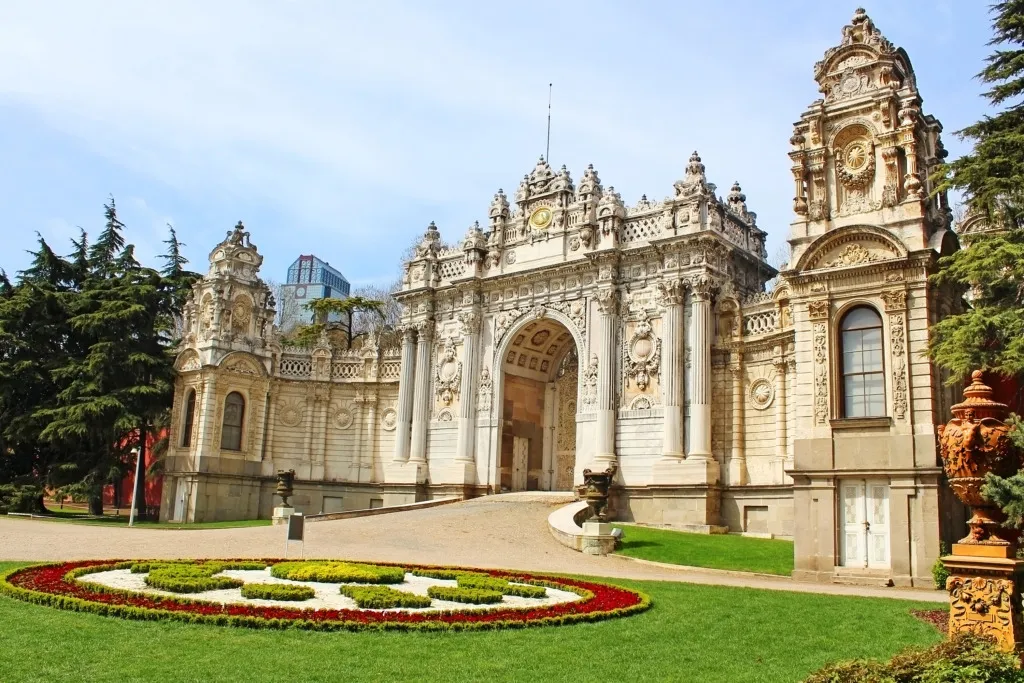 Summit agenda
The two-day summit agenda reviewed cooperation between Turkey and African countries since the second summit in 2014 (see below) and drew up a framework for the partnership process going forward.
A parallel session on health took place on the margins of the summit on 17 December under the theme "Mobilising Potentials for African Health Needs in the Pandemic and Post-Pandemic Era" with ministers of health and heads of delegation from Africa and Turkish minister of health Fahrettin Koca in attendance.
"As the theme of this event is 'Enhanced Partnership for Common Development and Prosperity', we want to march down this path of development with our African friends and take our cooperation into the future. Our aim is to win with Africa and walk to the future together," Çavusoglu told delegates on the first day of the summit.
He also announced that Turkey would deliver 2.5m doses of Covid vaccine to Africa in the coming days.
On the second day of the summit, President Erdoğan announced that Turkey would be sharing 15m doses of the vaccine with African countries in the next few months, adding that it was "a disgrace for humanity" that only 6% of Africa's population had been vaccinated so far, reports Al Jazeera.
The summit also included sessions on agriculture, development and the defence industry.
The summit provided guidelines for Turkish cooperation with Africa for the next five years, with projects that will directly involve the private sector being decided.
The "Turkey-Africa Partnership Joint Action Plan 2021-2026″ contains concrete actions to be implemented jointly by Turkey, the AU and its Member States. It covers the following areas:
Peace, security and governance;
Trade, investment and industry;
Education, STI skills, youth and women's development;
Infrastructure development and agriculture; and
Promoting resilient health systems.
According to Anadolu Agency, the final declaration said the parties committed to further strengthen and deepen the cooperation in the interest of the states and peoples and the next summit will convene in Africa in 2026.
A memorandum of understanding on cooperation was also signed between Turkey and the Secretariat of the African Continental Free Trade Area (AfCFTA).
"We're very excited about the outcomes of today's summit," AfCFTA secretary-general Wamkele Mene told Antalya Diplomacy Forum. "This memorandum of understanding is within the overall framework of cooperation between Turkey and the African Union. And we hope that this memorandum of understanding will be the instrument, the tool, that we require to really accelerate trade relations between Turkey and the African continent."
Mene added that trade facilitation, investment facilitation, the services sector and investment in manufacturing were some of the areas identified for specific focus.
In the closing ceremony, PresidentErdoğan said, "We want to develop together and increase the welfare of our people together, thus, we attach great importance to the memorandum of understanding."
President Tshisekedi said Turkey had paved the way for a historic summit and hailed Turkey's win-win approach towards Africa.
Growth of Turkey's footprint in Africa
Ankara's presence has grown rapidly on the continent under PresidentErdoğan, who has visited more African countries than any other African leader.
The volume of bilateral trade between Turkey and Africa rose from $5.4bn in 2003 to $25.3bn in 2020.
Over the same period, Turkish foreign direct investment in the continent grew from $100m to $6.5bn, and Turkish companies have become increasingly present across Africa.
The main sectors for Turksih trade and investment are construction, steel and cement, followed by textiles, household goods and electronic devices.
South Africa is Turkey's largest trading partner on the continent,with bilateral trade of $1.3bn in 2019, but Ethiopia, where Turkish firms have more than 20,000 employees, has drawn nearly a third of Turkey's investment in sub-Saharan Africa.
What began with economic outreach has progressed into a complex Africa policy encompassing business, aid, diplomacy, culture and military support.
Turkish Airlines, the country's national carrier, which only flew to North Africa in 2003, now flies to 51 destinations in 33 African countries, 26 of them in sub-Saharan Africa.
In the educational field, Turkey has provided more than 14,000 African students graduate, post-graduate and doctorate scholarships since 1992, and runs 175 schools on the continent.
Security has also been a focus.Ankara has signed a string of arms deals with African countries. Kenya recently spent $73m on armoured vehicles from Katmerciler, an Izmir-based manufacturer.
On his most recent trip to Africa, PresidentErdoğan discussed the sale of unmanned aerial vehicles (UAVs, or drones) and armoured carriers to Angola and defence manufacturing in Nigeria, as well as signing a joint declaration with the presidents of signing a joint declaration with Presidents of Togo, Burkina Faso and Liberia reinforcing cooperation in the fight against terror organisations, as reported by POREG.
"Everywhere I go in Africa, everyone asks about UAVs," said PresidentPresidentErdoğan, according to Turkey's Daily Sabah, which notes that "the scale of Turkey's drone program places it with the world's top four producers – the United States, Israel and China".
Turkey has also provided military equipment and troops to the UN-recognised government in Libya in its conflict with the Tripoli-based forces of Khalifa Haftar, in a move that has caused tensions with Egypt (see below).
On the other side of the continent,Turkish personnel train Somali government soldiers, and Turkey's largest overseas base is situated near Mogadishu.
And during a bilateral meeting with PresidentErdoğan before the official commencement of the Partnership Summit on 17 December, President Buhari announced that the two countries were to strengthen security ties.
"Turkey has practical experience dealing with challenges over the years and Nigeria stands to gain from that," said the Nigerian president.
The number of Turkish embassies in Africa has risen from 12 in 2002 to the current figure of 43, with a mission soon to open in Guinea-Bissau. Meanwhile, the number of African embassies in Ankara rose from 10 in 2008 to 37 in 2021, according to the MFA.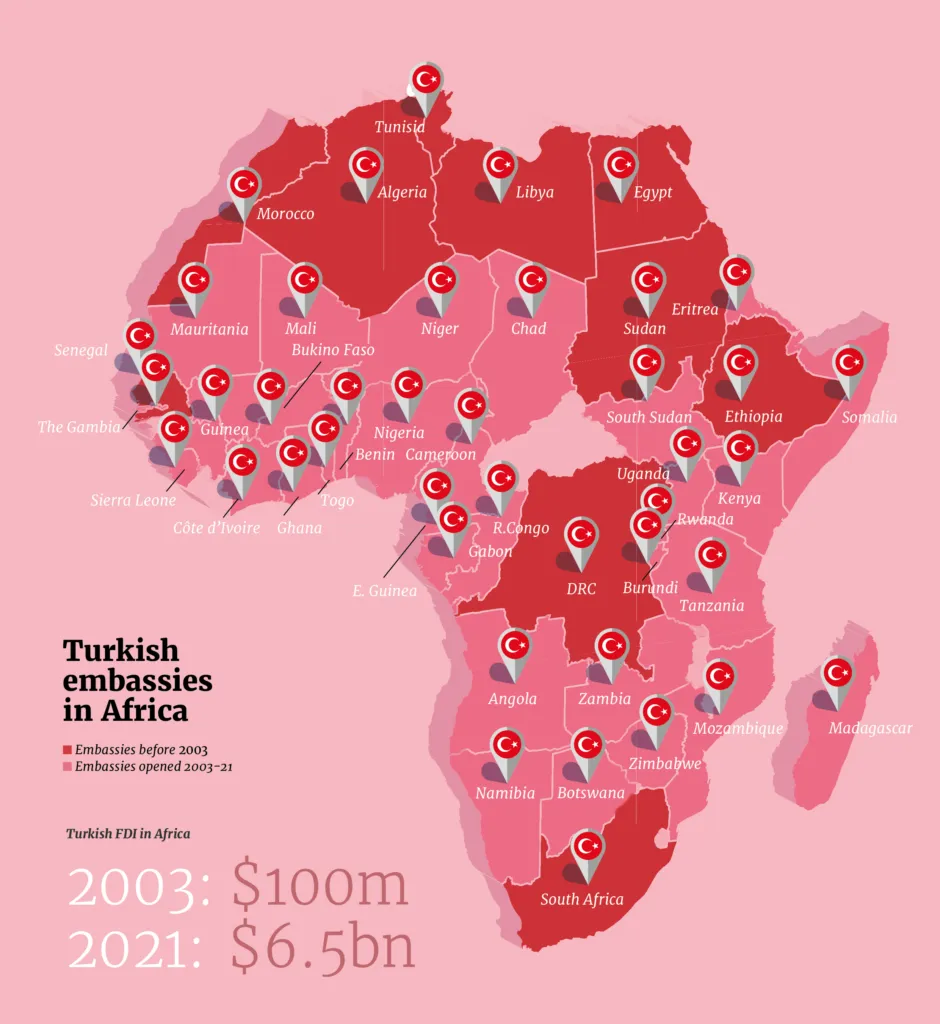 Tensions with Egypt
Tensions with Egypt have caused setbacks in this otherwise largely positive progression, according to former Turkish diplomat Yusuf Kenan Küçük.
There has been a polarisation between Turkey and Qatar on one side and Saudi Arabia, the UAE and Egypt on the other, over conflicts in Syria and Libya. The two blocs also have clashes of interests in Sudan and the Horn of Africa.
Turkey's failure to recognise the legitimacy of General Abdel Fattah al-Sisi's government after the overthrow of President Mohamed Morsi in 2013 has led to further tensions with Cairo.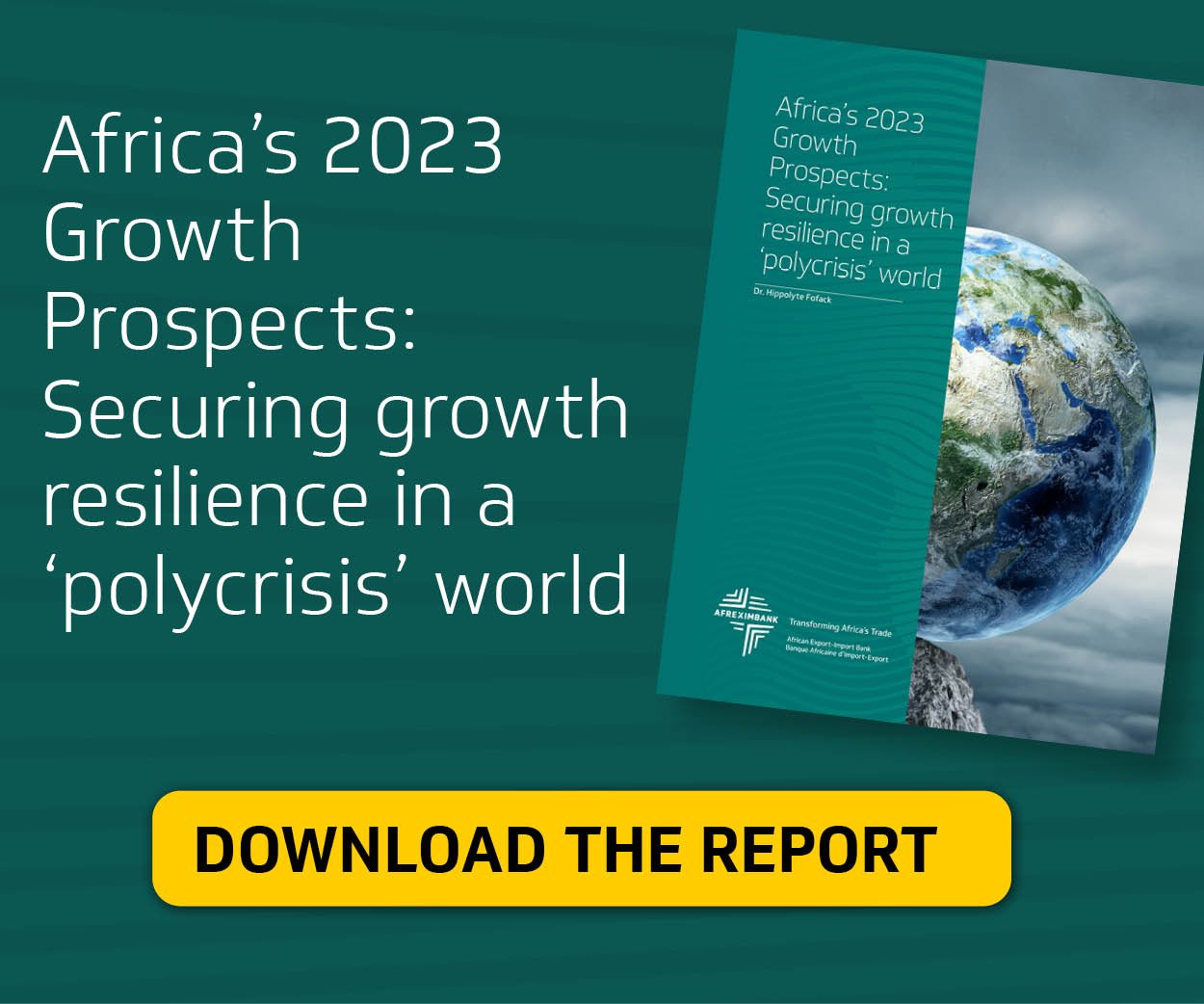 The summit was originally due to take place in 2019, but was postponed at the time Egypt held the chairmanship of the AU. (It was postponed again in 2020 due to the Covid-9 pandemic.)
Writing in February 2020,Küçük suggested that "African countries might take into account possible reactions from Egypt when they consider improving relations with Turkey".
In March 2021 Turkey announced that diplomatic ties had resumed, but this was denied by Egypt. However, despite the break in diplomatic relations, trade between the two countries has continued to flourish.
Criticism of Western approach to Africa
In its dealings with Africa Turkey has presented itself as a friend of the continent free of the exploitative and racist baggage of former colonial powers.
"We are here on the continent with a win-win strategy," the Turkish ambassador to South Africa,Elif Comoglu Ulgen, told African Business in February.
In October 2021,PresidentErdoğan undertook a tour of three African countries, meeting leaders and investors in Angola, Nigeria and Togo.
"As Turkey, we reject Western-centred Orientalist approaches to the African continent. We embrace the peoples of the African continent without discrimination," he said in a speech to the Angolan parliament.
Turkey has also been critical of the West over its failure to give Africa greater support during the Covid-19 pandemic.
In TogoPresidentErdoğan announced that Turkey would be donating Covid-19 vaccines to the region, a promise that was followed up on 7 December with the delivery of vaccines to Togo and Burkina Faso by the Organisation of Turkic States.
According to the Turkish daily Hurriyet, a third of the 600,000 doses delivered were Sinovac jabs allocated by Turkey.
PresidentErdoğan also took up the theme at October's Turkey-Africa Economic and Business Forum (see below).
"Turkey is proud to have contributed to African countries in their fight against the novel coronavirus with Turkish-made respirators, masks and overalls," he told delegates.
"The peoples of Africa were unfortunately left to their fate in the face of the virus while Western developed countries were engaged in mask wars. The essence of our relations with Africa is sincerity, brotherhood and solidarity."
Evolution of the Turkey-Africa summits
In 1998 a coalition government led by Mesut Yilmaz began to redefine Turkey's international role, moving it away from its status as an ally of the West towards a more active global presence but it was after Erdoğan's Justice and Development Party (AKP) took power that the relationship really began to change.
2005 was designated "The Year of Africa" and in 2008 Turkey became a strategic partner of the AU.
Previous editions of the partnership summit were held in 2008 and 2014, in Istanbul and Malabo, Equatorial Guinea, respectively.
The 2008 summit formalised the strategic partnership between Turkey and the AU and adopted compacts which determined a wide range of primary areas for cooperation, ranging from intergovernmental cooperation, trade and investment to security and educational ties.
The 2014 summit adopted the Malabo Declaration as a basis for strengthening partnership and cooperation between Turkey and Africa and led to a Joint Implementation Plan for 2015-19. The plan was reviewed at a meeting of senior officials in March 2015 and a list of priority projects was drawn up.
In a 2018 ministerial review conference held in Istanbul, it was agreed to develop concrete projects, in line with Agenda 2063.
According to the MFA, projects have been implemented in the fields of trade and investment, peace and security, education and culture, youth empowerment and technology transfer, rural economy and agriculture, energy and transportation.
In preparation for the third summit, Turkey submitted to the AU a report on Turkish-African cooperation between 2015 and 2020 and a five-year action plan for the coming period.
The AU website provides further details of multilateral cooperation between Turkey and Africa in recent years.
Turkey aims to double bilateral trade with Africa
Three editions of the Turkey-Africa Economic and Business Forum have also taken place, with the most recent in Istanbul on 21-22 October 2021.
The theme of the forum was "Deepening Turkey-Africa Partnership: Trade, Investment, Technology and Logistics".
According to the MFA, it was attended by 2,500 participants from Turkey and 71 countries (including 46 African countries), with 43 high-level speakers, 22 ministers, four deputy ministers and representatives of African regional economic communities among the participants.
President Erdoğan announced that Turkey aims to double its bilateral trade volume with Africa to $50bn.
The pledge was echoed by the chairman ofTurkey's Foreign Economic Relations Board (DEIK), Nail Olpak, who said: "Signing free trade agreements, agreements to reciprocally strengthen and protect investments, besides cooperation and knowledge-sharing in the fields of industrialisation, agriculture, construction, textiles and health, are our priorities."
Speaking to Turkish state broadcaster TRT at the forum, Fahti Akbullut, the president of the Turkish-African Business Association said that people had realised that the partnership between Turkey and Africa was not a short-term thing.
"It is actually something the Turkish government is looking to on the long run. Realising this, a lot of countries that are looking for foreign direct investment (FDI) are looking into Turkey to see how they can take this cooperation to the next level," he told the broadcaster.
Promotion of public-private partnerships was highlighted at the forum as a critical element in the development efforts of both Africa and Turkey.
"Encouraging and facilitating private sector exploitation of investment and business opportunities is… a key objective of the forum, as is increasing interaction between the business communities of Turkey and Africa," according to the AU.
'Without Africa there cannot be a prosperous world'
In comments on the sidelines of the forum to Anadolu Agency, the Turkish foreign ministry's director-general for Africa, Nur Sağman said: "We want to develop together. We want to support [African countries] and be on their side."
"Everyone will one day realise that without Africa, there cannot be a prosperous world. That's why we all need to move forward, hand in hand with Africa," she added.
A "new scramble for Africa"?
The plethora of "Africa + 1" conferences taking place recently has led many to talk of a "new scramble for Africa", reflecting the original "scramble for Africa" by European powers, who carved up the continent between them at the Berlin conference of 1884-5.
But such a narrative is misleading, according to Oxford University academic Folashade Soule.
In an article published in African Affairs, October 2020, she argues that it is "misleading on at least two levels: diplomatic presence and agenda-setting". In Berlin, no Africans were at the table, while the question of sovereignty of African territories was discarded and the needs and perspectives of African populations were barely considered.
Contemporary African leaders and governments, she argues "use these platforms not only as an opportunity for a photocall or to attract investments, but also as a means to exert more agency at the domestic policy level".
By putting the focus on traditional and emerging powers' rivalry on the continent, the "new scramble for Africa narrative decentres African actors from the narrative and lacks investigation on their motives and strategies for choosing their partners", she says.
In conclusion she says that African actors need to be put "back at the centre and as key agents of the decision-making process and analysis instead of stripping away their agency by focusing too much on how Africa is acted upon".
She finishes by saying that "investigation is needed to assess to what extent Africa's engagement in these summits is effective and benefits the continent's economic and social priorities".
Subscribe for full access
You've reached the maximum number of free articles for this month.
Digital Monthly
£8.00 / month
Recieve full unlimited access to our articles, opinions, podcasts and more.
Digital Yearly
£70.00 / year
Recieve full unlimited access to our articles, opinions, podcasts and more.