Even limiting global temperature rises to 1.5°C would not be safe for many communities in Africa, Ugandan climate campaigner Vanessa Nakate told a rally of 100,000 fellow activists in Glasgow on 6 November.
"1.2C is already hell for us. It's already destruction. It's already suffering. It's already disaster. Any rise will only make things worse," she told the protest taking place as the UN Climate Change Conference (Cop26) met in the city.
"Historically, Africans are responsible for only 3% of emissions, and yet some of us are suffering some of the most brutal impacts fuelled by the climate crisis," she said.
Speaking at a panel on education the day before, she said: "Even right now, it's already evident that the climate crisis is ravaging different parts of the African continent."
She also said it was necessary to "decolonise" climate solutions.
Almost 70% of help for developing countries to deal with the climate crisis is coming in the form of loans, she told the panel.
"It means that our countries are going to have more and more debt being added to already existing debt. So we have this burden of paying back this money for something that we did not cause."
Message to world leaders
The head of Scotland's devolved government, Nicola Sturgeon, admitted to feeling "really uncomfortable" after a conversation on the sidelines of the summit with Nakate and her fellow climate activist Greta Thunberg, in which they put to her their criticisms of the way the world's governments have been handling climate change.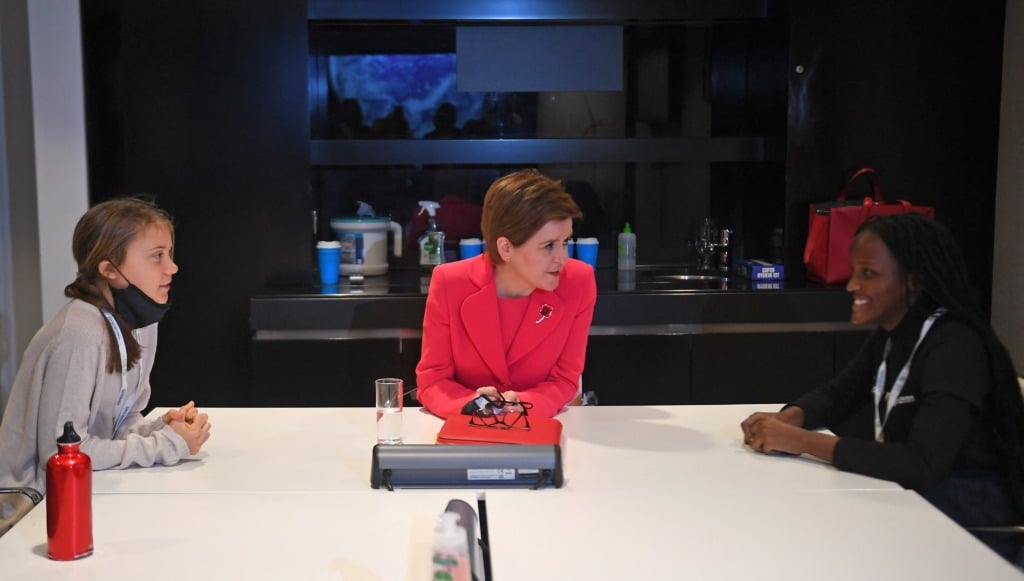 Along with many other climate activists from around the world, Nakate took the message to world leaders at Cop26 that young people feel betrayed by governments' failure to cut carbon emissions.
In an open letter to world leaders also signed by Dominika Lasota from Poland and Mitzi Tan from the Philippines, Nakate and Thunberg called upon governments to "face up to the climate emergency" by:
keeping to the target of limiting the rise in global temperature to 1.5°C above pre-industrial levels
ending all fossil fuel investments
ending creative carbon accounting
delivering the $100bn promised to the most vulnerable countries
enacting climate policies that protect workers.
'Humanity will not be saved by promises'
"I hope you appreciate that where I live a 2 degree world means a billion people will be affected by extreme heat stress," Nakate told delegates to the summit on 12 November. "In a 2 degree Celsius world, some places in the global South will regularly reach a wetbulb temperature of 35 degrees Celsius. At that temperature the human body cannot cool itself by sweating."
"Only immediate and drastic action will pull us back from the abyss. We have some who are already starting to call Cop26 a success, but a few days ago a climate action tracker reported that Cop26 is actually putting us on a pathway for a 2.4 degree Celsius world…
"Humanity will not be saved by promises. It's hard to believe business and finance leaders when they haven't delivered before…
"So I have come here to tell you that we don't believe you. We don't believe that banks will suddenly put trillions of dollars on the table for climate action when rich countries have struggled since 2009 to raise a $100bn for the world's most vulnerable countries…
"I am here right now to ask business and financial leaders: Show us your faithfulness. Show us your trustworthiness. Show us your honesty.
"I am here to say: Prove us wrong… We desperately need you to prove us wrong. Please prove us wrong. God help us all if you fail to prove us wrong."
Uganda's first Fridays for Future striker
Nakate has become an increasingly prominent climate activist since January 2019. At that point she was a recent business administration in marketing graduate from Makerere University Business School in Kampala who had become concerned about environmental issues.
She was inspired by Thunberg's example in Sweden to begin a solitary climate protest outside the Ugandan parliament, also targeting other parts of the Ugandan capital from malls to petrol stations.
"After my school last year, there is a period before graduation. I wanted to do something that could cause change to the lives of the people in my community and my country, therefore I started carrying out research about the main problems that are faced by the people in my country," she told Democracy Now's Amy Goodman at the time of Cop25 in Madrid.
"So when I realised that [climate change] was such a big threat, I found out ways to bring it to public awareness in my country. And that's how I found out about the Fridays for Future strikes. And I decided to start the climate strikes."
The formerly shy young woman at first received a lot of negativity from passers-by, but she soon became a social media phenomenon. After 21 weeks of her strike, she told Uganda's The Observer that she would carry on her protest until "until the leaders react and the president declares a climate emergency."
Later that year, she began another strike, this time in defence of the Congo rainforest. She was motivated to do this after a member of the audience at a talk she had given asked why it was that Africans were concerned about the plight of the Amazon rainforest but not about the similar destruction in the Congo basin.
"The more I discovered what was happening to the Congo Basin, the more upset and angry I became," she wrote recently in Time magazine. "If we couldn't defend the largest forest in Africa, I thought, then how would we protect the smaller forests, including those in Uganda?"
She also founded the Youth for Future and Rise Up movements to give a voice to African climate activists, and in December 2019 she spoke at Cop25 in Madrid, Spain.
Cropped out of photos
In January 2020, when lobbying the World Economic Forum in Davos, Switzerland, she was controversially cropped out of a photo of her and four European climate activists.
"It was clearly the picture I'd been in, since you could make out the edge of my coat on the far left of the frame. But I was nowhere to be seen. I'd been cropped out," she writes in her book The Bigger Picture: My Fight to Bring a New African Voice to the Climate Crisis, "Of the five women who had posed for that photo, I was the only one who wasn't from Europe and the only one who was Black. They hadn't just cropped me out, I realized. They'd cropped out the whole continent."
She had also been left out of the Associated Press's report on the press conference the group had given.
"This is the first time in my life that I understood the definition of the word racism," she said in a video she posted that evening. "Does that mean I have no value as an African activist or the people from Africa have no value at all? We don't deserve this. Africa is the least emitter of carbons but we are the most affected by the climate crisis."
Thunberg slammed the Associated Press for its treatment of Nakate and at Cop26 similarly condemned the UK media for "erasing" Nakate from photos of their meeting with Sturgeon in Glasgow.
Social justice and women's empowerment
Nakate, a born-again Christian, is motivated in her climate action by a deep sense of social justice.
"If our farms are destroyed by floods, if the farms are destroyed by droughts and crop production is less, that means that the price of food is going to go high. So it will only be the most privileged who will be able to buy food," she told Democracy Now's Amy Goodman.
In her book, Nakate also laments the disempowerment of women and underlines the centrality of education for women and girls in the fight for climate change.
"I think of it like this," she says, "girls and women are more than half the world's population. If we are to successfully address the climate crisis, we need women in the rooms where decisions are being made that affect the climate (and almost all decisions now do). Educating girls brings them into those rooms, and expands the number and approaches of possible decision-makers and solutions."
At Cop26 she voiced these opinions again in a panel discussion on girls' education organised by the New York Times.
Opposition to oil pipeline
In April Nakate expressed her opposition to the announcement of a deal paving the way to the construction of a 1,443km pipeline by TotalEnergies and the China National Offshore Oil Corporation (CNOOC) that will transport oil from Ugandan oil wells on the shores of Lake Albert to the Tanzania's Indian Ocean port of Tanga. The pipeline has raised many concerns among environmentalists.
In an open letter to presidents Yoweri Museveni of Uganda and Suluhu Hassan of Tanzania written jointly with Landry Ninteretse, regional director of 350.org, she says:
"Your Excellencies, building the world's longest heated crude oil pipeline in the midst of a climate emergency is a terrible development that must be stopped. No responsible government or ethical financial institution or operator should venture into such deadly business at this stage.
"We sincerely hope you will reconsider this ill advised project which is likely to benefit only Total and CNOOC at the expense of local communities hardly hit by the effects of climate crisis and pandemic."
With attention already turning to Cop27 in Egypt next year, the young African activist is likely to become even more prominent.
Vanessa Nakate was named by our sister magazine New African as one of its 100 Most Influential Africans of 2021.
Subscribe for full access
You've reached the maximum number of free articles for this month.
Digital Monthly
£8.00 / month
Receive full unlimited access to our articles, opinions, podcasts and more.
Digital Yearly
£70.00 / year
Receive full unlimited access to our articles, opinions, podcasts and more.