Could you tell us a bit about the oil industry in Niger?
There are four oil-production areas in Niger. The best known is Termit in the east of the country, which has been home to the most important activities for around 15 years. The Chinese company CNPC discovered around 1bn recoverable barrels in the area, and is continuing its exploration works and developing new oil fields. There are 20,000 barrels produced in Termit every day, supplying a refinery which dedicates half of its production to fulfilling domestic requirements, and the other half to exports.
After CNPC, there is Savannah Energy – a smaller producer that has also made discoveries in the area. The company is now in the process of finishing its feasibility study, and we are confident that, from next year, they will be in a position to contribute to our national production.
The second oil zone is in the north of the country, on the Algerian border. This is Kafra, where the SONATRACH group has embarked on an ambitious exploration campaign. After two very promising drilling expeditions between 2017 and 2019, which found a structure containing 100m recoverable barrels, SONATRACH is intensifying its drilling efforts at some of the 57 prospects and leads they identified.
Finally, there are two other promising areas that are still to be exploited: One is the North-East, on the Libyan border, where works carried out in the 1990s revealed signs of hydrocarbon presence and an active petroleum system. The other is in the West, where geological and geophysics research in the region suggests there is significant potential, particularly for gas in the Illumenden basin, close to large populated areas of Niger.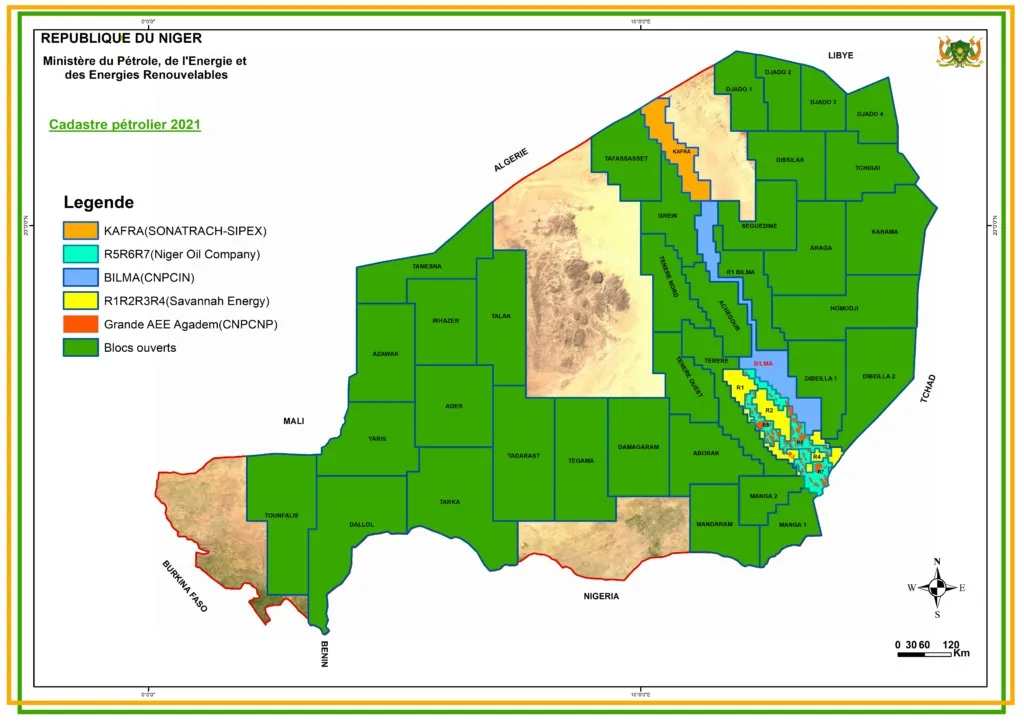 What message would you like to send to investors?
That in spite of the discoveries described above, Niger still has plenty of significant exploration potential: mature exploration in the East, semi-mature in the North, and grass-roots exploration in the West. So far, all of our sedimentary basins have been proven to have active petroleum systems. They are just waiting to be exploited. Petroleum-associated costs are relatively low – around $15 per barrel from exploration to production. Niger has very clear and particularly business-friendly oil legislation. Investors should also know that there is not just the oil industry – Niger was ranked among the top 10 sub-Saharan African countries in the Doing Business Index for 2020.
What is the current situation in Niger with regard to oilfield service providers?
When our main oilfield operator launched its operations in Niger 15 years ago, there were no oilfield service provider companies. So along came the CNPC with its ecosystem of broadly affiliated companies, to conduct operations alongside it. Some of these companies are specialist providers of oilfield services, particularly in seismic data acquisition, processing and interpretation, and in drilling, well services, logistics, and construction of facilities both above and below ground.
One of the challenges my ministerial department faces is to enable the emergence of new Nigerien subcontractors alongside the country's existing subcontractors. Given the level of technicality of the sector, especially in terms of standards, we firmly believe the fastest and most effective solution is to encourage the formation of partnerships between foreign-owned companies bringing expertise, and Nigerien entrepreneurs. I therefore invite oilfield contractors to get in touch with my ministerial department and then come to Niamey, to see for themselves what outstanding opportunities there are in this industry.
The Niger-Benin oil pipeline is the largest infrastructure project currently under way in West Africa. When will it be operational?
The Nigerien pipeline, for which works started in July 2021 and are going according to schedule, will be in commission by the second half of 2023. Its starts in the Agadem area (Koulélé), near the border with Chad, and runs to the town of Sèmè, on the coast of Benin. It is a major project because of its technical features: 1950 km of 20-inch-diameter pipeline, 9 pumping stations, and storage infrastructure for over 2m barrels at Sèmè. Construction costs for the project are around $2.2bn and its daily transport capacity will be in the region of 150,000 barrels. Our crude oil production will range from 20,000 to 110,000 barrels per day, 90,000 of which will be destined for export.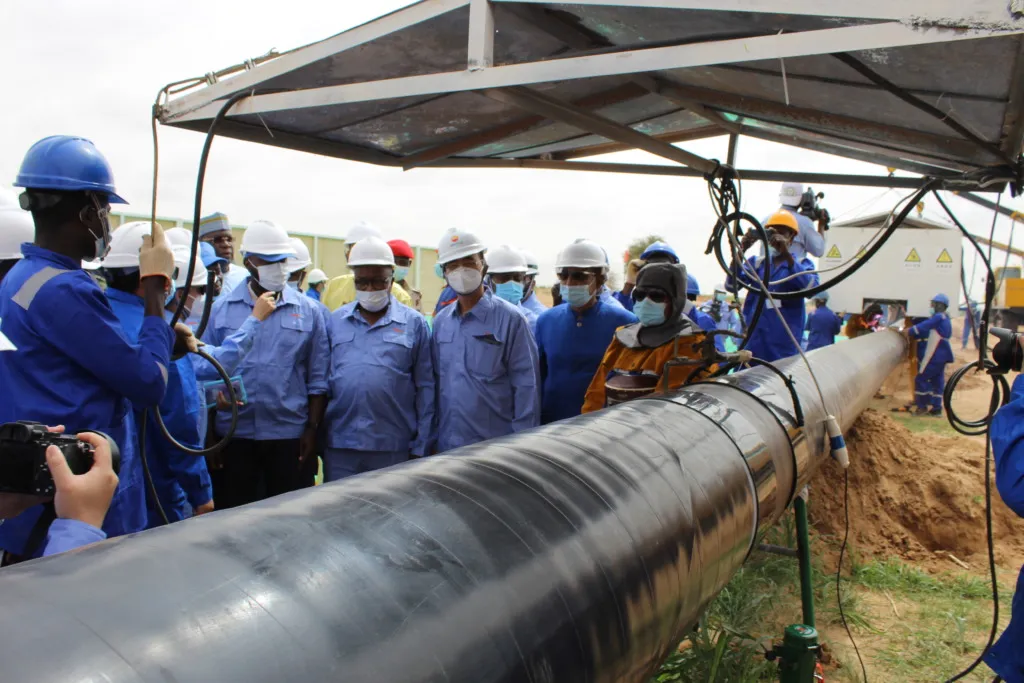 What is Niger's refinery capacity and where are your main export markets?
Niger has a refinery in Zinder (in the East), co-owned by the State and the CNPC Group. It refines around 20,000 barrels per day, which is its nominal capacity. Around half of this volume covers the needs of the domestic market, and the other half is exported to Nigeria, Mali and Burkina Faso. We are currently producing diesel, petrol and liquefied petroleum gas. We are working with our Chinese partners on developing the process to be able to produce jet fuel, too. The possibility of setting up petrochemical factories is also under discussion.
What are the investment opportunities in the renewable energy sector, particularly in solar power?
Niger has considerable energy potential in terms of mineral coal, crude oil, gas, solar, wind and geothermal power, uranium, and hydroelectric power on the Niger River.
But despite its substantial energy resources, the country remains highly dependent on electricity imports from Nigeria, for nearly 65% of national consumption.
Niger enjoys a high number of sunshine hours across the whole country, with the highest levels in the North. The amount of sunshine is also quite consistent, except in August. Average recorded monthly values range from 5–7 kWh/m2, and the average sunshine duration is eight hours per day. This means there is significant potential for solar energy development in Niger, at a competitive cost.
Niger has plans to raise national electrification to 80% by 2035, according to the National Strategy for Access to Electricity.
The national electricity production capacity will be increased to 850 MW by 2030, to include at least 30% renewables, all with the help of independent private production and power stations developed through PPPs, accounting for around 300 MWp of solar power.
The objective to be carbon neutral by 2050 has a negative impact on African countries. What is Niger doing to ensure the equitable distribution of resources?
Some developed countries made their transition from underdeveloped to industrialised nations by engaging their natural resources, whether they caused pollution or not.
Africa cannot stay on the sidelines of the road already taken by these industrialised countries. Accordingly, in the quest for economic development, African countries have significant challenges ahead of them and, to a certain extent, only the extractive industries can get us quickly to the threshold from which we can boost our economic development. This means we must remove obstacles and barriers to growth, in order to relaunch the economy. Which, sometimes, is in conflict with the carbon-neutral objectives.
In the specific case of Niger, in response to the problem of climate change, the Government has in recent years made substantial reforms in various sectors, with a view to complying with the provisions of the United Nations Framework Convention on Climate Change (UNFCCC).
Inequalities in resource distribution have difficult consequences for the socioeconomic stability of populations. That's why the authorities have been swift and decisive in making legal provisions enshrining the fair distribution of resources to ensure that development is sustainable and responsible.
A legal framework was put in place in the various extractive industries in order to regulate distribution.
The upstream oil code allocates 85% of revenue to the national budget and 15% to the budget of the oil-producing region in question.
What are your ministry's priorities?
The Ministry has committed to developing the petroleum and energy infrastructures, which are levers for boosting our country's economy.
Our priority actions to facilitate development of the petroleum sector (diversifying exploration areas while prioritising blocks known to have real potential, exploiting the reserves uncovered, constructing pipelines and developing local skills) will see the sector come to contribute 25% of GDP, 45% of tax revenue, 68% of exports, and be responsible for 12% of formal employment.
For the energy sector, the Ministry is focusing on developing the energy infrastructure to bring household electricity access to 30% by 2026, by prioritising the development of renewable energies and increasing the share of renewable energy to at least 15% of the energy mix by 2026.
Read more about oil opportunities in Niger: Niger: an attractive nation with an emerging oil industry
Want to continue reading? Subscribe today.
You've read all your free articles for this month! Subscribe now to enjoy full access to our content.
Digital Monthly
£8.00 / month
Receive full unlimited access to our articles, opinions, podcasts and more.
Digital Yearly
£70.00 / year
Our best value offer - save £26 and gain access to all of our digital content for an entire year!