When Kano local Winston Udeagha joined his decades-old family leather business, God's Little Tannery, he became part of an African value chain whose endpoint is the exclusive shelves of Europe's luxury emporiums.
The skins of goats that once browsed the leaves of shrubs and trees in Nigeria's oldest city are washed in anti-fungal solution and packed for export across West Africa, through Morocco and on to factories in Tuscany and northern Italy.
In Italy, the skin is treated again and turned into suede before being manufactured into designer goods for a host of global brands, where they are given luxury Made in Italy stamps of approval and sold for thousands of dollars.
Udeagha wishes to change the narrative. Three years ago he formed Winston Leather, a luxury African leather brand, and in June he hosted dozens of African firms at the Abuja Leather Experience, showcasing the firm's new collection of wares made from over 200 different types of exotic animal skins.
The skins of ostrich, python, anaconda and monitor lizards are manufactured into luxury shoes, handbags, belts and wallets by Winston Leather, who want to build an image of excellence and quality for brand-conscious buyers in Africa and abroad.
"Goat skin from Kano and sheep skin from Sokoto is the best in the world," Udeagha told African Business."For the last 500 years traders have bought leather from Nigeria, and if we have this raw material that is good enough to make leather for some of the biggest fashion houses in the world, then we can take that same leather and make finished leather goods in Africa that attains the same quality, because it's the same raw material."
From crocodile hides to men's "Ayatollah Black Suede" slide shoes retailing at N30,000 ($70), Winston Leather is selling to a growing band of consumers across the continent, forming part of a national sector generating $600m in exports in 2019, according to a report by JCR-VIS Credit Rating Company. Last year, the Nigeria Economic Summit Group (NESG) estimated that Nigeria's leather industry could generate over $1bn in export earnings by 2025.
African countries have 25% of the world's sheep and goats but produce less than 10% of global output of hides and skin. Africa's leather sector is part of a global industry expected to be worth $30bn by 2027, according to a report by Business Wire, a market research company.
The exact quantity of leather sourced from Nigeria by the likes of Luis Vuitton is unclear, however, as much of it is bought by agents operating on behalf of Italian factories, and orders fluctuate along with fashion trends from one year to the other.
Winston Leather typically sells 20,000 square feet as a minimum to foreign buyers, but they've slashed the minimum order for local leather firms to 10 square feet, starting at $11-14 per square foot for the top quality skins, in what Udeagha says is a bid to stimulate the domestic market.
"Nigeria exports most of its raw leather and imports leather goods back in. That's chaotic and unsustainable."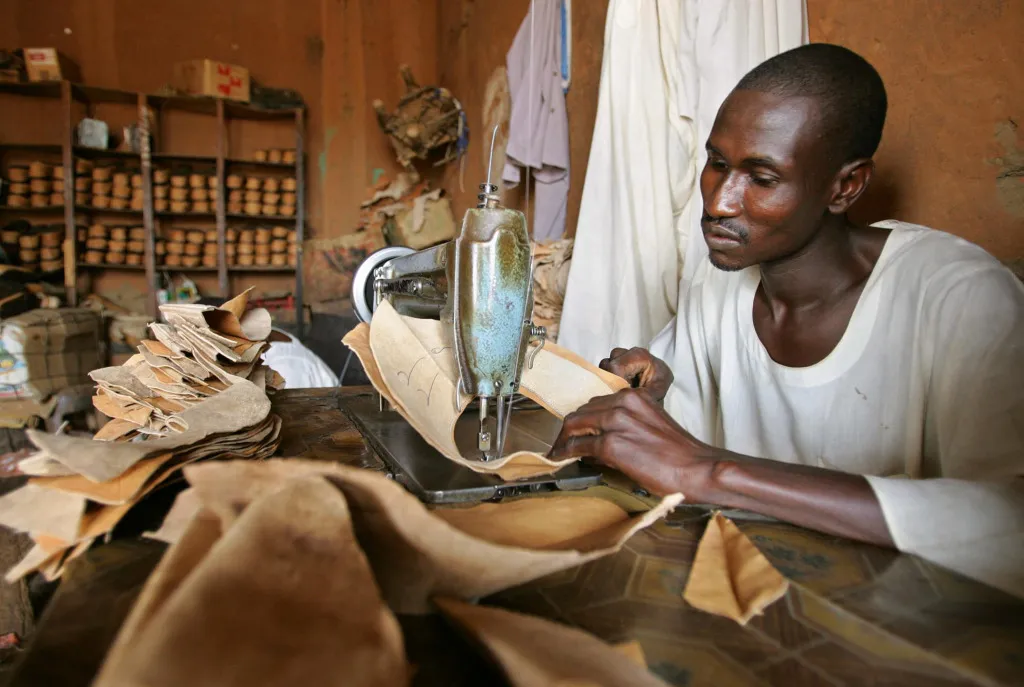 Ethiopian craft
In East Africa, Ethiopia's 90-year-old leather sector has been a flourishing part of the nation's industrialisation drive, utilising the world's 10th largest livestock population to build the nation's fifth largest export sector.
Chinese, Italian, Indian and other foreign-owned firms have invested in over 75 tanneries, up from just a few a decade ago, taking advantage of enticing trade policies, cheap labour and tax relief to secure leather supply.
The Indian leather industry's export target of $10bn per year can only be achieved by sourcing long-term raw material from Africa. India produces roughly 2.5bn square feet of leather but export targets require double that number to hit demand.
China's Huajian Group and Hong Kong's New Wing Group are two major shoemakers fulfilling American and European orders out of Ethiopia, and other major firms are expected to follow after Addis Ababa lifted the tax on semi-finished leather exports last year.
According to 2019 government statistics, the leather and leather products sector contributed 6% of Ethiopia's national GDP.
"Ethiopia was facing the same challenges that the rest of Africa is facing, but they were able to transform the industry by ensuring they created a business-friendly environment that triggered investment," says Beatrice Mwasi, a leather industry consultant and leader at the Leather Industry Network (LIN).
For many Ethiopians, leather has become a sign of prosperity, and more local consumers are buying locally produced low-cost, high-quality shoes produced in designated leather business parks. For Mwasi, the 1.5% growth in intra-continental leather trade per year can be bolstered by targeting growth in the regional shoe trade.
"The demand for footwear in Africa stands at about 800m pairs per year, while Africa is only producing 155m pairs. That tells you the demand is huge, and if Africa's national and local economies can organise themselves, and put in place infrastructure to be able to supply these local markets, then entrepreneurs will come forward with their local knowledge to create more finished leather products."
The East African leather industry represents just a fraction of the current $200bn global market value, with annual revenues of $478m, comprising $106.4m in unfinished hides, and $372m in finished leather.
According to McKinsey, the continent's local manufacturing industry is expected to grow to $930bn by 2025 – with local leather production a growth segment in that forecast – and Mwasi says the rollout of the African Continental Free Trade Area (AfCFTA) will also help stimulate production from leather manufacturing hubs, including South Africa and Kenya.
There are signs that bode well for the future of luxury products made in Africa, despite sales plummeting in 2020 under the impact of Covid-19. Growing urbanisation, the continent's changing demographic profile, an increasing number of high-net-worth individuals, and social media campaigns to encourage consumers to buy from black-owned businesses indicate solid opportunities.
On the other hand, African luxury brands are viewed with suspicion by some potential African customers, who question the price tags and quality in comparison with luxury foreign imports.
Designers like Nigeria's Femi Olayebi and his eye-catching Femi Handbags are creating initiatives, such as the Lagos Leather Fair, to connect tanners to designers and buyers. In South Africa, Inga Gubeka's Inga Atelier has created a collection of bespoke luxury leather bags with customised scents, which attracted President Cyril Ramaphosa as a customer.
"Building an African luxury brand will take time. International brands have a rich history and heritage that has been around for generations. African brands have yet to create their history and name in the global luxury scene, and this is not going to happen overnight," says Rubab Abdoolla, senior analyst, beauty and fashion, at Euromonitor.
Subscribe for full access
You've reached the maximum number of free articles for this month.
Digital Monthly
£8.00 / month
Receive full unlimited access to our articles, opinions, podcasts and more.
Digital Yearly
£70.00 / year
Receive full unlimited access to our articles, opinions, podcasts and more.