Ethiopia's telecoms industry, the largest remaining state monopoly of its kind, was seen as the final frontier for a sector that has underpinned communications, education and healthcare during the pandemic.
Addis Ababa viewed the sale of its first two private telecoms licences as the "deal of the century", and predicted that international bidders would queue up to penetrate a market of 112m people.
Ultimately, the process proved disappointing, with just two bids announced at the launch ceremony on 25 April, one by South Africa's MTN Group in partnership with China's Silk Road Fund and the other by the Global Partnership for Ethiopia Consortium, which includes Kenya's Safaricom and international partners Vodafone, Vodacom, CDC Group and Sumitomo.
The relative failure of the process is a bitter pill to swallow for Abiy Ahmed, the prime minister who vowed to liberalise Ethiopia's economy but has become embroiled in a reputation-damaging conflict in the northern region of Tigray.
The underwhelming telecoms auction has been blamed on an opaque bidding process and the exclusion of the lucrative mobile money sector, which has since prompted a government U-turn. But it also demonstrates waning investor confidence amid growing insecurity. With Abiy due to face elections delayed from 5 June, some investors are concerned about the potential for further political disruption.
Ethiopia's economy grew at an annual rate of 9.4% between 2010 and 2020, yet the long-term exclusion of private operators led Ethiopian telecoms to lag far behind developments in Kenya and South Africa. Businesspeople travelling in the country frequently complain about inadequate or non-existent mobile service. In a 2017 UN index, Ethiopia's telecoms development ranked 170th out of 176 countries.
By contrast, all over the continent, improved mobile telecommunications have been boosting productivity and growth. According to GSMA, mobile technology has driven a fifth of income-per-capita growth over the last 20 years in sub-Saharan Africa, and there will be an estimated 1bn mobile connections in the region by 2024.
The issuing of the two spectrum licences and the planned sale of a 45% stake in state-owned operator Ethio Telecom this summer were widely seen as a major investment opportunity.
"The partial privatisation and the liberalisation combined are definitely the deal of the century," Brook Taye, senior adviser to Ethiopia's finance ministry, told African Business in February.
The sales were a key plank of Abiy's economic reform programme, which aims to catapult Ethiopia to middle-income status by 2025. The UAE's Etisalat, Saudi Telecom Company, Telkom South Africa, Orange, and Madagascar's Axian all expressed interest in the licences, which Addis Ababa predicted could bring in billions of dollars. 
Reacting to the news that the licences had only attracted one other bid, Ralph Mupita, group president and chief executive of MTN Group, nonetheless expressed confidence: "Ethiopia provides the largest telecommunication and digital services growth opportunity in Africa over the medium term and fits into our pan-Africa focus and platform strategy."
Analysts say that bids from experienced operators provide some consolation for the lack of interest elsewhere.
"MTN and the Vodacom-led consortium both present a credible experienced option for the government," says Ed Hobey-Hamsher, senior Africa analyst at Verisk Maplecroft, a risk analysis firm. "Both are known quantities to the Ethiopian Communications Authority (ECA), having both established representative offices in Addis in 2013 to secure first mover advantage."
Yet the underwhelming response has raised fears that Abiy's war in Tigray has deterred would-be investors. Irmgard Erasmus, senior financial economist at NKC African Economics, notes a "shift in investor interest" after the military offensive on Tigray. "Over the past five months, we saw a rapid change in the socioeconomic landscape, and we foresee risks to trade as escalating in the lead-up to the June elections," he says.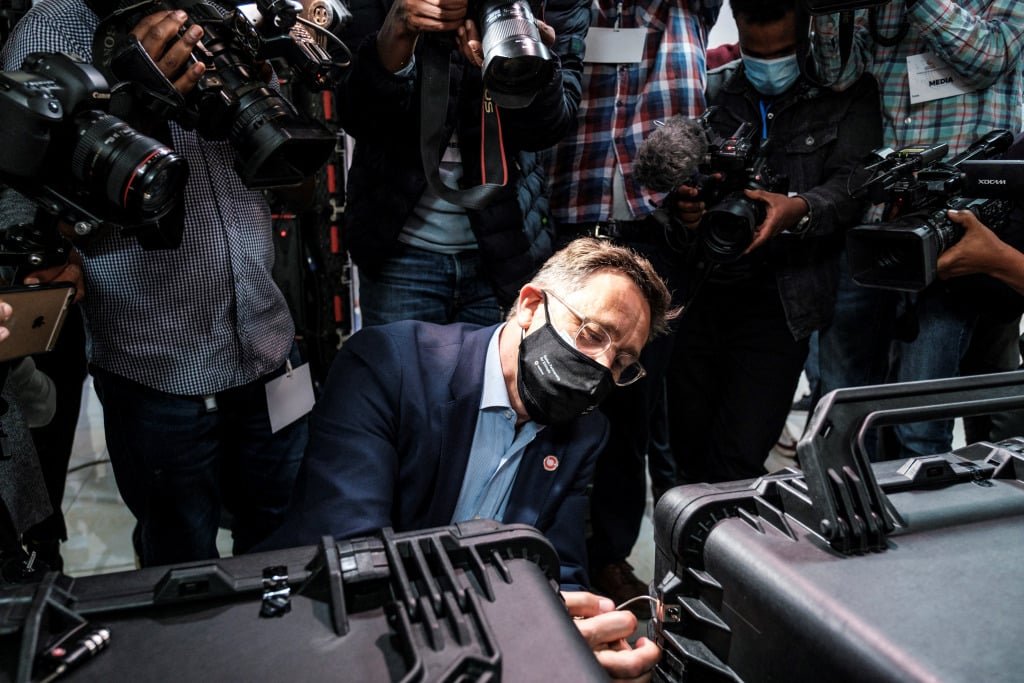 Mobile money exclusion
Regulatory challenges also kept bidders away. "The primary deterrent was the lack of clarity over whether licence holders would be able to offer mobile banking services, filling a significant gap in Ethiopia's financial system infrastructure," says Hobey-Hamsher.
In mid-May, Abiy said the decision to exclude mobile money from the licences cost the government about $500m. "This decision has cost us a high price. When it was decided to open up the telecom market about two years ago, one of the key areas of contention was the issue of mobile money," he declared.
He made the remark at the launch of Telebirr, a mobile-payments service that will be run by Ethio Telecom. In a major U-turn, the government said it would allow foreign telcos to launch mobile money services in Ethiopia by lifting the block after about a year.
Another area of contention was the inability of firms to use third party telecoms tower infrastructure builders in the country. Little information was forthcoming on the cost of leasing towers from Ethio Telecom. Unable to involve third party tower companies, their only other choice would have been to build the towers themselves. 
"The telcos would rather not be in the capital business of owning towers. That makes the project more capital intensive," says Melissa Cook, managing director of African Sunrise Partners, a business research company.
Concerns also remained over the control Ethio Telecom would wield in the market. In addition, prospective bidders were concerned about Ethiopia's currency, the birr, which some analysts think is overvalued by up to 25%, and shortages of foreign exchange, which could prevent them from repatriating profits. The government failed to provide clarity, analysts say, on whether bidders would be able to access currency from the central bank.
"If you need dollars to purchase capital equipment and you expect to generate it from business in Ethiopia, you will face a big challenge, because the dollar shortage in Ethiopia is significant and it's not going to change, in my opinion, any time soon," says Cook.
"Abiy appears to have misconstrued the level of regulatory clarity and guarantees required by international businesses operating in a heavily statist economy," says Hobey-Hamsher.
Waning fortunes
The process also hints at deeper challenges for an economy beset by insecurity and foreign exchange shortages.
 "Abiy continues to face domestic headwinds to his more ambitious reforms. The possibility of a market-denominated currency remains remote," says Hobey-Hamsher.
GDP growth fell three percentage points to 6.1% in 2020 due to Covid-19, and is expected to slump to 2% in 2021, according to the IMF. Meanwhile, inflation hit 20% in March and Addis Ababa has requested debt restructuring under a G20 scheme to help countries hit hard by the Covid-19 pandemic.
The delayed elections, which Abiy is expected to win, could deepen rifts across the country, which has a federal system based on ethnicity. They could also complicate the Ethio Telecom sell-off, which Addis Ababa hopes will be more successful than the licence auction.
There remains cause for optimism in Ethiopia, due to its enormous young population, strategic location and industry potential, says Cook. "I'm very bullish on Ethiopia for the long term. I think the liberalisation drive is here to stay."
Nevertheless, the crowning jewel of Abiy's privatisation drive has underdelivered, hinting at the challenges he faces to untangle a state-run economy while combatting mounting insecurity.
Subscribe for full access
You've reached the maximum number of free articles for this month.
Digital Monthly
£8.00 / month
Receive full unlimited access to our articles, opinions, podcasts and more.
Digital Yearly
£70.00 / year
Receive full unlimited access to our articles, opinions, podcasts and more.