When Canadian manufacturer e2ip technologies began production in Morocco last February, the North African kingdom was the aeronautical industry's alluring new frontier, boasting a government adept at wooing companies to Tangier and Casablanca's Aéropole Nouaceur and Midparc, industrial acceleration zones that have become homes to Airbus and Boeing's supply-chain ecosystems in Africa.
But then Covid-19 hit, resulting in mothballed aircraft across all markets as the global aviation industry went into hibernation. The longest serving international carrier, Australia's Qantas, put two-thirds of its fleet into storage, mirroring the response of airlines worldwide, and firms in Morocco retrenched staff as demand for aircraft parts nosedived.
"It's been brutal," e2ip technologies CEO Eric Saint-Jacques says. "Transferring production to a plant in the middle of a pandemic, where you can't fly to go to help the people in the new plant is very challenging. But the company revenue will have close to tripled in the last year, as we're well diversified."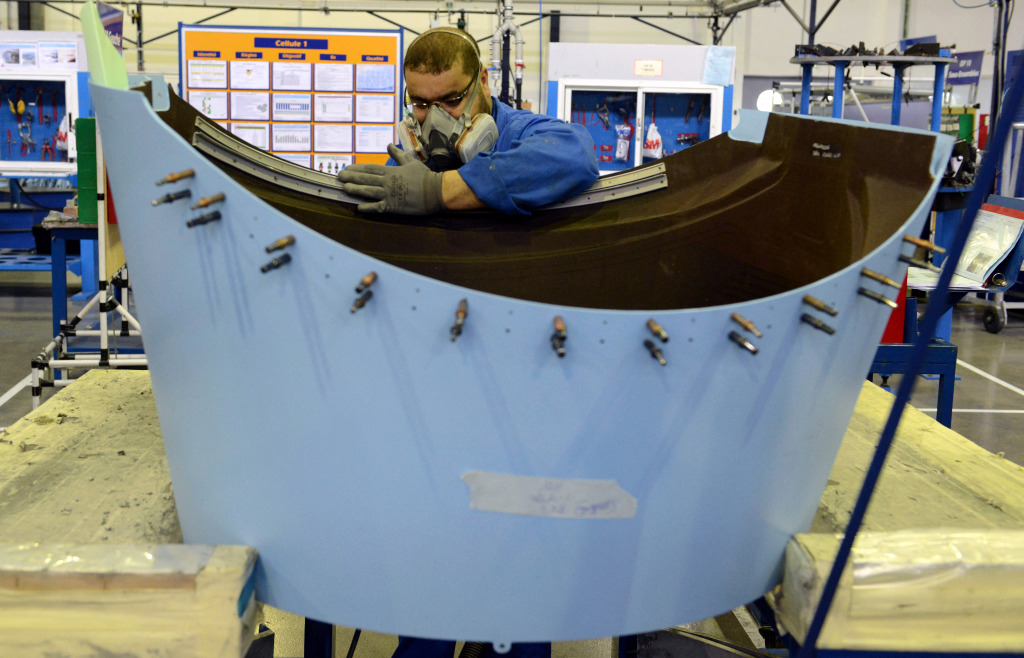 The firm manufactures across four main verticals in Canada and Morocco – aero, medical, industrial, and transportation – and in 2020 it repurposed one of its production lines to produce thousands of visors each day for the medical industry. It specialises in disruptive technologies and printable electronics, and kits out aircraft with gadgets including business class seat control units, ambient lighting, in-flight entertainment remote controls and toilet flush buttons.
Most new commercial aircraft have numerous components manufactured in Morocco, as the sector becomes firmly rooted in global value chains, with production growing on average 20% per year from 2014 until 2020.
In addition to Boeing and Airbus, major international players operating in Morocco include Safran, Bombardier Aerospace, and Thales; all are heavily invested in Africa's nascent aeronautical hub, setting up state-of-the-art industrial production capacity to boost their competitiveness, and taking advantage of a young, skilled workforce.
In 2016, Mazars, an international consulting firm, ranked Morocco as the world's fifth most attractive source for aerospace suppliers and number one in Africa. Advances in different segments of production have consolidated Morocco's status as a prime destination for aeronautical industry equipment manufacturers.
Sector shows underlying health
With passenger numbers expected to take years to return to 2019 levels – and travellers likely forced to show proof of having a vaccine in order to fly on major routes – the industry has been stopped in its tracks. However, firms in Morocco and market experts are bullish about the sector's underlying health, even while exports dropped by nearly a third to $1.3bn in 2020, and 10% of jobs were cut.
"As with many sectors, this challenging crisis is also an opportunity to reorganise strategy and reduce costs," says Bernardo Bruzzone, Africa editor at the Oxford Business Group. "Airlines will have to drastically reduce costs to recover from the crisis, and manufacturers with lower costs and prices can benefit from this. The worst moment for the industry has passed, as the trend is for travel to pick up with the current global vaccination plans."
The industry must contend with major challenges, however.
Collins Aerospace, a major industry player owned by US giant Raytheon Technologies, expanded the the site of its Ratier-Figeac Maroc subsidiary by 40% in 2019, to supply models including the Airbus A320Neo and the Boeing 777X. Last year it had to cut its workforce by 30% in Morocco, and production is expected to stall well into Q3 this year.
Karim Cheikh, president of the Moroccan Aerospace Suppliers Association (GIMAS) says overall activity in Morocco has decreased by 23% since last March, at a time when the global market has seen a reduction of 40-50%.
Morocco has roughly 140 aeronautical suppliers employing more than 17,000 people, and the government still plans to increase the number of firms operating to 220 by 2030, employing 40,000 people. GIMAS is launching a plan dubbed "Industry 4.0" to boost competitiveness through high-tech skills training, digitalisation, and the use of clean energy to help build the next generation of commercial aircraft.
Learning lessons from abroad
Aviation is crucial to the world economy, supporting an estimated $1.8 trillion of economic activity in 2019 according to the International Air Transport Association (IATA).
African aviation recovers despite second wave
Airlines brainstorm pandemic solutions
Covid-19 pushes African airlines to the brink
Morocco learned important lessons from Mexico's rise as a crucial aerospace manufacturing hub for the North American market, where everything from engines, to cargo doors, landing gear assemblies and components are made. The kingdom has positioned itself to exploit the European ecosystem, and hopes to increase exports to the US. Morocco also studied the tax exemptions Malaysia deployed to bring a surge of investment into its aerospace industry.
"We've been directly impacted by Covid, but Africa is a tremendously exciting continent and with huge potential for additional growth," says Jonathan Modru, Collins site director in Morocco.
Efforts are also underway to boost skills in the industry. The Institute of Aeronautical Professions (IMA) was created in 2011 by GIMAS, and is one of a number of specialised institutions offering tailor-made training in the aeronautics professions. Courses are free and are fully subsidised by the Moroccan government.
Modru says Collins employs half their workforce from graduates from the IMA. Government support of up to $5,600 a year per person has also been provided to train new engineers and managerial staff at Midparc.
Industry analysts say new employment will likely pause for one or two years, but government forward-planning and competitive wages mean numbers may quickly pick up when travel volumes increase.
"Our expanded site allows us to work with major customers in the coming years, and we're committed to increasing our footprint and technical focus, so we're encouraged by the opportunities we can develop for this young population," says Modru.
Data on the Midparc website reveals that wages start as low as $327 per month, compared with $430 in Turkey and $1,280 in South Africa. Spanish workers with a similar skill set earn more than 10 times as much as Moroccans.
Ecosystems revolve around manufacturing and assembly. Boeing has the biggest ecosystem in Morocco following a deal signed with the Moroccan government in 2016 that envisaged setting up 120 suppliers and creating 8,700 specialised jobs.
Boeing and Airbus also benefit from financial incentives offered to suppliers. Morocco gives new investors full exemptions from corporate income tax for five years, and a 15% tax rate for subsequent years.
Technological change is another driver of investment. Collins, which has operated in Morocco for over 10 years, is working on contactless technology to improve safety and efficiency at the airports.
"Technology is playing a significant role in the recovery and biometrics is going to be the key enabler to reducing virus transmission, by providing a contactless journey through the airport," says Hervé Tilloy, Collins Aerospace communication director for Africa.
Tilloy says Collins is currently implementing customer bag-drop solutions in a couple of African airports and interest is growing. The firm is looking to incorporate biometrics with mobile device technologies to avoid contact at check-in, immigration and boarding, as airports find ways to improve safety and efficiency.
"The key is to get passengers to trust the airport and the airline. This can be done by introducing our contactless solutions, as well as new innovations like mask detection, enabling the authorities to enforce their local regulations around masks," says Tilloy. "The challenge in Africa is to get all the stakeholders, including airlines, airports and immigration, to work together towards this goal."
Looking to the future
With Morocco's Industrial Acceleration Plan 2014-2020 completed, special economic zones with centralised services are benefiting suppliers and catering to their needs. Now the kingdom and its aeronautical industry must look to the future.
Operators in Casablanca and Tangiers see opportunities in the recent announcement by Airbus to make carbon-free aircraft by 2035, and further good news came in February, when French aeronautics company Le Piston Français (LPF) inaugurated a new factory near Casablanca for the production of mechanical aeronautical parts.
The Covid-19 pandemic has not put an end to the burgeoning aeronautical ecosystem in Morocco, says Bruzzone. "This ecosystem will return stronger after suffering a significant impact that helped solidify the existing basis and reduce costs," he predicts.