On 24 March, the sound of gunfire rang out in the northern Mozambican town of Palma. More than 100 insurgents, exploiting a troop rotation that left the town exposed, overpowered security forces and seized the town of 75,000.
Among the atrocities reported by those in the town were streets littered with beheaded bodies. A convoy of foreigners who gathered at the Hotel Amarula, before trying to escape, were repeatedly ambushed.
The insurgents, whose goals are largely obscure but who are thought to be loosely linked to the Islamic State, killed dozens, displaced thousands, robbed banks and pilfered food from aid warehouses in what experts claim is a watershed moment in the four-year struggle in Cabo Delgado province.
The insurgency now represents the biggest threat to Mozambique's security since the on-off civil war. While Mozambique's government claims it has regained the upper hand, analysts say the vital region is far from secure.
Total declares force majeure
On 26 April, French oil major Total declared force majeure on its $20bn gas development in Mozambique, confirming that it had withdrawn all of its staff from the construction site. The future of the project, which was expected to begin production in 2024, is now in significant doubt. Declaring force majeure allows Total to legally suspend its operations and it is unlikely that it will resume them until the situation improves.
Total was midway through construction at its Afungi natural gas site, which is thought to hold approximately 65 trillion cubic feet of recoverable natural gas.
In a statement, the company said: "Considering the evolution of the security situation … Total confirms the withdrawal of all Mozambique LNG project personnel from the Afungi site. This situation leads Total, as operator of Mozambique LNG project, to declare force majeure."
The project lies just 10km from Palma, and work had only just resumed following a long pause.
"War did force Total to pull out and it is expected to not be back for at least a year," says Joseph Hanlon, a Mozambique expert at the UK's Open University, speaking about the company's suspension of operations prior to the declaration of force majeure.
Although the situation on the ground is hard to discern amid an internet blackout, Hanlon says the security situation is "not at all" under control, with further attacks expected on Palma and perhaps Mueda, a town to its southwest.
Alex Vines, head of the Africa programme at Chatham House, says the insurgency was not linked to the announcement that Total was resuming operations. However, "they had good information that the operating terms for the Afungi government forces was not to support Palma if it came under attack, but to protect Afungi," he says.
As of mid-April, militants from the Ahlus Sunnah wal Jamaah (ASWJ) movement remain in control of much of the port of Mocímboa da Praia, 50 miles south of Palma, which they took last year.
"The insecurity caused by the insurgency is raising the investment costs of the offshore LNG projects due to the security-related evacuations and construction delays," says Gerrit van Rooyen, an economist with NKC African Economics.
"Concerns about reduced prospects for future LNG exports or that the Cabo Delgado crisis could spread to other regions could deter some foreign investment."
Oil majors on alert
Total is not the only corporation with major interests in the region. Indeed, it owns one of a series of gas projects that together have a price tag of $120bn.
Italian oil giant Eni, UK-based BP and the China National Petroleum Corporation are all involved in developing Mozambique's bountiful supply of natural gas. Meanwhile, US giant ExxonMobil is leading the $30bn Rovuma LNG project in Cabo Delgado, but has delayed its final investment decision. Behind the oil companies are large institutional investors, such as Standard Bank, a South African lender, which pumped $485m into Total's project.
Despite the waning popularity globally of oil and gas amid environmental concerns, the deposits remain the key to unlocking Mozambique's economic growth. Thousands of people were relocated from coastal areas inland to accommodate offshore projects as the Mozambican government threw its support behind oil and gas development, worrying NGOs.
"It is the goose that is going to lay the golden egg," says Vines. The sheer scale of the investments, analysts say, virtually guarantee that oil majors will not walk away.
Most of the companies in question have declined to comment on the perilous situation in the northern province, which lies 2,700km from the capital Maputo. But the conflict has also wrought a devastating human cost. Thousands of Mozambicans have fled the violence, streaming into dense forests or into the sea on boats.
Today, almost a million people face severe hunger, according to the UN's World Food Programme, which has appealed to donors in a bid to raise $82m to confront the crisis. By mid-February of this year, according to the World Bank, 798 incidents of conflict had been recorded in the gas-rich province in four years, with nearly 4,000 deaths and 600,000 refugees.
"Although government security forces have retaken Palma, ASWJ retains the initiative and without a major rethink of Maputo's counter-insurgency strategy, the situation is unlikely to improve in 2021," says Alexandre Raymakers, senior Africa analyst at Verisk Maplecroft, a risk consultancy.
"Considering that ASWJ remains dependent on looting for supplies, the risk of an attack on the provincial capital of Pemba has increased."
Legacy of underdevelopment
The insurgency in Mozambique's poorest province is fuelled by local grievances about corruption, unemployment and underdevelopment. While Islamism appears to be part of the insurgency's toxic mix, violent groups also feed off "Mozambique's north-south regional divide, perceptions of the capture of the state and its resources, and a sense of socioeconomic exclusion, particularly among the youth," writes Idah Pswarayi-Riddihough, World Bank country director for Mozambique.
The region has historically ranked among the lowest in the country for access to education, water, sanitation and electricity, fuelling local resentment and providing fertile soil for militants.  
The region's development is contingent on prolonged peace, but the country is no stranger to conflict. Around 1m people are estimated to have been killed during a decades-long conflict between the Front for the Liberation of Mozambique (Frelimo) government, now led by Filipe Nyusi, the president, and the heavily armed Renamo opposition group. The conflict began shortly after independence in 1975 and cooled between 1993 and 2013, before being reignited again and brought to a lasting conclusion with a peace deal in 2019.
Despite the decades-long civil war, Mozambique's armed forces have limited capacity to respond to the insurgency. Badly trained and poorly equipped government forces are struggling to gain the initiative in Cabo Delgado, leaving Nyusi's government reliant on private contractors, including mercenaries from Russia and South Africa.
"Nothing the Mozambican army has done so far suggests they can defeat the insurgency without significant aid, new weapons and technical assistance," says van Rooyen. "They probably need help from foreign armed forces, but thus far Maputo has only been willing to work with private paramilitary groups."
Maputo's suspicion of Western intervention dates back to the state's socialist roots, but private security firms are unlikely to offer a permanent solution. In a report that also implicates militants and government forces in atrocities, Amnesty International alleges that operatives from a private security firm committed violations against the region's civilian population, indiscriminately firing at civilians and dropping hand grenades into crowds of people. At the beginning of March the firm told Reuters news agency it was investigating the allegations.
Vines says the US is now training Mozambican marines, Portugal is preparing to send 60 trainers, and the UK, Kenya and South Africa are helping too. The regional body, SADC, will send an assessment team to identify the gaps and how to plug them.
A disaster foretold
Earlier this year, Total CEO Patrick Pouyanné flew to Maputo to warn Nyusi of the threat of the insurgency and to campaign for a 25km security cordon around the Afungi development. Although the Mozambican president promised to strengthen security, the security forces were caught unawares in March.
The government claims it has regained the upper hand in Palma, but that is unlikely to assuage the fears of oil majors. "Foreign companies that have not completely withdrawn from Cabo Delgado are rapidly increasing security measures and putting pressure on the government for more troops to be mobilised to the north," says Robert Besseling of Pangea Risk, a business intelligence group.
Experts say that between half and all of the foreign direct investment (FDI) in Mozambique over the past decade has been geared towards future gas production and a consequent state revenue boost. As a result, a suspension of work at the LNG project site is expected to sap levels of FDI.
In 2018, the country's Ministry of Economy and Finance estimated that an 18-month delay and 20% extra cost on two key zones of the gas development could dent government revenue by 6%, almost $2.5bn.
The violence has come at a difficult time for Mozambique's fragile economy, which was already struggling through a Covid-19-related recession, although the recent stabilisation of the currency had hinted at the early signs of an economic recovery. The economy registered its first contraction in three decades last year.
"Throughout 2020, the extractives sector faced a perfect storm of low commodity prices, muted global demand and depressed production," says Ed Hobey-Hamsher, senior Africa analyst at Verisk Maplecroft. "The decline in domestic demand that followed the introduction of lockdown measures constrained private sector services and manufacturing output, exacerbating depressed business sentiment."
Growth hovered around 7% between 2011 and 2015, but halved in 2016 following a corruption scandal that sapped investor confidence. In what has become known as the "Tuna Bond" scandal, Maputo borrowed $2bn through state-owned firms from international banks to invest in its fishing industry, but failed to declare more than half to the IMF, before $500m disappeared. Two years ago, cyclones obliterated 300,000 homes and 800,000 hectares of crops.
The IMF expects Mozambican GDP to grow 2.1% this year, with inflation projected at 5.3%. By 2022, according to the World Bank, growth should have rebounded to 4%. Investors nevertheless worry that the prolonged suspension of oil projects will slash government revenue and prevent it from paying its huge debts, including the restructured "Tuna Bond".
"Mozambique has effectively already spent some of the anticipated gas revenue windfall, at high interest, and this gas bonanza may now never happen," says Besseling. "So we can expect more non-payments, including sovereign default risk, unless the country can rapidly convince multilaterals that it is willing to implement economic reforms and enhance transparency, which seems unlikely."
NKC Economics put external public debt at around 87% of GDP, or $11.8bn, at the end of last year.
Causes for optimism
There is, nevertheless, cause for mild optimism. Mozambique is endowed with ample arable land, mineral resources, three deep sea ports and a large labour pool. It is viewed by four landlocked neighbours as a key access point to global markets. Its median age is just 17.6 years old, which excites investors on the hunt for growth markets.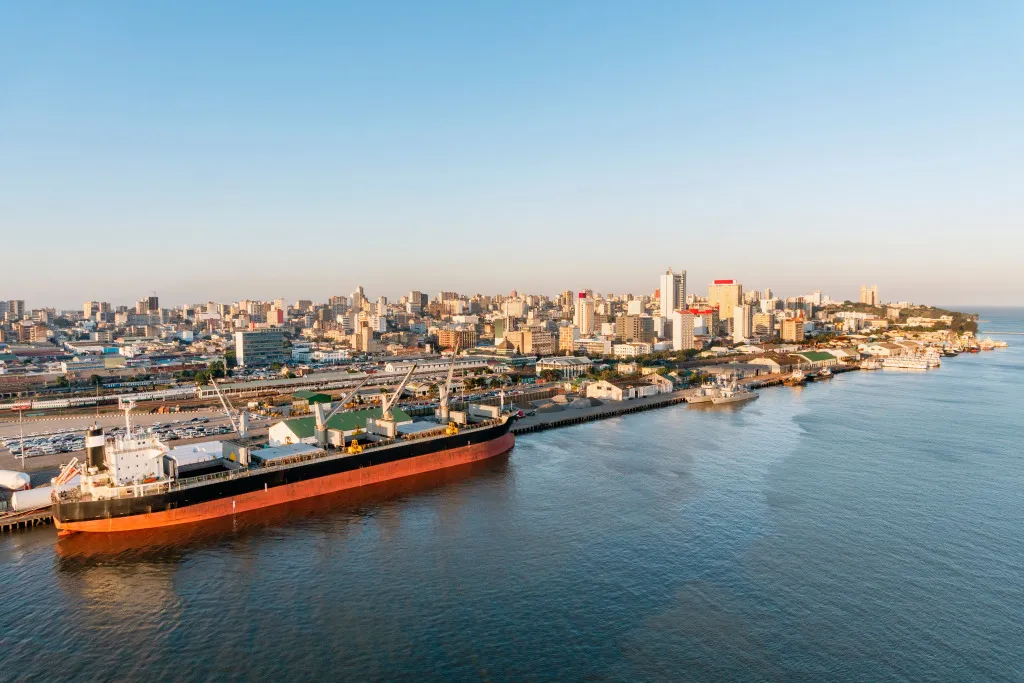 Mozambique's currency, the metical, also "recovered to pre-Covid-19 levels in December 2020 after depreciating approximately 20% between January and November of last year, suggesting the beginnings of a recovery in investment and business activity," says Hobey-Hamsher.
"We expect to see further investment in non-energy sectors such as banking, telecoms and agriculture, although the structure of such projects will be changed as the guarantee of massive gas revenues has been indefinitely delayed," says Besseling.
A rare ray of light for the embattled oil and gas sector is Eni's Coral South project, which is unaffected by the latest violence and expected to begin production in 2022, bringing much-needed investment into government coffers. Potential buyers who could one day buy the gas include India and South Africa, says Vines.
What matters most, however, is bringing the security situation under control in Cabo Delgado and offering hope to the benighted region beyond the introduction of private security forces. Until the people of Cabo Delgado feel that they have a stake in its wealth, insurgent groups will continue to capitalise on economic and social grievances. While that happens, investment that Mozambique's heavily indebted government desperately needs will remain beyond reach.
"I don't think this is going to be solved in months, I tend to think this is years, but I do think it's solvable," said Vines. "I don't think this is the Sahel."
Subscribe for full access
You've reached the maximum number of free articles for this month.
Digital Monthly
£8.00 / month
Receive full unlimited access to our articles, opinions, podcasts and more.
Digital Yearly
£70.00 / year
Receive full unlimited access to our articles, opinions, podcasts and more.