The digitisation of democracy in Africa is driving an increasingly important role for private enterprise at every stage of the electoral process.
The companies at the forefront of the election business provide the technical expertise to navigate the new digital world, from facilitating biometric registration and electronic voting, to advising political parties on online messaging, to providing arenas for online political discussion.
However, these enterprises have varying levels of transparency, professional integrity, and electoral expertise.
With many key votes coming up in 2021 in places such as Congo-Brazzaville, Djibouti, Central African Republic, Côte d'Ivoire, Benin, Chad and Ethiopia, it is more important than ever for authorities to implement effective measures to verify the integrity of companies that serve their electorates in the democratic process.
The three components of the private election economy in Africa are: election administration consultants, social networks and apps, and political campaign consultants. Each is likely to play a crucial role in the upcoming elections.
Starting from the mid-2000s, African election authorities have been increasingly supported by election administration consultants. These are businesses that provide technology such as facial recognition software to verify electoral rolls, voting machines and vote-counting capabilities.
The need to minimise social contact during the pandemic has also increased demand for such contractors, who are broadening their offering to include measures to contain the spread of Covid-19.
While the details of these contracts often remain unpublished, available information shows that tens of millions of dollars a year are being spent, often replacing pre-existing equipment. The examples are too many to cite.
Niger awarded French company Gemalto a US $20m contract for biometric voting software in preparation for their election earlier this year. Meanwhile, Chad replaced its entire fleet of French-procured biometric identification machines purchased in 2015, with new Belgian machines in advance of its upcoming election in April.
Open Zambia, a website citing itself as the country's only source of independent news, reports that the election commission signed a $16m contract with UK-based Smartmatic for new voter registration devices in advance of the August 12 general election.
To date, almost half of all African states have contracted private business to provide biometric machines to register electors on the voter roll. More than twenty businesses specialising in electoral technologies have now signed contracts with African electoral authorities, though few of these hail from the continent itself.
The extent of the involvement will, for many, invoke the memory of Miru Systems' involvement in selling more than 100,000 voting machines to the Democratic Republic of the Congo in advance of the 2018 election. The contract was estimated at $150m by the Enough Project, a civil society organisation.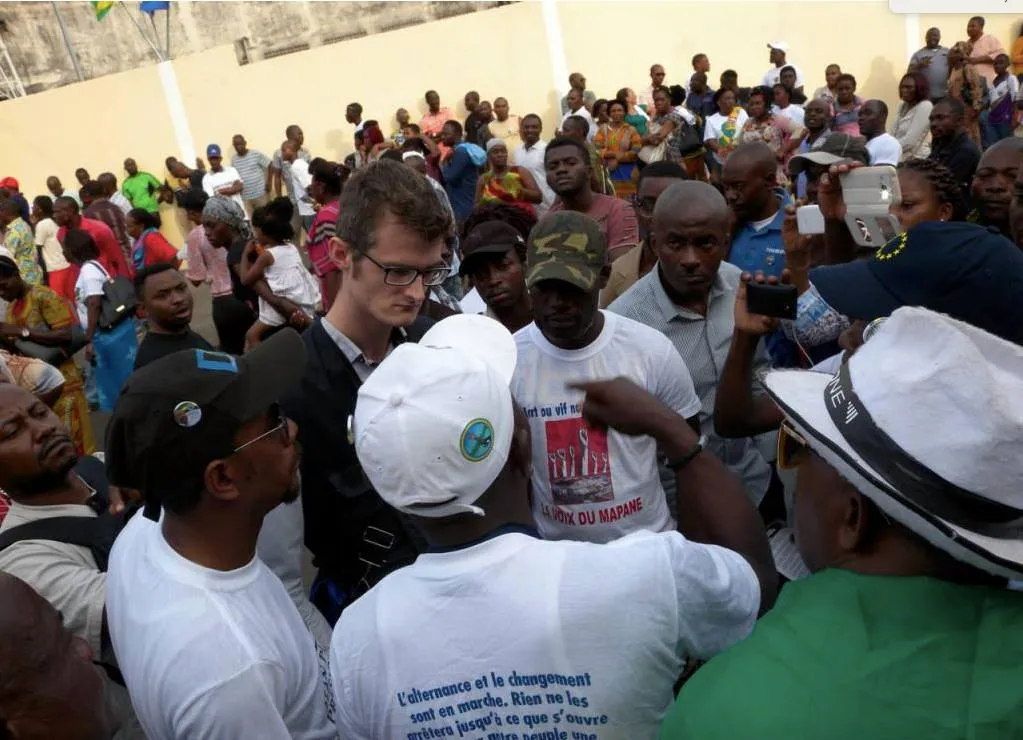 Around two thirds of the voting machines allocated for the capital burnt down in a fire in Kinshasa's election commission warehouse the week before election day.
The South Korean company, whose tablet-like voting machines were at the centre of the controversy, was criticised by both Congolese civil society organisations and the National Election Commission of South Korea itself. A report by US investigative group, The Sentry stressed that the 'vulnerabilities include potential threats to ballot secrecy as well as results manipulation'.
Following the highly contested election results, the African Union expressed "serious doubts" over the process in an unprecedented statement.
It is not just election commissions who offer opportunities to private enterprise in elections – political parties frequently draw on the advice of private companies to tailor their campaign messaging, typically by harnessing data.
This increasingly means harnessing data to target campaign messages online. Unfortunately, the speed with which data technology has progressed has surpassed the ability of regulators to exercise oversight.

Civil society organisations often undertake heroic efforts but suffer from insufficient resourcing and expertise.
The vacuum of oversight was demonstrated through the involvement of now-defunct political consultancy Cambridge Analytica in the Kenyan elections. While many details of the British firm's operations in Kenya remain unclear – the country had no data protection law at the time of the 2017 election – and we know that elsewhere, the organisation harvested more than 50m Facebook profiles.
Covid-19 has accelerated the rate at which election campaigns are moving online, amplifying the potential benefits of data-based microtargeting.
The solution is not over-regulation and censorship, which tends just to galvanise discontent with the electoral system. Instead, election authorities must equip themselves with the expertise and will to effectively prevent organisations with questionable track records in data protection from being involved in election campaigns, and to respond to such violations when they occur.
It is the responsibility of election bodies to demand transparency, to allow African citizens themselves to pass judgment on multimillion-dollar election contracts.
The third component of the private election economy is social networks themselves.
As Covid accelerates ongoing digitisation of election campaigns, this highlights the need for effective oversight, without which social networks provide an easy means for parties to exceed legally-mandated spending limits.
Progress has been made. For example, Facebook's ads library, which documents ad spending, now displays more information than it did in the past about spending on its platform during African elections.
Yet significant disparities remain. Full 'ad library reports' are available for only 6 African countries, compared with all 27 EU member states. While high-profile scandals have prompted action from Facebook, the lack of meaningful oversight across the continent leaves the door open for opaque practices on many other online platforms.
The volume of disinformation spread through closed-messaging apps such as WhatsApp, which is wildly popular in countries such as Ghana, Kenya and South Africa, has prompted African initiatives such as WhatsCrap to counter the spread of misleading claims.
Yet privacy concerns can often hamper investigations into the spread of disinformation over such networks. The growing accessibility and persuasiveness of so-called 'deepfake technology' – videos which use AI-technology to make it appear as if public figures are saying anything the creator desires – will only exacerbate this problem through 2021.
But the picture is not all doom and gloom. Private enterprises are playing a vital role in many aspects of the electoral process: Microsoft, for example, is rolling out a range of technologies that can help citizens across the globe identify disinformation on social networks.
Yet a vacuum of oversight, transparency and regulatory expertise poses critical risks for many upcoming African elections in 2021 and beyond.
For the sake of the companies making a positive difference on the continent, for voters themselves, and for the integrity of democracy, the time is ripe for states to take the necessary steps to ensure that only those organisations that play by the rules participate in the business of elections in Africa.
Ben Graham Jones is a British consultant on electoral assistance, election observation methodology, and disinformation mitigation. He has worked on 16 elections for organisations including the EU and the OSCE.
Camille Forite, PhD is a French elections specialist with a focus on Africa and Latin America. She has worked for the OSCE and the United Nations.
Subscribe for full access
You've reached the maximum number of free articles for this month.
Digital Monthly
£7.00 / month
Recieve full unlimited access to our articles, opinions, podcasts and more.
Digital Yearly
£56.00 / year
Recieve full unlimited access to our articles, opinions, podcasts and more.