The presidents of Angola, the Democratic Republic of Congo (DRC) and Zambia met in the Angolan port city of Lobito in early July to celebrate a major milestone in the revival of Africa's rail industry. The Lobito Atlantic Railway, a consortium led by multinational trader Trafigura, has been awarded a 30-year concession to operate the line running from Lobito to Kolwezi in the DRC's copperbelt. The consortium plans to invest $550m in the line, with the aim of bringing about a sixfold increase in freight traffic by 2035.
The railway, historically a key part of the region's economic infrastructure, extends over 1,300km from Lobito to the DRC border, and then for another 400km to Kolwezi. Originally built in the early 20th century, the railway fell into disrepair during Angola's civil war. A rehabilitation project undertaken by a Chinese contractor was completed in 2019.
"Our project will not only create a western route to market for goods and materials," said Trafigura's CEO Jeremy Weir at the ceremony, which marked the official launch of the concession. "We believe the Lobito railway will be a catalyst for growth and investment in Angola, the DRC, Zambia and the wider region."
The primary aim is clear – the Lobito rail corridor is effectively a "pit-to-port" line, designed to make it easier for mining companies to export material.
The award of the Lobito concession is part of a broader trend towards using rail to unlock commodity exports in Africa; many outsiders see African rail through the lens of the opportunity to secure access to the continent's resources.
However, rail offers other social, economic and environmental benefits. Both freight and passenger rail can strengthen trade links, improve economic competitiveness and reduce greenhouse gas emissions. The question is whether African rail projects that promote broader development, as opposed to merely facilitating commodity exports, can secure financing in an era of global economic uncertainty.
Related articles
Launching Lobito
Strengthening logistics along the Lobito railway corridor is welcome news for mining companies in the DRC's section of the copperbelt. Currently, cobalt and copper miners rely largely on trucks to take exports to ports in eastern and southern Africa, including Dar es-Salaam (Tanzania), Beira (Mozambique) and Durban (South Africa).
"These routes are all prone to congestion, with freight companies experiencing extensive delays at international borders, and competing for access to busy ports," says Nick Branson, associate director and energy transition lead at consulting firm Africa Practice.
"The Lobito corridor, once fully operational, would roughly halve transit times for Congolese copper and cobalt," he says, adding that Lobito's position on Angola's Atlantic coast will facilitate easier exports to Europe and the Americas.
The Trafigura-led consortium – which also includes Portuguese engineering group Mota-Engil and rail operating company Vecturis – plans to purchase 49 locomotives and 1,555 rail wagons. Parts of the line will be reinforced, while crossing loops will be extended to cater for longer trains.
The project has attracted enthusiastic support from the US, as Washington seeks to secure supplies of critical minerals – key to the green energy transition – from Central Africa, and to counter China's recent economic advances in the region.
President Joe Biden announced US support for the Lobito corridor at the G7 summit in Hiroshima, Japan, in May, noting the potential to connect it with existing rail infrastructure in Zambia, and ultimately Tanzania and Indian Ocean ports. The US International Development Finance Corporation is performing due diligence on a $250m financing package for further infrastructure improvements along the Lobito corridor.
"Solving chronic export blockages via the development of the Lobito corridor is a key priority for the US government," says Indigo Ellis, managing director at advisory group Africa Matters Limited.
She adds that Washington's support for the Lobito corridor is a "counterweight" to Chinese influence in the region. Chinese companies were awarded extensive mineral rights in the DRC through the Sicomines joint venture in 2007, in return for promising to develop infrastructure projects.
To some extent, geopolitical tensions provide an opportunity for Africa to play the superpowers off against one another to secure investments in rail and other projects. "African governments, particularly those rich in critical minerals, can diversify their investment partners by leveraging tensions between China and the US to secure favourable partnerships for infrastructure," says Ellis.
Belt and Road tightening
Chinese state-owned companies are continuing to scour Africa for opportunities to invest in natural resources. Several Chinese companies, along with multinational mining giant Rio Tinto, announced an agreement with Guinea's ruling military junta in August to facilitate iron ore exports from the country's massive Simandou deposits.
The project will involve the construction of a 600km railway, running from planned mines in the south-eastern tail of the country to an export terminal on Guinea's coast.
China's backing for the Simandou development and its associated rail links has been interpreted by many analysts as part of its strategy to lessen its dependence on Australia for iron ore imports.
Yet massive Chinese-built rail projects are becoming less common in Africa. "The Chinese banking sector does not have the same kind of capital sloshing around to play with as it did at the beginning of the Belt and Road Initiative," says Yunnan Chen, research fellow at global affairs think-tank ODI.
Chen explains that the bulk of Chinese investment in African rail infrastructure came during a period of "exuberance" in the late 2000s and early 2010s. The Chinese government believed at this time that overseas rail projects would generate demand for Chinese suppliers of equipment and machinery. The country's "policy banks" – including the China Development Bank and the Export-Import Bank of China, which are tasked with furthering Beijing's objectives – were given a mandate to fund major infrastructure schemes – including passenger rail lines.
The standard gauge railway (SGR) between Mombasa and Nairobi in Kenya, which started running in 2017, is the best-known example of China's willingness to finance and construct rail links in Africa. Other key projects include a link between Ethiopia and Djibouti, and a new line connecting Lagos and Ibadan in Nigeria.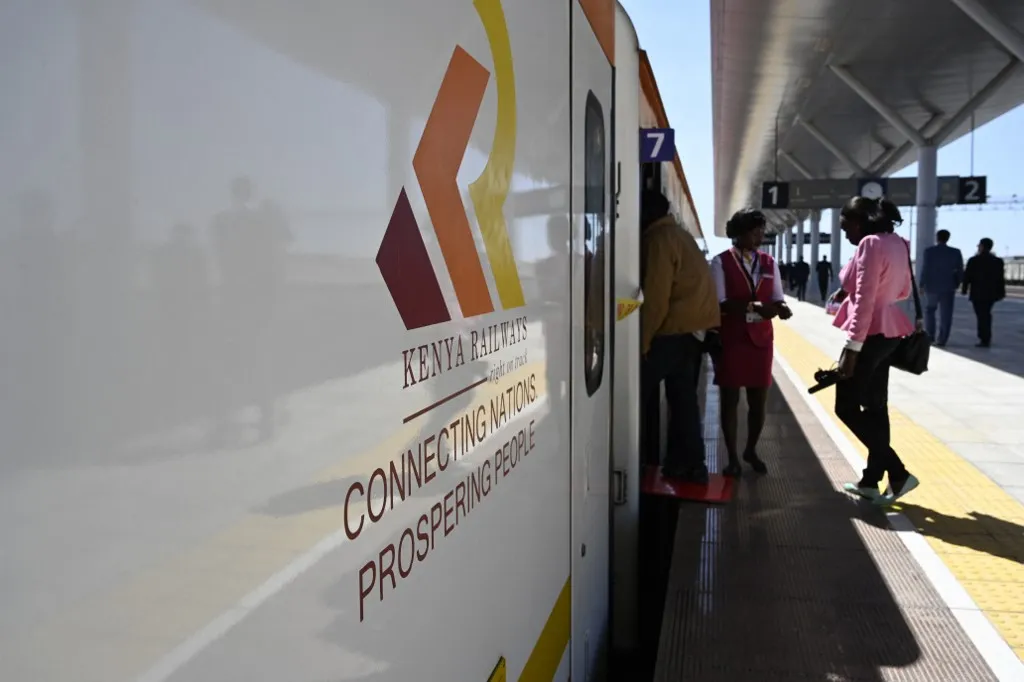 While Chen says the Chinese state saw rail as a key strategic pillar, she adds that in practice many projects were driven by Chinese construction contractors. These firms stood to benefit from infrastructure contracts, regardless of whether projects were economically viable; it was "not exactly in their interest to be restrained", says Chen.
However, the financial performance of Chinese-funded railways has proven to be disappointing in many cases. Local media reported last year that the Kenyan government was fined $10.8m by Chinese banks after falling behind on repaying loans taken out to fund the SGR.
The original intention with the SGR was to restore passenger rail links between Kenya and Uganda. A second phase between Nairobi and Naivasha was completed in 2019, but China's policy banks have refused to open their cheque books to fund further extensions towards the Ugandan border.
Chinese lenders are now "a lot more hesitant" to finance African rail projects in general, says Chen. "I would find it very, very surprising to see more major standard gauge railways," she says.
Lessons learned?
Have lessons been learned from the difficulties faced by some of the Chinese-built and Chinese-funded projects?
"The Chinese companies are very good at constructing railway infrastructure", says George Kaulbeck, global director for transport at infrastructure advisory firm CPCS. However, on projects such as the Kenyan SGR, there was "no real plan for operating the railway," he says.
"It's not been well executed. They ended up having the Chinese construction company seemingly hastily make arrangements for operating the rail line," he says, noting that mistakes were made in the acquisition of rolling stock and the setting of tariffs.
AfriStar, a subsidiary of the China Road and Bridge Corporation, the lead contractor on Kenya's SGR, was awarded a 10-year contract to operate the line. However, the state-owned Kenya Railways Corporation started to take over some operational functions in 2021, amid disquiet over the perceived lack of jobs for Kenyan staff.
Opportunities have been missed to "develop national know-how and capability" in Kenya, Kaulbeck laments. "There's been less involvement in design and planning, and even in construction."
Meanwhile, other rail projects built and funded by China have suffered serious maintenance problems. A light rail service began operating in Addis Ababa, Ethiopia, in 2015, but ridership has been far lower than expected. The majority of trains meant to serve the line are out of action, while the theft of electrical cables has further impacted performance.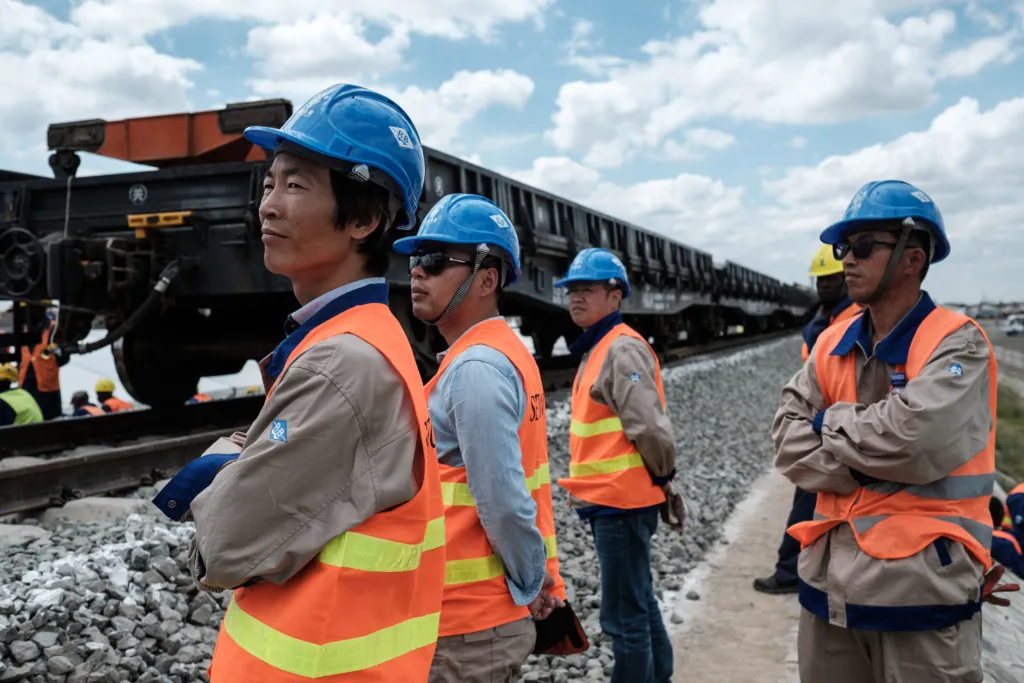 These problems are not unique to Chinese projects, or to passenger rail systems.
Many older rail lines are also teetering on the brink of collapse. South Africa has the most extensive rail system in Africa, yet the disastrous operational performance of state-owned logistics company Transnet is a major drag on the country's economy.
But African governments are not abandoning plans to extend their rail infrastructure. On the contrary, virtually every African country has ambitions to improve freight and passenger rail. Many cross-border projects remain very much on the agenda.
"The political will exists," says Christian Chavanel, rail system director and Africa coordinator at the International Union of Railways, a body representing the global rail sector. The "key challenge", he says, is financing.
Chavanel suggests that "climate finance and carbon markets could be used to improve and expand railways". Indeed, the climate benefits of rail are well-established. A single freight train can remove several hundred lorries from the roads, while moving goods by rail can reduce carbon emissions by around 75% compared to trucking by road.
Picking up steam?
There are definite signs of momentum in African rail construction, in spite of the myriad challenges and the lessening of Chinese largesse. "I think we're in the early stages of rail revival in Africa," says Kaulbeck.
One of the recent successes has been the launch of Africa's first high-speed rail link. The route between Tangiers and Casablanca in Morocco opened in 2018, with much of the financing coming from French sources. Passengers can travel at speeds of up to 320km per hour.
There are a plethora of projects designed to use rail to strengthen trade links between neighbouring countries, as governments seek to leverage the opportunities created by the African Continental Free Trade Area. But creating truly integrated rail networks for passenger and freight services in Africa is no small undertaking.
For a start, railways run on different gauges in different countries and, in some cases, even within a country. Narrow-gauge railways – including the 1,067mm "Cape gauge" lines – are increasingly being supplanted by 1,435mm standard-gauge lines, especially in East Africa. Transferring freight – particularly non-containerised freight – between railways that run on different gauges can be "almost a deal breaker", adding costs that can make rail transport prohibitively expensive, says Kaulbeck.
While the Lobito Atlantic Railway is well-placed to create a smoother flow of materials from pit to port, the project's ambition of linking up with the existing TAZARA railway that runs between Zambia and Tanzania will be much harder to achieve.
"A connection with TAZARA is theoretically possible," says Africa Practice's Branson. But he adds that "at present this seems far-fetched, given TAZARA's state of disrepair. The railway has not carried meaningful volumes of freight in over a decade, and the Zambian and Tanzanian governments appear more preoccupied with its conversion to standard gauge."
Patience will certainly be needed in making improved rail links appear in Africa. The reality is that the most financially viable projects are still pit-to-port links such as the Lobito Atlantic Railway. Rail projects globally are "rarely viable purely as a financial investment," Kaulbeck notes.
Railways, especially passenger services, almost always "need some sort of subsidy or investment by the government, without an expectation of a financial return".
The situation, in some ways, has not fundamentally changed since railways were first built in Africa during the colonial era. Now, as then, the rail projects with the best chance of getting off the ground are those to bring African resources to global markets.
Subscribe for full access
You've reached the maximum number of free articles for this month.
Digital Monthly
£8.00 / month
Receive full unlimited access to our articles, opinions, podcasts and more.
Digital Yearly
£70.00 / year
Receive full unlimited access to our articles, opinions, podcasts and more.