Africa presents the last big growth opportunity and investment frontier. Understanding the continent's opportunities and complexities often requires an intimate connection to the continent. Being born and raised in Africa, I can attest to the very diverse environment that forms the building blocks of the economy and operating environment. To stand a chance of succeeding in the world's fastest-growing continent you must first uncover the gritty realities of operating on the ground in multiple jurisdictions where unique challenges require innovative solutions.
In a recent speech, the Prime Minister of Singapore, Mr. Lee Hsien Loong, alluded to this perspective. He urged Singaporean firms to recognise the abundance of opportunities in Africa. He also stressed the importance of partnering with African entrepreneurs and businesses in doing so, to unlock the continent's full potential.
The Adansonia Group, headquartered in Singapore and with a presence in Mauritius, offers corporate, administrative, advisory and fund management services to African-focussed legal entities, operating in diverse sectors across twenty African countries. We also operate a regulated Monetary Authority of Singapore ("MAS") Registered Fund Management Company (www.adansoniafundmanager.com.sg) , which manages two African-focused Variable Capital Companies ("VCC's"); Adansonia PE Opportunities VCC ("APEO") and Adansonia Fund VCC.
Investing in Africa's youth
Africa's youth population is growing at an unparalleled rate. Current data from the UN Population Prospects 2022 shows that Sub-Saharan Africa's share of the global working-age population is rising sharply while those of India and China continue to fall.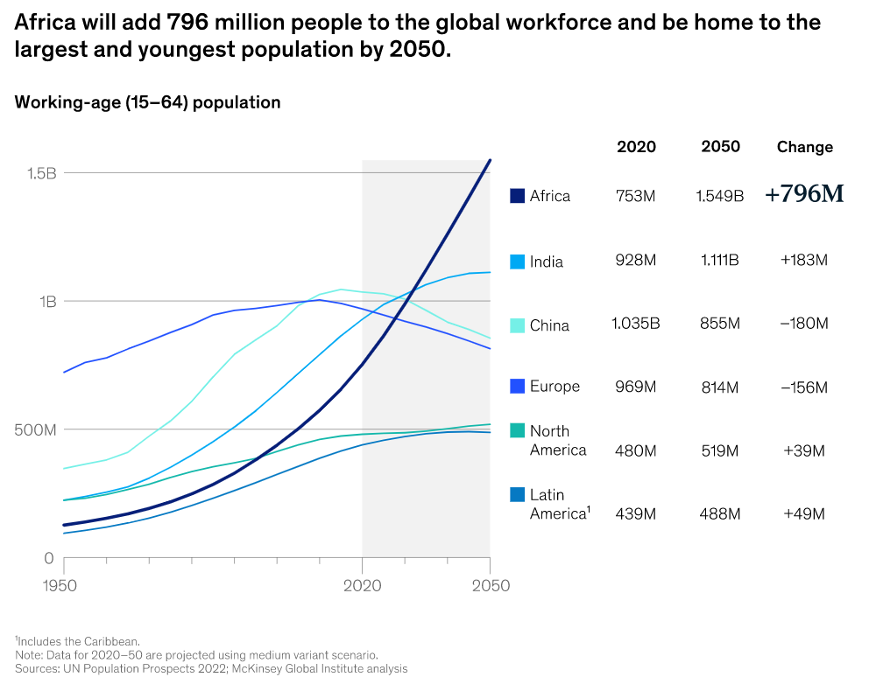 This rapid growth is sparking an unprecedented adoption of the internet, particularly through the use of smartphones. This trend is facilitating the development of ground-breaking business services and more efficient distribution models across various industries and services. To capitalise on this trend, the Adansonia Group launched its Adansonia Tech Fund.
Boots on the ground
A compelling example of successful investment in APEO is Alphamin Resources Corporation, a tin mine in the remote jungles of North Kivu, Democratic Republic of Congo. In my visit to the proposed mine site in June 2014, I was greeted with a view of an abandoned artisanal mine in the middle of some of the harshest jungle on earth (featured image above) – it was difficult to wrap my head around the fact that this is the richest, highest grade orebody of tin on the planet.
Amazingly, today this hillside has been transformed into a profitable venture providing 4% of the world's tin, projected to rise to 7% by 2024. This accomplishment was possible due to a committed management team with local experience, a stringent stance against corruption, and the ability to navigate regulatory hurdles.
Persistence is key
APEO's hybrid permanent capital structure, showcased resilience in the face of adversity when investing in Blue Bird in 2018, a rapidly growing Ethiopian FMCG group. Despite an 18-month civil war that affected the nation's economy, Blue Bird persevered, controlling costs, and maintaining operations. Now, Blue Bird is on a fast recovery track, having recently attracted a substantial investment from Norfund, the Norwegian Investment Fund for developing countries, to establish an export arm. The investment thesis was sound: a rapidly growing economy and the needs of Africa's second most populous country being unmet presented an unmatched FMCG play on the continent.
Risk management through diversification
With 55 distinct countries, each with its own laws, regulations, and consumer behaviours, Africa presents a fragmented market but also diverse risk mitigation opportunities. By balancing industry and country-specific opportunities vs risks, APEO has consistently maintained an investment IRR exceeding 15% p.a. since inception, even amidst various periodic setbacks experienced in Ethiopia, Uganda, the DRC and Tanzania.
Africa presents both vast investment potential and considerable challenges. However, through understanding its complexities, committing to ethical conduct, and strategic diversification, significant growth opportunities can be unlocked. As Prime Minister Lee noted, such partnerships with Africa and her businesses can lead to exciting new frontiers of mutual success.
In conclusion
I believe that by adopting the key themes of:
Capitalising on Africa's population growth trend;
Ensuring investments have sound "on the ground" management presence and expertise;
Patient capital; and
A strategy to diversify your risk;
Both APEO and Adansonia Tech Fund will continue to enjoy the last big growth opportunity and investment frontier that the African continent offers.
For more information contact Brendon Jones by email at [email protected].
Subscribe for full access
You've reached the maximum number of free articles for this month.
Digital Monthly
£8.00 / month
Receive full unlimited access to our articles, opinions, podcasts and more.
Digital Yearly
£70.00 / year
Receive full unlimited access to our articles, opinions, podcasts and more.