Every day, more than 1,000 people are added to Kinshasa's population. The Congolese capital has been the fastest-growing major city in Africa this century. It swelled from just over 6m inhabitants in 2000 to more than 14m in 2020 – an average increase of 410,000 every year, according to the African Cities Research Consortium.
This level of rapid – and often unplanned – growth is placing a huge strain on Africa's cities. Decent and affordable housing is in desperately short supply. The UN estimates that 230m people in sub-Saharan Africa are living in what it defines as "slum households" – roughly half the continent's urban population.
For a problem so large, Africa's housing crisis receives remarkably little attention. "Everyone talks about infrastructure, and we feel like no-one talks about housing," laments Kecia Rust, executive director of the Centre for Affordable Housing Finance in Africa (CAHF), a Johannesburg-based think tank.
Thithi Kuhlase-Maseko, who leads the Johannesburg office of British International Investment (BII), the UK's development finance institution, says that housing "has been a challenging area for private sector players," partly because of their difficulties in accessing finance. However, she notes that the crisis also represents an opportunity for developers and their investors to benefit from the continent's urbanisation.
"Population growth will drive the development of more big cities within Africa and thus the demand for more affordable, sustainable and safe housing," she says.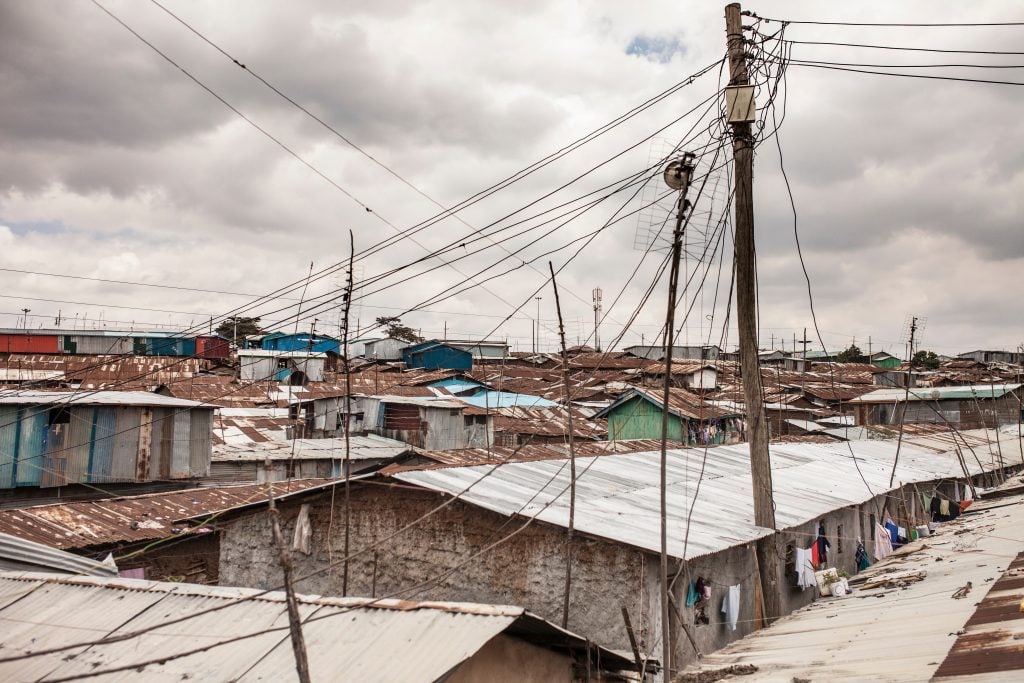 Home run
One of the UN's Sustainable Development Goals is to achieve universal access to adequate housing and the upgrading of slums by 2030. But the idea that hundreds of millions of decent homes can be built in Africa in the seven years left to hit the target appears wildly optimistic.
"Challenges come from both the supply and the demand side," says Abhinav Sinha, head of technology and telecoms at BII. "The demand side is not an easy one to fix because it really boils down to just improving the income levels as well as improving availability of mortgage products." BII has invested $36m in a South Africa-based affordable housing platform called Divercity, which is developing a number of projects that cater to low and middle-income households in the country.
There is no doubt that increasing the availability of loans for homeowners and housebuilders is a key priority. "Our business could be 10 times bigger, very, very quickly," if customers were able to get access to financing at reasonable interest rates, says Jason Horsey, executive director of Kenya-based real estate developer Unity Homes. But he concedes that the financing problem reflects the overall lack of savings in a country like Kenya. "We don't have enough capital in the country to justify a cheap cost of capital."
Related articles
Finance is a huge challenge
Rust reminds us that the financing challenge is "huge". For a start, Africa's mortgage markets are severely under-developed. The value of mortgages is less than 3% of GDP in the vast majority of African countries, according to CAHF data (compared to well over 50% of GDP in almost all developed markets).
Moreover, financing for homeowners is only one part of the puzzle. "You need construction finance, you need end-user finance, and you probably need infrastructure finance to wrap around it. And the availability of each one depends on the other," Rust explains.
It is not easy to get all of these pieces to fall into place. "Our industry has got a really bad reputation," says Horsey. Real estate developers often have trouble repaying loans. An alarming 24% of loan values in the Kenyan building and construction sectors were classed as non-performing in March 2023, according to Central Bank of Kenya data. The non-performing loan ratio in the real estate sector stood at 18%.
Time for innovative housebuilding
Given enduring financing difficulties, can innovative building methods help with the housing challenge – or even with the housing challenge?
A growing number of companies are experimenting with alternative building methods and unconventional construction materials; others are working on tech solutions designed to improve transparency and increase the availability of home loans. The challenge will be scaling new approaches quickly enough that they can keep pace with the continent's rapid urban population growth.
Homes that help with climate change
Globally, the manufacturing of building materials is responsible for 11% of carbon dioxide (CO2) emissions, according to the International Energy Agency – largely due to the carbon footprint of materials such as cement, concrete and steel.
A wooden building, by contrast, acts as a carbon store. "The carbon dioxide that was removed from the atmosphere and stored in the timber by the tree when it was growing is basically stored for the long term in the homes," says Dutch engineer Wolf Bierens.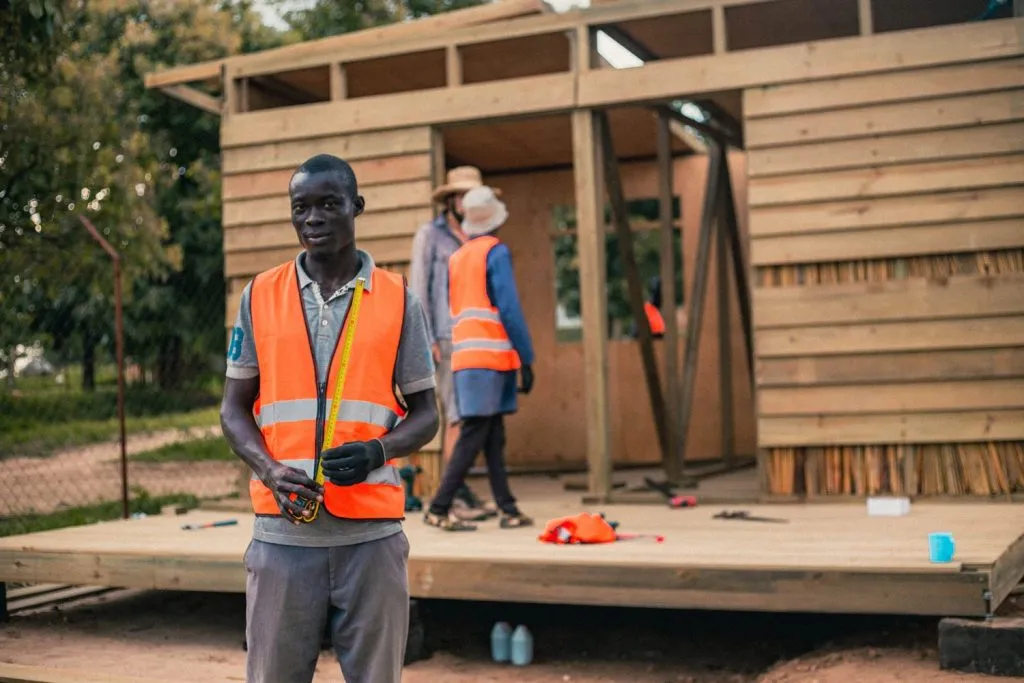 Bierens co-founded Easy Housing, a Uganda-based company that is seeking to build prefabricated homes using sustainably sourced timber. It is one of several companies offering "modular" or "prefabricated" housing, in which the components of a house are constructed in a workshop and then assembled on-site. Easy Housing received a grant earlier this year to help devise a "construction stored carbon monetisation framework," which could lead to homeowners who store CO2 in their timber homes receiving carbon credits.
"The traditional construction industry has a huge negative impact on the environment," Bierens says. Easy Housing's mission is to achieve the "decarbonisation of the construction industry across sub-Saharan Africa".
The company claims that these credits could be worth $2,500 in one of its homes, which would reduce the cost of a $15,000 unit by 16%.
Easy Housing is still at a very early stage. It has completed only a handful of homes so far. But its ambitions in Africa are almost limitless.
"We have a big, audacious goal to build one million homes by 2030," says Bierens. He predicts that once timber-built homes gain acceptance in countries such as Uganda, demand will escalate quickly. Easy Housing plans then to licence its technology to partners who would produce homes using its designs.
Why not print houses?
Children in the village of Kalonga in central Malawi smiled for the cameras in June 2021 as they celebrated the opening of a new school. This, however, was a school with a difference – the first in the world to be built using a 3D printer. Construction took 18 hours, as a computer-controlled steerable nozzle squirted concrete on to the top of the emerging structure.
The facility was built by 14Trees, a joint venture between BII and cement giant Holcim. The same company has delivered the 52-unit Mvule Gardens development on the Kenyan coast, one of the world's largest 3D-printed affordable neighbourhoods.
François Perrot, managing director at 14Trees, believes 3D printing "can play a key role" in tackling the shortage of housing and other vital facilities in Africa. The company recently launched a new, African-made printer, which it expects to become the workhorse of its construction activity. The printer uses laser systems to control quality and is designed with a lightweight frame to make it easier to transport and assemble.
Perrot says that 14Trees now uses local production teams and local supplies for the construction materials. He says construction costs are already competitive with conventional methods, and will soon be 20% cheaper.
But can 3D printing, which remains relatively nascent, really be scaled-up quickly? Perrot insists that it can, pointing out that huge advances in the technology have already been made in a short timeframe. "It will be much less than 10 years," he says, before 3D printing is making a meaningful impact on the housing shortage in Africa.
"We looked at how many classrooms are needed in a country like Malawi, and we estimated that even with unlimited funding, with the conventional construction technologies, it will take more than 70 years to close the backlog," says Perrot. "The only technology that could help to clear that backlog within less than 10 years is 3D printing."
14Trees plans to accelerate the development of the 3D printed market by licensing its technology to contractors. "What is driving us is that we want to show the return on investment for contractors," says Perrot. "The moment there is a return on investment for a contractor that invests in a 3D printer, then you will start to see many more contractors using that technology."
It's all about the fitting-out
Not everyone is convinced that 3D printing is the right approach, however. "To focus on 3D printing as a solution to the housing problem is missing the point completely," says Horsey. He says that constructing the shell of a building is relatively easy for developers that use more conventional methods; it is subsequent steps that are time-consuming. "You've still got to come in there and do the painting and the tiling and the wiring and the plumbing. That's where people should be focusing their attention, as opposed to the structure".
Unity Homes has taken a different approach, focusing instead on reducing costs and improving quality by becoming vertically integrated. This allows the company to mitigate the "fee leakage" that most developers experience from outsourcing key parts of the design and construction processes to contractors, Horsey says.
Wooing finance with innovation
One of the key reasons for advocates of modular and 3D-printed homes believing that they have a crucial role in the African housing market is because financial institutions may be more comfortable in offering loans against these kinds of properties.
Perrot says that the quality assurance techniques used in 3D printing help to reassure banks that "what they finance is safe and sustainable."
Meanwhile, developers that can demonstrate their green credentials potentially have an advantage with lenders, particularly international sources of finance. "Organisations like the World Bank and its private-sector financing arm the International Finance Corporation are very interested in providing financing for innovative housing solutions that can actually decarbonise the building sector. And they are partners that will be able to provide funding at a scalable level," says Bierens.
Rust agrees that developers that use alternative construction methods may have some advantages with financial institutions. But she still needs some convincing that these developers can provide the key to unlock housing finance in Africa, given the scale of the overall financing challenge and the fact that construction finance depends on lenders being convinced that there is sufficient market demand for homes built with alternative methods.
Digital transparency
"People need to start realising that affordable housing solutions that are effective in Europe or North America will not necessarily work the same way in Africa," says Ronald Omyonga, an architect and consultant who has spent more than 20 years working with various organisations on affordable housing initiatives. He points out that the housing market in Africa remains "very informal".
"People basically build for themselves or supervise the construction themselves. It's owner-managed construction," he says.
Even so, Omyonga believes technology can be a game-changer. In 2016, he co-founded iBUILD Global, a technology platform that he describes as a "soft intervention" to help improve Africa's housing market, while working with the realities that exist today.
iBUILD is designed to provide transparency. Homeowners can use the platform to verify the credentials of tradespeople, for example. "In a nutshell, iBUILD is an attempt to digitise that space and smooth some of the gaps within the value chain and get transparency in that system," Omyonga says.
Perhaps most significantly, platforms that offer this kind of transparency can provide reassurance to lenders. Omyonga reports that iBUILD is now working with a Kenyan financial institution, which plans to use the platform to verify that construction loans are used for their intended purpose. Homeowners would be required to send geotagged and time-stamped images of construction to lenders through the platform.
Housing for the people, by the people
Africa's housing crisis may well get worse before it gets better, given the frenetic growth of the continent's cities in a context where land rights are often unclear and planning processes move slowly.
Large-scale developments – whether they involve traditional building methods or more innovative techniques – are certainly needed, but there will always be a place for much smaller projects driven by individuals or community groups. "I think there's real opportunity in engaging with small-scale entrepreneurs, and doing what we've been calling 'massive small', where you promote thousands of small projects, rather than one project of a thousand units," says Rust.
Clearly, a mix of solutions at different scales are needed to accelerate progress in tackling a vast and dizzyingly complex problem. "We're kidding ourselves if we want to find simple answers," Rust says.
Subscribe for full access
You've reached the maximum number of free articles for this month.
Digital Monthly
£8.00 / month
Receive full unlimited access to our articles, opinions, podcasts and more.
Digital Yearly
£70.00 / year
Receive full unlimited access to our articles, opinions, podcasts and more.