The second Russia-Africa Summit will take place in St Petersburg's Expo Forum from 27-28 July 2023, with heads of state and government from many African countries expected to attend. The Russia-Africa Economic and Humanitarian Forum due to take place alongside it will provide a platform for business meetings and includes a programme of more than 30 panel sessions and thematic events (see below).
The Summit had originally been scheduled to take place in Addis Ababa in October 2022, but was postponed by Russia's President Vladimir Putin last July, most likely due to complications emerging from the Russian invasion of Ukraine.
The event marks "a serious first step towards our economic and political return to Africa," commented Russian Deputy Minister of Foreign Affairs Mikhail Bogdanov on 19 June.
What is the Russia-Africa Summit?
The organisers, Roscongress, describe the Summit as the "highest-level and largest-scale event in Russia-Africa relations" with the aim of bringing about a "new level of mutually beneficial partnership" between Russia and the continent.
"The goal of the event is to promote efforts to strengthen comprehensive and equal cooperation between Russia and African nations across all areas of society including politics, security, economic relations, science and technology, and the cultural and humanitarian spheres," say the organisers.
A political declaration is almost finished and is expected to be a consensus document, Russia's ambassador at large, Oleg Ozerov, told Russian news agency TASS on 19 June.
The event follows in the footsteps of other "Africa +1" summits such as the Forum on China-Africa Cooperation (FOCAC), Japan's TICAD and the US-Africa Leaders Summit.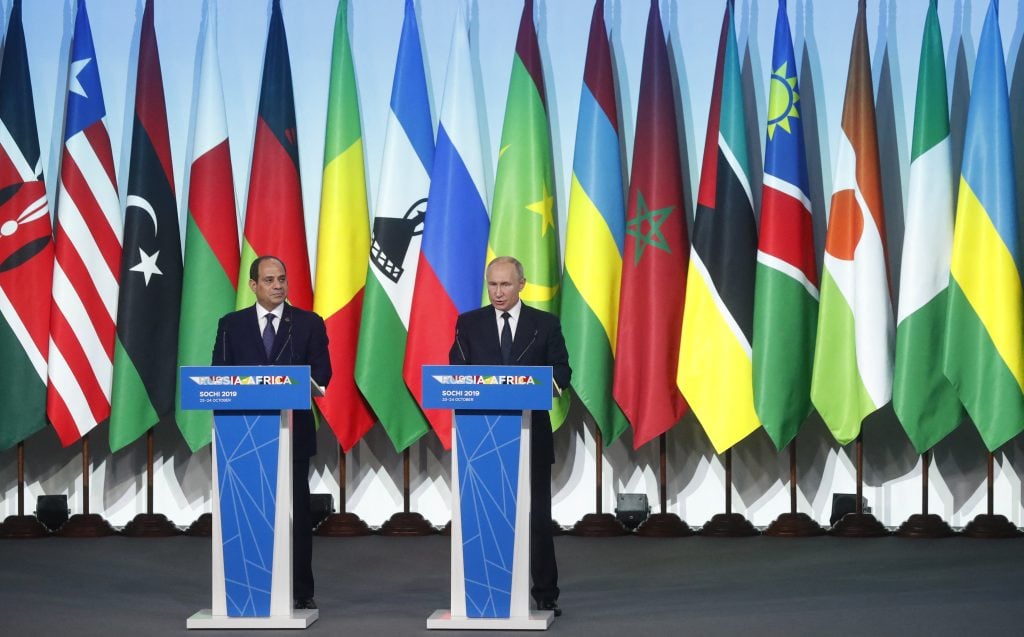 The first Russia-Africa Summit took place on 23–24 October 2019 in Sochi, a resort on Russia's Black Sea coast. Held under the motto "For Peace, Security and Development", it was co-hosted by President Vladimir Putin and President Abdel Fatah al-Sisi of Egypt.
Forty-five African heads of state and two vice-presidents were in attendance, along with 109 ministers and the heads of the African Union (AU) Commission, the African Export–Import Bank and a number of regional economic communities.
Addressing the Summit, Moussa Faki Mahamat, chair of the AU Commission highlighted the principles of the Africa-Russia strategic partnership and its potential for cooperation in agriculture, natural resource development, industry, trade, infrastructure and energy, as well as in the areas of military, peace and political cooperation.
A final declaration was adopted envisaging the holding of future summits every three years.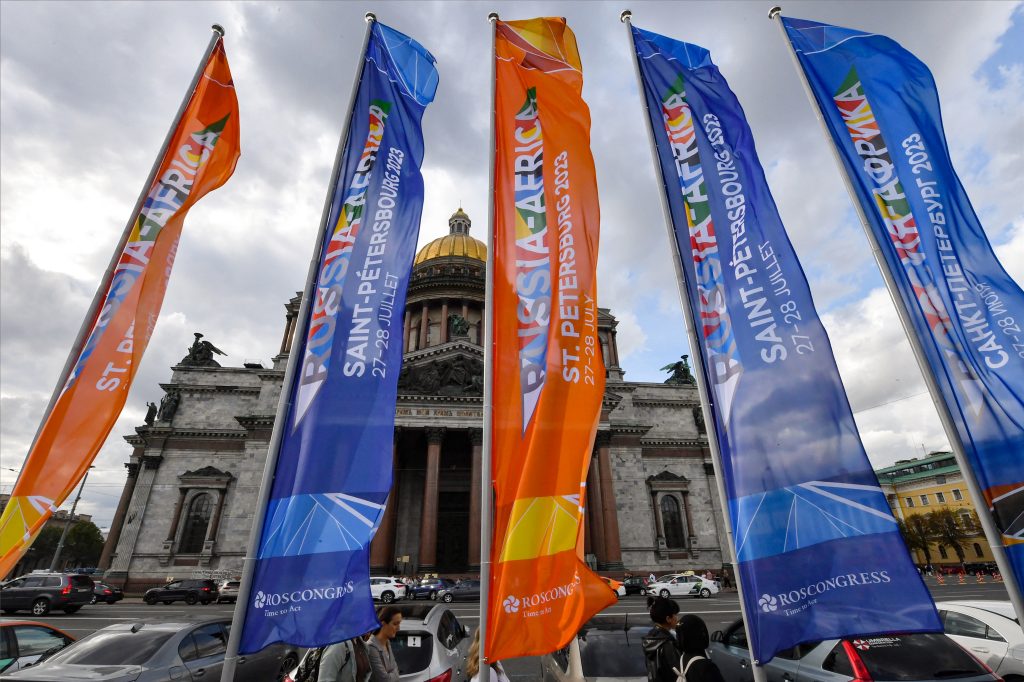 What is the Economic and Humanitarian Forum?
The first Russia-Africa Summit was accompanied by a Russia-Africa Economic Forum, at the end of which 92 contracts and memoranda of understanding with a publicly disclosed value of 1.004 trillion roubles ($12.5bn) were signed (the value of some agreements were considered to be trade secrets).
Some 569 meetings took place at the Forum, which was attended by more than 6,000 participants, including 1,100 representatives of international business, around 1,400 representatives of Russian business, over 1,900 members of official foreign delegations and over 300 Russian delegation members.
It was decided to expand the 2023 edition of the Forum to include a humanitarian element. It will also include a large-scale exhibition and a platform for business meetings.
A programme of events has been announced, grouped into four thematic blocks:
The New Global Economy – this will focus on expanding business cooperation between Russia and African countries
Security – looking at how Russia's experience in ensuring security be beneficial to African countries
Science and Technology – key themes will be industrial cooperation as a means towards technological sovereignty and advanced technologies important to Africa's sustainable development. There will be sessions on nuclear, digital, and healthcare technologies
Humanitarian and Social Issues – covering cooperation in education, culture, sports, and empowerment for women and young people
There will also be a media forum, a meeting of university rectors and a roundtable of Russian and African auditing bodies.
There will also be a Creative Business Forum, a Healthy Life Forum, and a special cooperation forum between Russian and African government agencies and enterprises engaged in the precious metals industry.
The events "will be aimed at comprehensively bolstering Russian-African cooperation and are intended to determine the overall, long-term development trajectory of Russian-African ties", say the organisers (see below for details of the programme).
Presentations of opportunities that can be offered to African countries will be given for heads of state and delegates by the leaders of such companies as Rosatom, Russian Railways, Rosgeo, and VTB, according to Russian Minister of Economic Development Maxim Oreshkin. Some 23 intergovernmental and interagency agreements and other agreements between African and Russian companies are expected to be signed on the sidelines of the Forum.
Africa and the Ukraine conflict
Many African countries have taken a neutral stance over the conflict in Ukraine. In a UN vote on 22 March 2022, just over half of African members (28) voted in favour of a resolution condemning Russia's invasion, while 17 voted to abstain, eight did not cast a vote and one (Eritrea) voted against.
In an Ipsos survey carried out in June, a random study of adults in South Africa, Kenya, Nigeria, Senegal, Uganda and Zambia, a majority felt tht the Russian invasion of Ukraine was against the principles of international law and that Russian forces should withdraw from Ukraine. But at the same time, a majority also expressed strong feelings that the continent should stay nonaligned or neutral in this conflict. Large majorities also agreed that the war was detrimental to Africa, as it had contributed to a cost of living crisis that was having a real impact in terms of the cost of food and fuel.
Russia and Ukraine are both major exporters of fuel and grain and Africa has been hit hard by the increases in the prices of these commodities as well as fuel price inflation due to the war.
On June 16-17 a delegation of African leaders including President Cyril Ramaphosa of South Africa, President Macky Sall of Senegal and President Hakainde Hichilema of Zambia visited Kyiv and St Petersburg on a peace-seeking mission.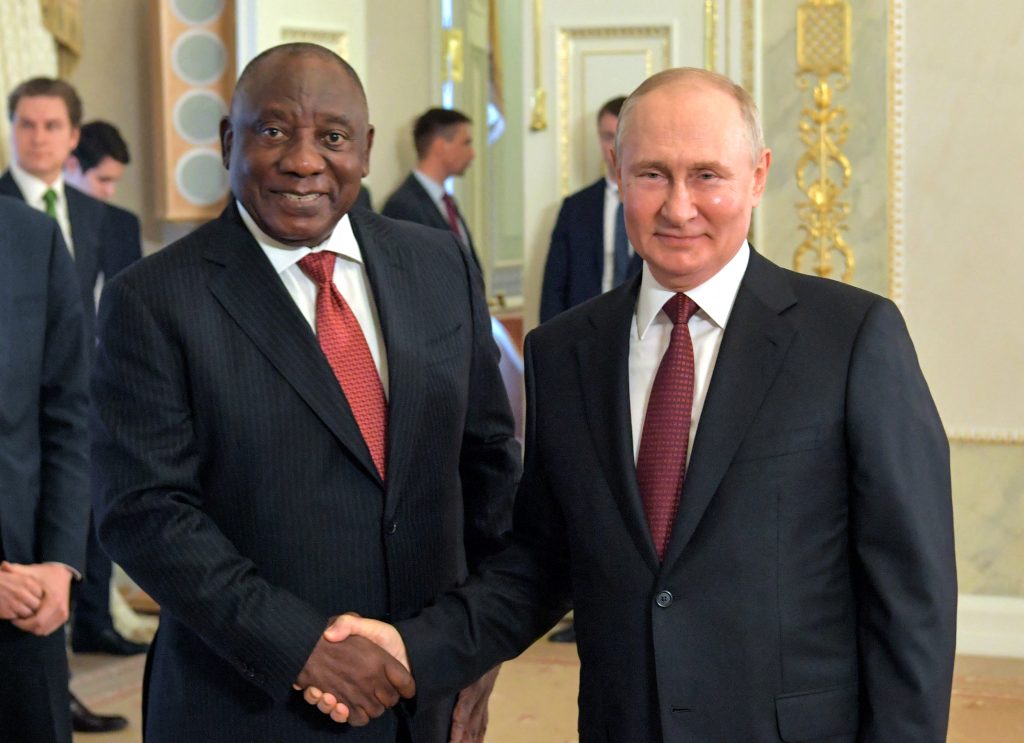 The African leaders told President Putin he should "show his desire to move forward [with peace]" before the summit, President Sall told the Financial Times on 10 July.
"We are facing the consequences of this war. We have big problems with our food security and agriculture. We buy fertilisers from Russia and today with the sanctions, there are difficulties paying for these goods. That is why we are talking to both sides," he told the newspaper.
"During this summit maybe we can have another meeting and have some progress. That's what we hope," he added.
"This war has to have an end… It must be settled through negotiations and through diplomatic means," said President Ramaphosa in St Petersburg on 17 June. "This war is having a negative impact on the African continent and indeed on many other countries around the world."
South Africa's neutral stance has been questioned in recent months, with the US ambassador accusing Pretoria of sending armaments to Russia in a move that could endanger the country's access to trade with the US under the latter's Africa Growth and Opportunity Act (Agoa).
Who will attend?
In an interview with the Russian newspaper Argumenty I Fakty on 4 April, the Russian foreign minister, Sergey Lavrov, accused the US and its allies of trying to "torpedo" the summit and dissuade African countries from taking part.
On 19 June, Russian Presidential Aide Yury Ushakov told the event's Organising Committee that 50 African heads of state had confirmed they would attend the event, but on 26 July he revealed that only 17 would be coming. He blamed the low attendance on "pressure" exerted by Western states.
In March, Uganda's President Yoweri Museveni confirmed his attendance. "I will definitely come to St Petersburg in July," he told TASS. "We had a very good relationship with the Soviet Union, and now we have a very good relationship with Russia."
President Ramaphosa will also attend the summit, even though South Africa has confirmed that President Putin will not attend the BRICS summit in Johannesburg in August due to the risk of being arrested on charges issued by the International Criminal Court.
Putin looks forward to growth of trade
In an article looking forward to the summit published on 24 July, President Putin noted that the value of Russia-Africa trade had increased to $18bn in 2022 but said that the potential was much higher.
"Russian companies are interested in working more actively on the continent in the sphere of high technologies and geological exploration, in the fuel and energy complex, including nuclear power, in the chemical industry, mining and transport engineering, agriculture and fishery," he said.
Stressing that Russia attached a great deal of importance to the summit, he said that it was expected to "adopt a comprehensive Declaration, a number of joint statements and approve the Russia-Africa Partnership Forum Action Plan to 2026" and promised there would be an "an impressive package of intergovernmental and inter‑agency agreements and memoranda with individual states as well as regional associations of the continent".
"I am looking forward to welcoming the African leaders in St. Petersburg and stand committed to a fruitful constructive dialogue. I firmly believe that the decisions adopted at the Summit and Forum, coupled with continuous diversified joint work will contribute to further development of Russian‑African strategic partnership for the benefit of our countries and peoples," he concluded.
Related articles
Russia-Africa Economic and Humanitarian Forum Programme
The Russia-Africa Economic and Humanitarian Forum includes a programme of over 30 panel discussions and thematic events:
The New Global Economy
The Sustainable Development of Diamond Mining Communities
SMEs in Russia and Africa: New Benchmarks for Partnership
Doing Business in Africa: Risks, Market Conditions, Opportunities
EAEU–Africa: Horizons of Cooperation
Russia–Africa: Prospects for Energy Cooperation
New Russian–African Logistics Routes
Integrated Security and Sovereign Development
International Security in Times of Geopolitical Instability: Cross-Party Cooperation
Stabilizing the Fertilizer Market to Eradicate Hunger in African Countries
African Food Security: How to Avoid a Crisis
Securing the Information Space: Challenges and Opportunities for Cooperation
Safe Africa
From Aid to Partnership: Working Together to Fight Epidemics
Electoral Systems amidst Challenges to Electoral Sovereignty: Legislation and Technology
International Cooperation in the Fight Against Corruption and Cross-Border Cartels
Cooperation in Science and Technology
Nuclear Technologies for African Development
Achieving Technological Sovereignty Through Industrial Cooperation
Cutting-Edge Technologies for Africa's Sustainable Development
Bringing Russian Prospecting and Development Technologies to Africa
Effective Cooperation in Healthcare: Drugs, Innovation, Technology
Fundamental Science: The Cornerstone of Technological Sovereignty
The Humanitarian and Social Sphere: Working Together for a New Quality of Life
Humanitarian Cooperation Between Russia and Africa
Cooperation in Higher Education
New World Order: From the Legacy of Colonialism to Sovereignty and Development
Russia–Africa: Transferring the Best Educational Technologies for General, Vocational and Further Education
Cultural Products and Brands for a Creative Economy
Russian and African Women for Sustainable Development and Social Progress
Global Values as a Basis for Interaction in the Educational and Cultural Sphere
Sport: A Bridge of Friendship between Russia and Africa
The Role of Business in Promoting Humanitarian Policy Abroad
Media Forum
Sovereign Media and Combatting Disinformation: The Experience of Russia and African Countries
Multipolar Information World: The Role of Africa's Arab Countries in the New Realities of International Relations
Meeting of University Rectors
Roundtable attended By Russian And African Supreme Audit Institutions
This article was updated on 26 July 2023.
Subscribe for full access
You've reached the maximum number of free articles for this month.
Digital Monthly
£8.00 / month
Receive full unlimited access to our articles, opinions, podcasts and more.
Digital Yearly
£70.00 / year
Receive full unlimited access to our articles, opinions, podcasts and more.