The Prime Minister of Togo, several members of her government, ambassadors including those from Nigeria and France, the head of the West African Development Bank (BOAD), regulators and bankers paid a solemn tribute to Ade Ayeyemi during a grand and beautiful farewell ceremony on the occasion of his retirement after seven and a half years at the helm of Ecobank.
The extravagant praises such as "Titan of Ecobank," "Visionary," "Indomitable Leader," and "Passionate Pan-Africanist" are testimonies to the gratitude expressed by various distinguished speakers for Ade Ayeyemi's exceptional role in stabilising the pan-African bank.
The banker led Ecobank with an iron fist, implementing the Institution's Transformation Program and the Leadership Strategy Roadmap. His two greatest achievements are the development of digital and online banking and the diversification of the group's activities. These have been the driving force behind the success, consolidation, and stability of the bank.
Under his leadership, Ecobank has become a major force in international finance and  has an excellent reputation.  Created by Africans for Africans, led by Africans, the Pan-African bank won several awards, including the "Bank of the Year Trophy" from African Banker in 2022 and the "Best Employer in Africa" award, given earlier in 2023 by Best Place to Work.
Ade Ayeyemi remained faithful to Ecobank's mission of being a global Pan-African bank, serving SMEs, women, and the development of Africa. He received unwavering support from the Togolese government, where the ETI holding company is headquartered.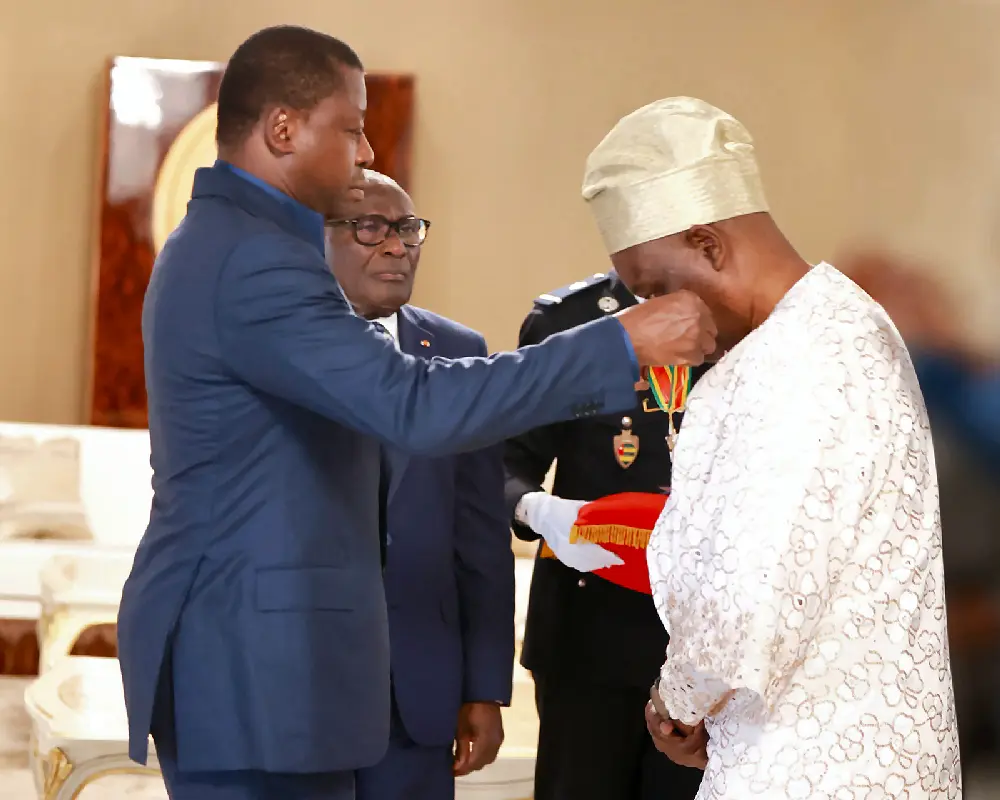 Shy yet courageous, Ade Ayeyemi led Ecobank with great humility and talent, addressing each of the numerous and pressing challenges that awaited him. He successfully handed over a reformed and strong organisation to Jeremy Awory, the new CEO. The remarkable achievements were a result of Ade Ayeyemi's hard work, alongside a strong united African team. His immense contribution played a pivotal role in putting the company back on the path to success. Proud of the work accomplished, he leaves his successor with the ambitious goal of further developing the bank to reach new heights. It is worth noting that Ade Ayeyemi warmly and fraternally welcomed Jeremy Awory, ensuring a smooth transfer, offering guidance and support. This bodes well for the future.
The magnificent African evening of celebration and tribute, set in an exceptional venue, ended late into the night with music, cheerfulness, and joy.
Want to continue reading? Subscribe today.
You've read all your free articles for this month! Subscribe now to enjoy full access to our content.
Digital Monthly
£8.00 / month
Receive full unlimited access to our articles, opinions, podcasts and more.
Digital Yearly
£70.00 / year
Our best value offer - save £26 and gain access to all of our digital content for an entire year!