In the bustling city of Ouagadougou, Burkina Faso, a recently erected statue of Ousmane Sembène towered over the crowds visiting the Pan-African Film and Television Festival in early March. The statue (pictured above) was unveiled to mark the centenary of Sembène's birth and portrays the legendary Senegalese filmmaker in his trademark cap, smoking his pipe with a contemplative gaze.
Sembène's legacy looms large over African cinema. His unique style of using social realist narratives in his films, which he learned at the renowned Gorky Film Studio in Moscow, has influenced generations of Senegalese filmmakers, who today tour the most prestigious film festivals worldwide.
Among these are Alain Gomis, whose film Félicité won the Silver Bear Grand Jury Prize at the Berlin Film Festival in 2017, and Mati Diopwhosefilm Atlantics won the Grand Prix at the Cannes Film Festival in 2019, when it was the first film directed by a black woman to be presented at the competition.
But despite international acclaim, the Senegalese film industry has not managed to reach the commercial heights of other countries. Unlike Nigeria's Nollywood, which is now the world's second-largest film industry after Hollywood, valued at $6.4bn in 2022, Senegalese films struggle to find an audience at home and generate poor revenues through ticket sales.
According to a 2016 study by the International Organisation of Francophonie, the Senegalese audio-visual sector's turnover amounted to $32.8m, of which approximately $13m comes from TV ads. As such its contribution to the larger economy is still very limited.
Why is it that Senegal, with a longstanding tradition of iconic filmmakers like Sembène, and a plethora of films presented in festivals worldwide every year, still struggles to establish a thriving cinema industry?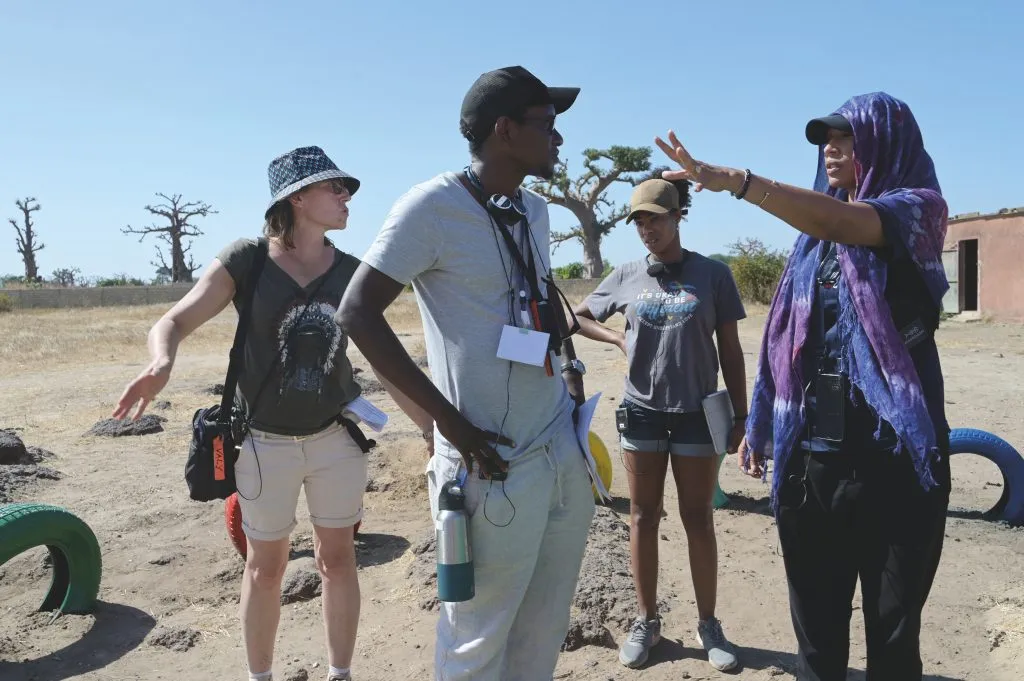 Pleasing a local audience
Most Senegalese movies that receive attention at international film festivals are auteur-led art films that are co-productions with Western countries. These mostly uncommercial films do not appeal to the average Senegalese viewer.
"Today, we have movies co-financed mostly with Western production companies, who want a certain style of movie-making, which is not the style that the average Senegalese would necessarily consume," says Toumani Sangaré, a film director and producer.
To achieve greater local success, filmmakers must create more mainstream Hollywood-style movies that resonate with a wider regional audience.
"As with anywhere else in the world, the local audience is more likely to pay for mainstream, heavily produced movies than national productions. They feel like they get more value for their money," says Sangaré, who opened a film school in Dakar last year.
In Francophone Africa, there have already been some promising examples of locally produced movies that have become popular hits. Les Trois Lascars, a Burkinabé comedy film directed by Boubacar Diallo, attracted over 50,000 viewers upon its release in 2021, a relative success considering there are just 20-25 cinemas in the region.
Sangaré's own mini-series, "Taxi Tigui," which tells the story of a taxi driver in Bamako, was also a success back in 2016, and relied solely on Malian production companies.
To replicate this model, Sangaré says, "we must find new financing mechanisms, which usually involve national and international private actors, to produce those mainstream movies at the scale of the ones we export to international film festivals every year."
But local and foreign investors may argue that no films are worth producing unless they are widely distributed. Despite representing a potential market of approximately 140m, the small number of cinemas in West Africa's Francophone countries makes it hard to imagine a profitable industry.

A revival of cinemas?
Senegal's film industry experienced a "golden era" in the 1970s, when nearly 37 cinemas operated in the capital city of Dakar alone.
This period also gave birth to Senegalese movies that have now become classics such as Touki Bouki by Djibril Diop Mambéty, which received festival acclaims in Cannes and Moscow, and was made with a $30,000 budget obtained in part from the government.
But the economic realities of the 1980s took a toll on the country's creative industries. "In the 1980s, the IMF asked African states to make budget cuts and the first industry that was impacted was culture and cinema in particular," says Sangaré.
The decline of the cinema industry removed a key space for public gathering and cultural expression. It also changed the role of the state within the industry. Today, the Senegalese government mostly helps to finance small-scale projects, which usually do well internationally, through a dedicated fund – the Film and Audiovisual Industry Promotion Fund (FOPICA). During the Covid-19 pandemic, it mobilised $500,000 to support production companies, filmmakers, and audio-visual technicians.
In recent years, there has been a resurgence of interest in cinema in Senegal. In 2016, French mass media holding company Vivendilaunched a network of cinemas called Canal Olympia throughout Africa, including one in Dakar. In October last year, Pathé opened a modern multiplex in Dakar with seven state-of-the-art cinemas and a capacity of over 1,400 cinemagoers. Nearby, an upscale shopping centre, the Sea Plaza, started screening the latest American movie-offerings about five years ago.
"We can feel the effervescence around the return of cinemas, as well as the desire of private players to be part of this dynamic," says Sangaré.
The next step is for Senegalese directors to take the place of American and French blockbusters. Six American and five French films top the billboard at the Pathé at the time of writing. Only one Senegalese production makes it there: Mère-Bi ("Mother-Bi"), a documentary film about the late Senegalese journalist and writer Annette Mbaye d'Erneville, directed by her filmmaker son Ousmane William Mbaye.
Streaming platforms to boost local productions
TV series are another potential source of revenues for Senegalese producers. Ibou Gueye, the CEO of Senegalese production company EvenProd, told the French journal Le Monde that producers usually keep between 60 and 70% of the revenue generated by advertising.
There is a significant shift towards on-demand series and films. With over 5m subscribers on its YouTube channel, Marodi TV is the biggest player in the Senegalese on-demand space. Its extensive catalogue of local programming has proved popular with audiences at home and within the broader Francophone African market. The platforms says that foreign television stations are its third source of revenue, after Senegalese channels and YouTube.
Keewu Productions, established in 2014, released the first Senegalese series to appear on Netflix four years ago. The crime-drama Sakho & Mangane, set in Dakar, managed to reach a British audience after being acquired by Channel 4 for its on-demand platform All 4.
But the most influential player, in both on-demand and production, is the French media Canal+, owned by the French family-owned conglomerate Bolloré. This year, Canal+ launched the Digital Factory in Dakar, a digital creation centre made up of graphic designers, creators, and community managers from across the continent, who work together to produce content for African audiences.
This new set-up and business model is likely to encourage the production of local films that will reach a local audience, without having to rely on foreign funding. With an estimated 14.7m internet users, representing a penetration rate of around 80%, the progress of streaming platforms continues, supporting a new wave of films financed exclusively by local production companies.
Subscribe for full access
You've reached the maximum number of free articles for this month.
Digital Monthly
£7.00 / month
Recieve full unlimited access to our articles, opinions, podcasts and more.
Digital Yearly
£56.00 / year
Recieve full unlimited access to our articles, opinions, podcasts and more.