Trapped at home in Nairobi by the Covid-19 pandemic and, like millions around the world, feeling isolated, Elsa Majimbo started posting short comedic videos to Instagram. Sitting in bed eating crisps and laughing wildly, Majimbo quickly built a devoted following.
Two years on, she boasts 2.5m followers on the social media platform; magazine covers; fashion campaigns; and a new home in glitzy West Hollywood. Like many African creators, from YouTubers and gamers to musicians and actors, Majimbo embodies the dizzying growth of the continent's entertainment and media industry.
Amid rapid digital adoption, behavioural shifts brought about by the Covid-19 pandemic, and stagnating Western markets for companies such as Netflix, YouTube and Facebook, the path to future growth in the dynamic sector could run through Africa.
As a result, Africa's fractured entertainment and media industry finds itself at a crossroads. As African consumers devote more of their time and money to media, companies will need to be nimble. And while all agree that the sector is embarking on a period of huge expansion on the world's fastest-growing continent, underlying volatility means many companies will be left behind.
"The entertainment sector in Africa is still very much emerging and we have barely scratched the surface of what can be achieved by investing in African creativity," says Marie Lora-Mungai, founder of Restless Global, a strategic advisory firm specialised in the African creative and sport sectors. The tech giants "know that their next billion users will come from Africa, which is why they are all investing heavily in the continent's internet infrastructure".
Entertainment and media covers a range of sectors, some well-established in Africa, and others products of the digital revolution heralded by mass smartphone use. Newspapers and magazines, traditional television, live music, cinema, radio and street-level advertising remain strong on the continent, particularly in less developed markets. Yet they are no match in the long term for new industries, including video and music streaming, internet advertising and social media.
Other media sub-sectors, such as mobile gaming, are just starting to gain a foothold on the continent, thanks in part to the pandemic and associated lockdowns, which upended lifelong routines. Covid-19, says Sipho Fakela, a leading Africa media consultant, "forced people to decide what was important and what wasn't". Many of those new habits have stuck.
To them that have shall be given growth
Impressive growth in entertainment and media in Africa is being driven by the continent's most developed economies. South Africa, its most industrialised nation, is the most structured market with an established creative industry and strong talent pool in film, animation, design, gaming and music. It even has its own streaming service, Showmax. The advent of 5G technology in South Africa looks set to boost the sector even more by increasing internet speeds and lowering prices.
Nigeria, with its enormous young tech-savvy population, is Africa's entertainment powerhouse, dominating in music, film, fashion and even visual arts.
Meanwhile Kenya, East Africa's economic giant and start-up hub, holds huge potential for entertainment and media companies. Last year Netflix released its first Kenyan series, a gritty family drama called Country Queen. Highly artistic Ghana, too, shows great potential.
Industry experts say smaller markets including Rwanda, Côte d'Ivoire and even Benin could also help drive growth in the sector. Dakar, Senegal's capital, has established itself as a West African cultural capital and a leading sports hub. And beyond sub-Saharan Africa, Egypt, Morocco and Tunisia are showing strong growth in gaming, visual arts and animation respectively.
Still, markets such as Namibia and Botswana are five to six years behind the likes of South Africa, says Fakela, largely due to the high price of streaming data and slower digital uptake – which leave people reliant on traditional media, including newspapers and radio.
According to mobile network industry organisation the GSMA, only 28% of sub-Saharan Africans were connected to the internet by the end of 2020. In some third-tier markets, Fakela says, the state still has a big hold on media – though things are starting to change. "The cheaper data becomes, the more you have audiences coming through," he said. "That will create a lot more fragmentation, but I think it will drive down the cost of media."
Lora-Mungai says that Africa's entertainment industry is in the process of structuring itself. "About five years ago, governments and development financial institutions, such as Afreximbank, the International Finance Corporation, the Agence Française de Développement and its subsidiary Proparco, and the African Development Bank – all these started looking seriously at the creative sector as a source of growth and job creation," she says.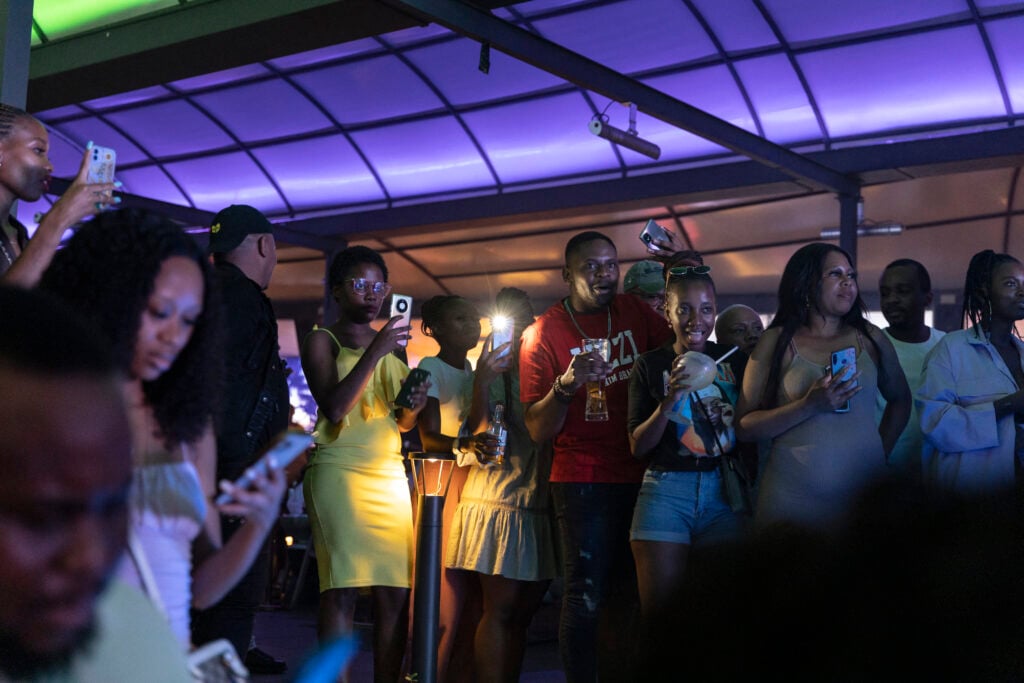 Monetisation on the move
Meanwhile, improvements in internet penetration, smartphone ownership, online payments and monetisation tools have given African creators access to the global online marketplace. During the pandemic, platforms such as Instagram and YouTube made monetisation tools, such as mobile payments and adverts, accessible to African creators, she says.
As a result, entertainment and media revenue has grown strongly in South Africa, Nigeria and Kenya since 2021 as all three major markets emerged from the pandemic, according to a report by global consultancy firm PwC. Yet Covid-19 also exposed fractures in the industry, with some sub-sectors benefiting from behavioural shifts and others losing out. Some former niche segments, such as gaming, have become more prominent for instance, while some established sectors such as newspapers are on the slide.
Advertising was hit hardest by the pandemic, but has experienced the largest rebound since, with internet advertising set to grow rapidly in the coming years. The PwC report claims that 79.7% of entertainment and media revenue gained in South Africa by 2026 will come from internet advertising, as consumers spend more and more of their time online and advertisers follow. "I think the competition then in the next five to ten years is likely to be between Google and Facebook versus Netflix or Amazon Prime, as opposed to Netflix versus the local state broadcaster," says Fakela.
Other sectors well positioned for rapid growth include music and video streaming, whose revenue growth by 2026 is expected to outpace traditional TV subscriptions in Africa's biggest markets – although TV will remain much larger. In Kenya, for instance, streaming revenue is expected to total $8.8m in 2026, while TV subscription revenue will total $420m, according to PwC. Similarly, music streaming is the fastest-growing component in Nigeria's music market with the country's artists, including Burna Boy and Wizkid, topping charts around the world.
In a sign of the changing times, when President Biden hosted African leaders at the US-Africa Leaders Summit in Washington DC in December to discuss traditional industries such as mining and agriculture, Burna Boy had just sold out the nearby Capital One arena in the American capital.
Gaming is serious
Mobile gaming is growing quickly too. Today two in five South Africans play games regularly, compared to a fifth of Nigerians and Kenyans. African professional gamers, including Kenyans Beast and Queen Arrow are drawing legions of fans.
Non-fungible tokens (NFTs) are another small but fast-growing industry in Africa, with Nigeria the world's sixth largest NFT market and South Africa the twelfth.
Meta, Facebook's owner, told PwC that its proposed virtual-reality "metaverse" could contribute around $40bn to sub-Saharan African economies by 2032. And a report by Ornico, a business intelligence firm, found more than 16% of South African consumers have participated in a "virtual world" in the past year. In 2021, Africa's first metaverse – Ubuntuland – was launched and already MTN Group and ad agency M&C Saatchi Abel have purchased plots in it.
By contrast, newspapers and magazines are expected to see their market share fall. Cinemas could also struggle in the long term, amid rising streaming usage – though box office revenue in South Africa remains strong. For now, cinemas are springing up in cities like Dakar and Nairobi, catering to a growing African middle class.
In the continent's biggest markets, a boost is coming down the track in the form of 5G (fifth generation) mobile data technology, which should usher in cheaper and higher-quality lag-free streaming, cloud gaming and virtual reality. South Africa is on the brink of 5G adoption, after a series of spectrum auctions. Nigeria held a successful spectrum auction in 2021.
"5G is going to play a huge role because I think it will significantly reduce the costs of being connected," says Fakela. "I see it as also an economic enabler, because you have new businesses coming onstream as a result of faster connectivity, and connectivity in areas that were previously underserved."
Originality and authenticity will breed success
Those that will succeed in Africa's fragmented media and entertainment industry will be those that give African consumers what they want, rather than repurposing Western content for Africa. Nowhere is that trend clearer than in streaming, where the likes of Netflix, Amazon Prime and Spotify have begun taking Africa seriously.
Today Netflix offers a vast content library, while Showmax has a slate of African originals and global sports coverage. Disney+ launched in South Africa last May, and has a foothold in Morocco, Egypt, Algeria, Libya and Tunisia. Amazon Prime Video, meanwhile, launched a local service in Nigeria in August allowing customers to purchase subscriptions in naira, and has established dedicated country teams for Nigeria and South Africa. Similar expansion has occurred in music streaming.
In turn, local companies are receiving record amounts of funding. According to Disrupt Africa, African entertainment startups recorded their best ever funding year in 2020, raising $13.9m, mostly from venture capital firms. It comes as streaming signups start to slow down in saturated western markets.
There is still some way to go, however. Streaming giants are still keen to match their investments to expected returns, Lora-Mungai says, causing African creators to grumble that budgets are still too low compared to elsewhere.
The battle between streaming giants to boost their African customer bases shows the entertainment and media industry's trajectory, which is being set by the desires of African consumers. With low barriers to entry, consumers have a huge variety of content and services available in their price range. Companies, meanwhile, must battle intense competition and continual disruption to stay relevant. For those that do so successfully, the pay-off will be enormous.
Subscribe for full access
You've reached the maximum number of free articles for this month.
Digital Monthly
£8.00 / month
Receive full unlimited access to our articles, opinions, podcasts and more.
Digital Yearly
£70.00 / year
Receive full unlimited access to our articles, opinions, podcasts and more.