This article was sponsored by Backbase
When the first wave of fintech companies offering traditional banking services through software applications entered the financial services sector in Africa a few years ago, many banks were understandably alarmed.

While banks were preoccupied with what they thought customers should have, fintech companies were thinking more about what customers needed and how to deliver it to them. "This approach, which is transparent as it informs, engages, and anticipates, has been the strength of fintech companies," asserts Emmanuel Onyeje, the Nigeria regional manager of Backbase.

Backbase is a privately funded fintech company with its global headquarters in Amsterdam and regional offices throughout the world, "from New York to Singapore and everywhere in between".

It started in 2003 when founder, Jouk Pleiter and a partner had a shared vision to "make the internet more beautiful". Nineteen years later and the company can proudly claim to be "the backbone of hundreds of banks around the world and part of the day-to-day banking experience of over 50m people".

Today, Backbase has a team of almost 2,000 people spread across 22 countries and 14 offices "all united by a single mission – to help banks re-architect around the customer". In other words, to bring banks slap up to date in terms of modernisation and to focus attention to the most important cog in the banking wheel, the often overlooked customer.

Convenience and efficiency are two of digital banking's most appealing features, and requiring clients to jump through bureaucratic hoops in order to enjoy them is not only counterintuitive, but also serves as a major gatekeeper for digital services.

Once the writing was on the wall – that customer-oriented technology was now king in financial services – many banks set out to cover lost ground by matching those services, or collaborating with the fintech providers themselves to deliver new services.

"The one thing that the fintechs achieved was to make bank executives listen more to what their information technology departments had to say," recalls Lanre Bamisebi, the Executive Director in charge of digital transformation at Nigeria's Access Bank.

The ever-increasing digitalisation of every aspect of daily life has swept Africa as much as it has other continents and a whole generation of youth has grown up with the mobile phone in hand and an amazing range of connections literally at their fingertips. Innovations, adaptations, improvements, upgrades and startling new features seem to appear every week – and the youth is right on these.

These changes in communication and consequently in the way we live, function and interact will continue to develop and new products will continue to roll out. Banks, like other businesses, know they have to keep up with the trends or become history.

Take for example payment systems, which have gone from cheques to cards to mobile-based transactions. Transactions on Apple Pay, for instance, reached $6trn in one year, exceeding the combined transactions of the world's leading card-payment companies, Visa and MasterCard. This doesn't include Google Pay and other emerging forms such as mobile money and wallets provided by mobile-phone companies, such as M-Pesa by Safaricom in East Africa and Mo-Mo by MTN in Nigeria.

Switching from systems set, literally in stone, over decades to the modern, streamlined functions is not easy – but it is essential. This is where a company like Backbase comes into its own. It's aware of all the challenges that banks face as they strive for the make-over – outdated systems and skills, inadequate infrastructure, severe competition from fintechs and mobile-based service providers, and the need to grow their customer bases to stay in the running.

What Backbase has to offer, says Mathijs Ejipe, Vice-President for Europe, Middle East and Africa at Backbase, "is like a Chinese menu where you can pick and choose what you need." For instance, he says, where a Ghanaian entity may want to tackle issues related to retail banking, a Nigerian counterpart may be seeking to deal with investment banking needs. Backbase is set up precisely to be able to address the differing requirements.

These developments come against a background of new business opportunities opening up in Africa, that promise even more growth across the continent of more than 1.2bn people.

One such is the youthful nature of Africa's population, with an average age of about 20 years and already heavily engaged with mobile telephony. For them, digital banking and e-commerce seem as natural and logical as day and night. In fact, Backbase believes that payments systems deployed across Africa are even ahead of those in more developed countries.

Equally promising for business on the continent is the coming into force of the African Continental Free Trade Agreement (AfCFTA), which has been ratified by member countries of the African Union. Closely tied to this is the establishment of the Pan-African Payment and Settlement System (PAPSS), run by Afreximbank (African Export-Import Bank). This system allows individuals and businesses across Africa to make payments to one another without having to use non-African intermediaries.

As the digital revolution gathers pace and the continent's financial systems work to keep pace with developments, an increasing number of banks are turning to companies like Backbase to help them make the big switch. Bank executives, says Mathijs Ejipe, Backbase's Vice-President for Europe, Middle East and Africa, are keen to learn about the mechanics of digitalisation and its benefits and are very open to ideas from trusted organisations that have successful track records in this respect. (See On Point section.)

Access Bank links up with Backbase
One of the biggest banking groups in Africa, Access Corp Plc, which includes Access Bank, Nigeria's largest bank by assets, is among the African banks Backbase is working with. Victor Etuokwu, Executive Director at Access Bank, says the group is pursuing a digital-first strategy for the next five years. A key objective of the strategy is to be able to sign up all its new customers, as well as manage them, digitally.

Access Bank views the entry of fintechs as a collaborative opportunity, as it is a development that enhances the ecosystem. "So, we love them, we work with them," he said. "It's something we know is good for the ecosystem, and the customer benefits ultimately."

Although it has come relatively late to the digital revolution, the African financial system has embraced technological innovation and is finding new ways of doing old things or creating things altogether new. "So, in that respect, Africa is ripe for innovation," said Ejipe, "and from the profitability standpoint, the banking sector itself is a good place to be."
ON POINT WITH:
Victor Etuokwu, Access Bank
On Access Bank's ambitions:
To phrase that properly, what we want to be is the world's most respected African bank. We're proud of our heritage, we're Africans; but we're also a global bank. When we say Bank of America is a global bank, 90% of its business is done out of America.
We're not only a Nigerian bank with Nigerian heritage, we're in 14 countries in Africa, soon to be 20. We've been in the UK for the last 12 years – the most successful African bank in the UK. We'll soon be in Europe. We have rep offices in China and India. So, we're truly becoming a global bank.
On growth options:
Our history has shown that we can grow both organically and inorganically. Today our organic play is equally as strong as our inorganic play. Several other global banks have literally grown by inorganic play, Santander, for example. Ours is a combination of both.
On digital strategy versus
bricks-and-mortar banking:
Our perspective on this is a bit different, it's a balance. Even as we think the world will move more digitally for the cost attractiveness and the service experience it allows you to manage, there will never be a total replacement for bricks and mortar, in our view. So, there's a place for bricks and mortar.
On the fintech challenge:
Wonderful, wonderful! But we're not worried, not at all. We collaborate, we compete, we cooperate because in-house we have all the elements of fintech.
As you know we're now a corporation; there are some fintechs we know today which were born in our bank. So, we love them, we work with them. It's something we know is good for the ecosystem, and the customer benefits because these are all attempts to serve the customer better, using the tools and devices we now have.
On the ratio of earnings from Nigeria versus foreign operations:
It's getting better. A few years ago, it was 85 to 15, 20, 30. Today it's almost 60 to 40. It will soon become 50-50 or even tip the other way.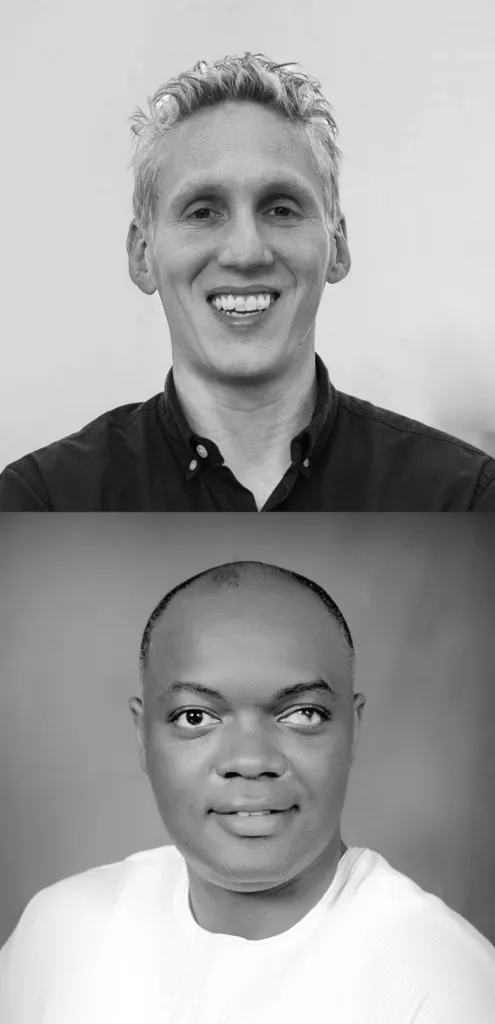 ON POINT WITH:
Mathijs Ejipe and Emmanuel Onyeje, Backbase
On BackBase's focus
Mathijs Ejipe:
BackBase is a Dutch fintech company born in the digital space. We're about 10 years in business and our sole focus is what we call the engagement layer – helping banks to solve people's little problems. We help conventional banks and new banks to achieve that goal, helping their customers in their financial lives.
On how BackBase helps Africa to catch up
Emmanuel Onyeje:
You may say Africa is behind, but in some cases, like for payments, Africa is ahead. That's why it's important that banks pivot on this – a very young population that's been born 100% in the mobile world.
Africa didn't have the PC (personal computer) revolution that the West or North America had, which means that banks can't use the traditional solutions that the West or North America used. You must pivot to mobile solutions. If you want to get more people included into the financial ecosystem, people in rural areas, what's their only means of communication? It's a mobile.
It's a very young population, so they're expecting things to happen more on their terms than we're used to. So, it's not a matter of how you see them, it's more a case of how they see you. With the revolution in fintech around the continent, people now have choices, and the younger customers know they have a choice and are quick to move if they feel they made the wrong choice. And it's important for banks to understand that.
On the current trends in different parts of Africa
Mathijs Ejipe:
I do think there's obviously some level of difference in terms of maturity. I also think it has to do with the current economic situation of the countries – some of them reflect the political situation.
But universally across Africa, I think the demographics are in a certain band wave and I trust my expectation of that population. In terms of innovation and fintech, we do see it more centralised in different parts: South Africa, Nigeria, Kenya and maybe Egypt. Those are the central hubs that are driving innovation.
On modern financial systems
Emmanuel Onyeje:
I believe that when you look at the modern financial ecosystem, banks and fintechs need to partner. Earlier on, banks and fintechs used to think they were on different sides of the fence.
I think right now the concept of partnership is what prevails: how does a bank partner with a fintech to provide those services that will increase their customer base? That's why we're seeing more collaboration between their ecosystems, and that's how their ecosystems can grow.
I think what the next stage will be is more cross-border partnerships, because there's a need to scale to make the most of the opportunities.
On the role of the AfCFTA
Emmanuel Onyeje:
There are two things that we think will really revolutionise the African economy. One is the African Continental Free Trade Agreement (AfCFTA), that has been ratified by 55 countries – which means it's the law there; and the second one is the Pan-African Payment and Settlement System (PAPSS) that is run by Afreximbank. This means for example that if you as a Nigerian want to transfer naira to another African country, you will not find it easy; however, with PAPSS you can literally transfer that money to someone in Senegal or Kenya and receive money.
That's what the pan-African payments system allows you to do. This is the first step towards ensuring that Africans can increase the volume of trading with each other for mutual benefit.
On how BackBase is perceived
Mathijs Ejipe:
The market is very open to what we have to offer. Typically, digital in that respect is a top-three agenda item either at the board level or part of the strategic vision for the bank for the coming years.
I think it's a welcome topic and executives are keen on discovering what it is and, more importantly, the how of its operations. While people can buy anything, how to utilise it, how to get a return on investment, is where executives sometimes still struggle. So, they're also very open to working with an organisation which has done it many times and with a proven model.
On Africa compared with Europe and North America
Mathijs Ejipe:
I think one has to respect how African countries have leapfrogged the more developed markets. In the US for example, banking is still very conservative and very traditional. Because of the way Africa operates, and its demographics, it is ahead of the more developed countries. So, in that respect, Africa is the place for innovation – and from the profitability standpoint, the banking sector itself is a good place to be.