In the tree-topped southern hills of Mozambique's Cabo Delgado province, the sprawling Balama mining complex looms out of the crimson earth. Here, employees of Australia's Syrah Resources work a graphite reserve which will help to power electric vehicles manufactured by Elon Musk's Tesla, the most valuable car maker in the world.
Surface explosions at the site throw up clouds of red-grey dust and stones, part of a process of open-pit mining to dislodge the valuable material before it is hauled away for crushing, grinding, floating, filtering, drying, screening and bagging. On leaving a giant warehouse at Balama, the concentrate of graphite – a crystalline form of carbon – is transported to the Indian Ocean port of Nacala for its onward journey to the global market.
From the third quarter of this year, Balama produce will make its way to a new Syrah facility in Vidalia, Louisiana – funded with a loan of up to $107m from the US Department of Energy – in which the concentrate will be processed into natural graphite active anode material for electric vehicle batteries.
In December 2021, Syrah signed a four-year deal with Tesla to supply graphite anode from the plant – a relief for a carmaker which has struggled to secure supplies in the US at the specifications and capacity it requires. With the Balama mine having an expected life of over 50 years, the deal could be the start of a lucrative relationship.
The sophisticated supply chain linking the mines of Mozambique with a processing plant in Louisiana and the high-tech automaker of California is a potent illustration of the global reach and growing importance of the critical minerals industry – a sector that will play a key role in this century's geopolitical trends – including the shift from a fossil-fuel to a renewables economy and the US-China contest for global hegemony.
Nowhere will this be played out more intensely than in Africa, which once again finds itself at the centre of a resources scramble of global significance.
Geological bounty
Dozens of critical minerals are found on the African continent. The Australian government defines these as metallic or non-metallic elements that are essential for modern technologies, economies or national security and have supply chains at risk of disruption.
Many are valuable "transition metals" – a group of elements including cobalt, nickel, manganese and chromium, which will play a key role in the shift from fossil fuels to low-carbon energy sources. Decarbonisation is driving demand for a range of minerals including these, graphite, lithium and "rare earth" elements such as neodymium, samarium and yttrium. They will underpin technologies crucial to the energy transition, including wind turbines, solar panels and electric vehicles.
From north to south, Africa's reserves of such metals are prodigious. Morocco has 70% of the world's phosphate reserves; DRC has 50% of the world's cobalt; Gabon has up to 15% of the world's manganese; South Africa has 91% of the world's platinum, 46% of its yttrium, 22% of its manganese, 35% of its chromium and 16% of its vanadium. The wider southern African region is home to substantial untapped lithium resources, used primarily in the construction of lithium-ion batteries for electric vehicles and grid-scale storage.
Overall, the continent has at least a fifth of the world's reserves in a dozen minerals that are critical for the energy transition, according to the Natural Resource Governance Institute (NRGI) Triple Win report – "which makes Africa essential in the just energy transition," says David Manley, NRGI lead economic analyst for the energy transition. Furthermore, the continent is relatively unexplored and has the lowest concentration of known mineral wealth in the world, the organisation says.
The global scramble for such minerals is only beginning. The World Bank has studied the clean energy production needed to keep global heating below 2°C by mid-century. It concludes that production of graphite, lithium, and cobalt will need to be ramped up to 3.1bn tons by 2050, up more than 450% from 2019 levels, to meet demand from energy and energy storage technologies.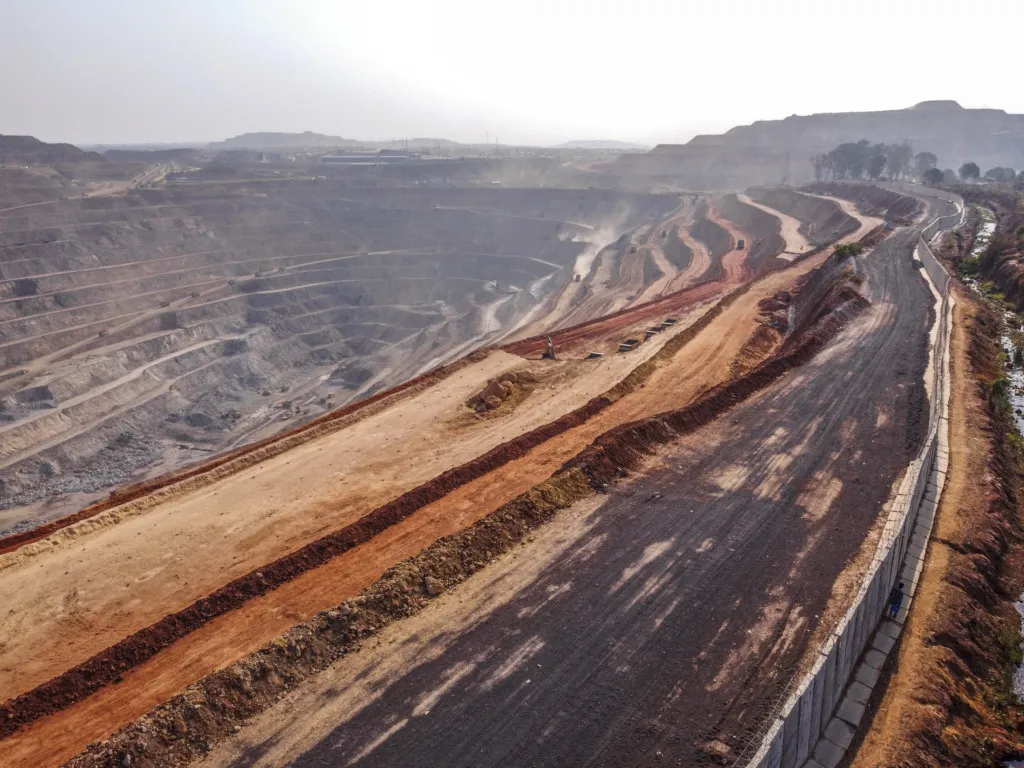 How Africa responds to the insatiable demand for its critical minerals could determine the continent's growth trajectory in the decades to come. But having vast reserves is not the same as exploiting them successfully. The "resource curse" that has defined Africa's relationship with the extractive industries in the post-colonial era has ensured that value is more often shipped abroad than retained at home. Half a century of institutional failure looms large over new efforts to harness mineral wealth.
Critical minerals exploitation will raise many challenges: some new and many familiar. Africa's policymakers will have to navigate fierce geopolitical competition for their resources, drive a hard bargain with miners over investment and royalties, and support domestic industries to ensure that value is captured on the continent. They will also need to manage environmental risks, develop regulation, and ensure that projects commence in time for the crucial phase of the energy transition.
The dragon and the eagle
As Africa assesses how it can best exploit its critical minerals resources in a short space of time, the two global superpowers – China and the US – are already making plans to access global supply.
A report from the China Research Group of Conservative UK MPs concludes that China has a "huge head start" and controls up to 90% of the "midstream" of the supply chain for critical minerals, in which, for example, minerals are transformed into fine particles with high purity levels to make them suitable for use in battery-grade products.
China accounts for two-thirds of the world's aluminium refining and smelting capacity, 80% of global lithium refining capacity, two thirds-of global cobalt refining capacity and more than 80% of global graphite production and mining, according to US Geological Survey (USGS) figures quoted by Cullen Hendrix in a report for the Washington DC-based Peterson Institute for Economic Affairs.
"China currently controls most global critical minerals refining, and its upstream control of raw commodities is also increasing. Crucially, it controls much of the world's EV [electric vehicle] battery manufacturing, as well as the manufacturing of wind turbines, solar panels, energy storage, and electric transmission, among other applications. As things stand, the world is highly dependent on sourcing from China to advance the energy transition and meet decarbonisation goals," according to a report from the Brookings Institution.
By contrast, of the 35 minerals or mineral material groups identified as "critical minerals" in a USGS report published in the Federal Register, the US was 100% reliant on imports for 14 in 2021. An additional 15 had a net import reliance greater than 50% of apparent consumption, according to the USGS. The International Energy Agency says the high concentration of production and processing operations in China is a growing concern for the energy transition.
Yet China's dominance is based as much on processing as on its reserves of minerals, many of which are imported from Africa and elsewhere. For example, China has just over 80,000 tonnes of cobalt reserves, and only six times the cobalt mining output of the United States, but controls 72% of the capacity for refining the 170,000 tonnes that are mined each year, much of it in the Democratic Republic of Congo, home to more than 50% of global reserves – 84% of the DRC's 2019 cobalt exports went to China.
China strikes new deals; US seeks secure supply
Chinese companies are striking new deals for minerals globally to secure raw mineral inputs for refining and battery manufacturing, according to Brookings, including direct investments in mining projects and companies, part-equity-stake deals, and extended supply sales agreements with mining companies. That has got the US concerned.
"China's strong supply chain position stems, in large part, from state investment in processing and manufacturing rather than an inherent advantage in reserves for most materials," according to a June 2021 Biden administration strategy document.
The review recommends that the US build up processing and recycling capacity at home – the Department of Energy's $104m loan for Syrah's Vidalia facility fits the bill. But it also recommends that the US Development Finance Corporation increase capacity for investments in overseas projects production capability and enable stronger and more resilient critical minerals supply chains by boosting relations with "allies and partners".
Demand from both superpowers for Africa's resources is thus expected to remain strong, and resource-rich nations appear well placed to benefit. But that will require African governments to work together rather than pursuing one-on-one deals with superpowers which undermine Africa's collective bargaining position, according to a report from the African Climate Foundation (ACF). The report says that conditions attached to foreign companies work best when coordinated across regions rather than struck on a country-by-country basis.
"Agreements between African governments and international companies will often be mediated by global superpowers, their geopolitical interests and national security priorities. The lack of coordination and fragmentation among African countries has played in favour of superpowers so far, the ACF concludes. "By locating domestic strategies as part of regional industrial development plans, African countries can exert more bargaining power and realise greater cluster and scale economies."
Timing is everything
Yet despite the US-China superpower competition for resources, the high-risk, capital-intensive nature of critical minerals extraction paradoxically means that miners are not investing with the urgency that the energy transition demands. "Time is of the essence. There are only 28 years remaining until countries representing two-thirds of the global economy aim to have 'net zero' emissions, yet it takes on average 17 for the mining industry to develop a mineral discovery and start production," says the NRGI.
"The investment isn't happening to the degree that's needed across the world," explains NRGI's David Manley. "From what we understand, that's because the investors behind the mining industry are worried about the timing problem. There is the theoretical demand for all these metals, but they don't know if it's actually going to be realised. They worry that if they start investing a lot, supply will go up and the price will crash…
"Therefore we need an international coordination and particular signs from governments in China, Japan, North America, Europe to say: the energy transition in our countries is happening at this pace, therefore expect this sort of demand. And then you can start investing."
Manley says that "blunt" policies are already being formulated around the world whose influence will send a strong signal to the mining community that future demand is ironclad. In June 2022, the European Parliament backed the European Commission's proposal of zero emissions from new cars and vans by 2035 – a key sign that the electric vehicle market is primed for a permanent role in the 27-nation bloc. The UK is similarly poised, having banned the sale of all internal combustion engines by 2030.
Such clear signalling, says Manley, "means that projects that aren't yet economically viable in Africa will become so".
Meanwhile, African nations can move quickly to attract the investment needed, the NRGI says, by working with multilateral development agencies to fund geological surveys to provide companies with an initial indication of where reserves might be located. The African Union's African Mineral Development Centre suggests that neighbouring countries should work together on such surveys, given the fact that reserves do not respect international boundaries and may span several countries.
The Extractive Industries Transparency Initiative (EITI) recommends that countries build up an understanding of the revenue potential of critical minerals to support long-term economic planning, for example by considering "sliding royalties" in which rates change alongside changes in commodity prices. But planning is not just about giving miners what they want.
The African Climate Foundation says that national and regional plans must involve a list of conditions for firms so that countries can direct investment to suit their own priorities: "Governments need to set both 'ex-ante' and 'ex-post' conditionalities which direct, incentivise and regulate the use of natural resources… [this is] particularly important and urgently needed before market forces, incumbents and rent positions are further consolidated."
Value added?
Nowhere is this more crucial than in African states' plans for the capture of mid- and downstream value. As the example of Syrah Resources' US-funded Louisiana plant shows, the default position remains that processing plants are sited off the continent, limiting resource-rich countries to mining operations.
"These countries could increase the benefits they reap from these minerals by building downstream capacity in processing… processed materials command significant price premia over unrefined ones," says a report from the Peterson Institute.
Yet there are significant challenges to building processing capacity. The push to develop downstream capacity comes at a time of global interest rate rises, which have reduced lending and investment. Bulk shipping allows refining capacity to take place thousands of miles from site, as at Syrah's Vidalia facility – an attractive option when countries where the minerals are located lack the infrastructure to expand processing.
Institutional problems also abound. In a survey of four critical mineral-rich African countries – the DRC (cobalt), Mozambique (graphite), Madagascar (graphite and nickel), and Guinea (bauxite) – the Peterson Institute found that none of the four countries has the energy infrastructure needed to expand refining capacity.
While hydropower offers huge potential for all four nations, the infrastructure is currently undeveloped and will require significant additional financing. All four countries were also in the bottom quartile of the World Bank's Political Stability / Absence of Violence indicator, another red flag for companies that wish to invest in processing.
Given the challenges, what can countries do to boost the mid- and downstream? The Peterson Institute recommends that countries should massively expand renewable power, exempt refinery-related capital goods and industrial inputs from tariffs, locate downstream capacity in areas of domestic stability, and commit to external policy agreements such as international arbitration to reassure investors that their projects are protected.
A battery of opportunities
But going beyond limited processing to create integrated Africa-wide value chains is hugely complex, as even the US has discovered. The UN Industrial Development Organisation (UNIDO) says that developing battery manufacturing and mineral refining in Africa is ready for scale-up, with cell manufacturing and recycling having medium-term potential. But here too, there are enormous challenges.
No single African country has all the minerals required to produce batteries, meaning that countries will need to pool mineral supplies to achieve the minimum scale and reliability, according to NRGI, as well as making sure that they are not committing too large a share of their minerals for export.
Value chains will be more viable if there is a market for battery-powered vehicles close by; unfortunately, affordability and a lack of grid-scale charging infrastructure mean that the Africa-wide market for four-wheeled electric vehicles is expected to be small for decades. The value chain for batteries made from nickel, manganese and cobalt (NMC) may thus be confined to producing battery precursor material.
But with larger potential in the African market for two-and-three wheel electric vehicles, which use lithium, iron and phosphate (LFP) batteries – also useful for stationary power storage – industries based on battery chemistry could be viable, NRGI suggests. That will require investment in cell manufacturing plants, which could be eased along by support for domestic two and three-wheeled EV manufacturers, more lithium discoveries and regional coordination on lithium refining.
In time, and backed with the right policies, much of this could be viable. But for some countries, more modest goals might include the development of suppliers providing products and services to mining companies, from pick-up trucks and replacement part manufacturers to caterers, surveyors and human resources services, supported by local content requirements to lower the barriers of entry to local firms. Such services may not have the status or economic potential of refining, but all will help to strengthen local supply chains and add useful value to Africa's exploitation of critical minerals.
Trade-offs
While there is a growing consensus that critical mineral exploitation will prove crucial to the planet's fight against climate change, the reality is that badly-managed mining operations are already damaging the environments in which they operate, according to the African Climate Foundation.
"While the mining sector and critical minerals development have not delivered their transformative potential yet, in most African countries the 'dark side of the energy transition' has become increasingly visible: local pollution of soil, air and water, the disposal of toxic residues; intensive use of water and energy; work and environmental risks; child labour and sexual abuse; and corruption and armed conflict… governments across Africa are therefore challenged from multiple directions."
According to the EITI, that could lead to a "decarbonisation divide" between consumer and producer countries. The NRGI recommends that African governments establish "no-go" environmental zones where mining is strictly prohibited.
"In terms of land use, it means identifying areas that are allowed for exploration of these minerals and protecting areas that have a high value ecosystem," says Silas Olan'g, Africa energy transition advisor at NRGI. "That should be done in a strategic way: before issuing a licence for exploration of minerals, governments should do what they call a strategic environmental assessment, which would identify risk areas."
No-go areas are challenging to implement, says NRGI's David Manley, given that governments sometimes go back on their decisions and unscrupulous miners continue regardless. Manley says the most successful no-go zones are those that have the backing of local communities and a strong legal apparatus. International financial backing could help to secure such zones in Africa, he says.
"The international community promised in the last Cop26 to pay the DRC to reduce deforestation. There could be similar sorts of agreements for a financial backing for these no go areas… and much more geological studies on less risky areas."
He admits, however, that the transition will throw up complex questions: "We also need these minerals for the transition and there are some really interesting dilemmas that the world will have to deal with here."
Indeed, Africa's successful exploitation of critical minerals may depend on many such trade-offs – the environmental costs of exploitation versus the costs of climate change; the hope for more processing capacity against the reality of complex international supply chains; the need to prepare for sustainable long-term growth while accepting that the world needs these materials immediately; and the need to get the best deal out of mining companies without scaring away investment.
The stakes are high, but one fundamental fact remains: the world wants what Africa has, and it is in the continent's power to make the most of it.
Additional reporting by Leo Komminoth
Subscribe for full access
You've reached the maximum number of free articles for this month.
Digital Monthly
£8.00 / month
Receive full unlimited access to our articles, opinions, podcasts and more.
Digital Yearly
£70.00 / year
Receive full unlimited access to our articles, opinions, podcasts and more.