Small- and medium-sized enterprises (SMEs) account for about 90% of all businesses in Africa – and women own about a third of all registered SMEs in the continent. Indeed, one in four adult women in Africa start or manage a business.

Women have not, however, enjoyed equal access to high-quality, demand-driven financial services. The African Development Bank estimates that women-owned SMEs face a US$42 billion financing gap, making lack of access to financing a common constraint to their business growth.

Ecobank Kenya Managing Director Cheikh Travaly, said during the formal launch of Ellevate by Ecobank in Kenya at the Nairobi Serena Hotel in September 2022: "The growth of women-led and women-focused businesses have been long hampered by a range of impediments, including access to finance.

"We have specially designed Ellevate to meet the needs of women entrepreneurs through the provision of comprehensive, customised and tailor-made solutions which include favourable lending rates, smart cash management enablement and a suite of value-added services such as leadership training, mentoring and networking opportunities. Ecobank Commercial Bank is allocating a minimum of 10% of its loan portfolio to women's businesses.

"Women-led businesses are a largely underserved market and Ecobank Kenya is determined to help them reach their potential, grasp business opportunities and become both scalable and sustainable. This will enable them to play a major role in Africa's social and economic development, in addition to creating thousands of the jobs needed by this and future generations of Kenyans."

During the Nairobi launch event, Ecobank Kenya donated over 6,700 sanitary pads to County Girls High School and Immaculate Hearts Don Bosco centre to support young girls from needy backgrounds.

Ecobank hopes that Ellevate will attract at least 5,000 businesses led or owned by women each year, while lending at least $100m to them annually on favourable terms. A wide range of different organisations have already been supported, from schools and hotels to fashion retailers.

A pan-African group
Ecobank Kenya is part of the leading pan-African Ecobank Group – which offers rapid, reliable and secure pan-African transactions and finance, delivered with a one-stop, seamless approach, founded on Pan-African know-how and innovative technology. Translating Pan-African knowledge and presence into business opportunity and investment performance, the Bank is helping to transform Africa's economies and the lives of the people of the continent, through landmark deals and long-term wealth creation.

Ecobank Transnational Incorporated (ETI) is a pan-African financial conglomerate headquartered in Lomé, Togo, and operates in 33 countries in sub-Saharan Africa. Ecobank Group also has banking licences in France and representative offices in Addis Ababa, Ethiopia; Johannesburg, South Africa; Beijing, China; London, the UK and Dubai, the United Arab Emirates.

A pan-African project for women
Rather than pilot the project in a couple of markets, Ellevate was first launched on 27 November 2020 in all 33 countries where Ecobank operates. In a webinar organised to promote the launch, the CEO of Ecobank Group, Ade Ayeyemi, said that women represented an untapped economic resource in Africa because unnecessary barriers prevented them from fully participating in the economy, including poor access to external finance, their lack of perceived credibility as business owners and managers, cultural gender discrimination, and violence against women.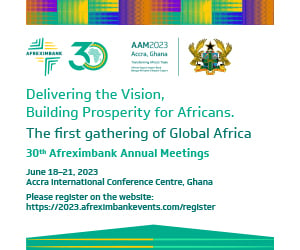 Ecobank has also launched its Emerald clubs to act as mentoring services, where established female entrepreneurs can offer advice to their up-and-coming counterparts. Training is being offered to female entrepreneurs through the bank's SME Academy, which it operates in conjunction with its business schools network. The training is designed to produce "well rounded women business leaders" and will be certified by well recognised educational institutions.

Ecobank is creating an e-commerce platform to allow female entrepreneurs to showcase their products and services. Services can also be accessed through their helpdesk.

Recovering from Covid's impact
Cash management solutions are provided to allow customers to receive and make payments, plus digital solutions to allow cashless transactions. The latter has been particularly attractive as a result of efforts to reduce the frequency of direct contact between people in order to prevent the spread of Covid-19. Ecobank offers Omni Lite online banking and EcobankPay digital payments to support both aims.

Although the income gap between men and women is narrowing, Covid-19 has reversed some of the progress made on gender equality because women disproportionately work in insecure labour markets. Marieme Esther Dassanou, the Coordinator of the African Development Bank's Affirmative Finance Action for Women in Africa (AFAWA), says women had borne most of the burden of looking after children when schools closed to suppress spread of the coronavirus. She cited a July 2021 study that showed that 80% of women-led SMEs had been forced to temporarily or permanently close during the pandemic.

Both to help them recover and support the growth of female entrepreneurs more generally, Dassanou said that financial products and services had to be tailored to the type of businesses that women run. They need flexible financing to help them bounce back from the pandemic, so AFAWA is working with Ecobank and other financial institutions to promote access to finance, including by providing more flexible collateral options. AFAWA aims to unlock $5bn financing for women entrepreneurs within the next six years,

The need for training and support
Josephine Anan-Ankomah, Group Executive, Commercial Banking, Ecobank, said "Ecobank launched Ellevate to serve and nurture the success of women-owned and women-led businesses by providing them with a comprehensive suite of financial and non-financial solutions. It aims to help them reach their full potential and increase their commercial and economic impact. 'Ellevate Equip' is a natural extension of these aims and has been designed by the Ecobank Academy to empower African women leaders by providing them with the right tools and skill sets to lead themselves, their businesses and support their communities effectively."

This is a unique training programme designed and delivered by the Ecobank Academy in partnership with the Global Business School Network and supported by its members, School of Business, INSEAD Africa Initiative and INSEAD Emerging Markets Institute (EMI), Lagos Business School, MIT Sloan Global Programs, Stanford Seed, and the University of Cape Town Graduate School of Business.

Dan LeClair, Chief Executive Officer, Global Business School Network said: "The Global Business School Network is excited to partner with Ecobank Academy in alignment with our mission to improve access to quality, locally-relevant management and entrepreneurship education for the developing world. "We are especially excited – through our diverse membership – to bring so many world-leading academics together to present this Leadership program. As a network we see this as a mutual learning experience where we encourage the cohort to take full advantage of the teaching expertise, but also confident that the faculty will look to absorb just as much about the local contexts within which these women leaders operate."