This article was sponsored by OCP
The Great Green Wall (GGW) is a huge undertaking to develop a 7,600km belt of trees coast-to-coast across the Sahel. It aims to combat desertification in 11 countries by restoring degraded landscapes and it should transform thousands of communities and millions of lives in the region.
Such grand visions are always accomplished through countless smaller steps, each enacted on a local level. It is with this in mind that the OCP Foundation has thrown its weight behind the Senegalese Agency for Reforestation and the Great Green Wall efforts in developing the GGW in Senegal.
Over the past 30 years climate change, population growth and unsustainable land management practices have resulted in a succession of severe droughts, overgrazing and resource conflict over large parts of Africa, particularly in the Sahel, which is one of the poorest regions on earth. As a result, 65% of African land is now degraded, jeopardising the livelihoods of a similar proportion of the continent's population. This has led to falling crop yields and migration, which in turn exacerbates conflict in many areas. Rainfall patterns are likely to become even more unpredictable as climate change intensifies, with huge implications for the Sahel, given that 82% of people in the region rely on rain-fed agriculture.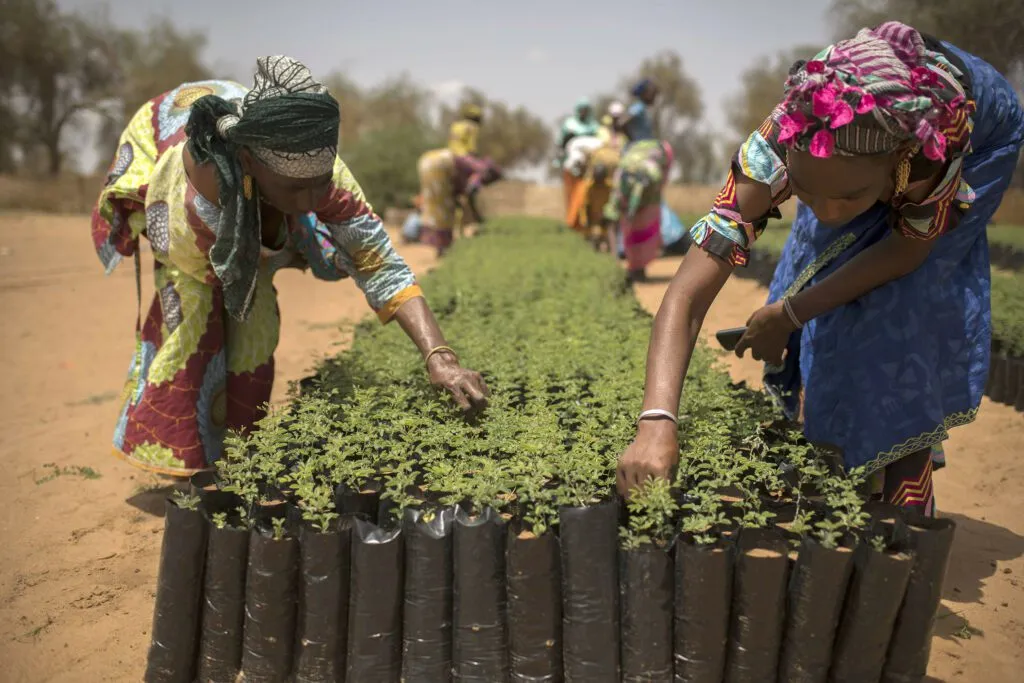 Those involved in developing the GGW hope that the project can stem and reverse the impact of these trends by strengthening food security, creating green jobs and fighting against desertification. The GGW also aims to generate sustainable income for rural populations by encouraging activities that work in harmony with local ecosystems, rather than against them.
To date, more than $8bn has been either raised or pledged to the project, which was launched in 2007 by the African Union. Sahelian governments and international partners have now joined the venture under the leadership of the African Union Commission and the Pan-African Agency of the Great Green Wall. The project is roughly 15% complete, so there is still a lot of work to be done.
The GGW aims to restore 100m hectares of currently degraded land; to sequester 250m tons of carbon; and to create 10m green jobs by 2030 to support communities across the region. Creating economic opportunities for the Sahel's youthful population will also promote food security and climate resilience in a region where temperatures are rising 1.5 times faster than the average for the rest of the world.
It will also help communities living along the route of the GGW to expand one of humanity's most precious natural assets – fertile land. In Senegal, where the initiative is being implemented by the Senegalese Agency for Reforestation and the Great Green Wall (ASERGMV), the route of the GGW covers 817,500 hectares, stretches 545km and crosses three major regions.
OCP Foundation, a Moroccan Public utility non-profit association, is now working with ASERGMV to promote the goals of the GGW in Senegal and develop resilient ecosystems along the route through consultation with local communities, especially women and young people.
Supporting sustainable human development in Morocco and southern countries, it favours initiatives that contribute to inclusive socio-economic progress, resilience to climate change, preservation of biodiversity, research and development, and technology transfer.
Pilot project
In June 2022, OCP Foundation joined forces with ASERGMV to launch a pilot project to reduce the effects of climate change on the environment and on the living standards of vulnerable populations in the Louga area of northern Senegal. There are four strands to the project, including strengthening ASERGMV's technical and managerial capacities while equipping the agency with a new fixed laboratory and mobile agronomic analysis laboratory truck to promote local autonomy and resilience to climate change.
Secondly, it aims to encourage agricultural practices that strengthen value chains in respect of the environment and improve living conditions within local communities, especially women and youth.
Thirdly, it will make use of close collaboration between relevant Senegalese research institutes and the Mohammed VI Polytechnic University (UM6P), particularly about research for development and scientific exchange. Finally, the pilot project will seek to rebuild fauna and flora biodiversity, especially through the sustainable management of ecosystems, reforestation and improved water quality.
The project includes an integrated community agriculture programme in the village of Mbaye Awa, including training for a women's association with about 500 members in good agricultural practices, operational and financial management, and agricultural marketing.
A working farm is being set up by the association to showcase best practice in generating sustainable income while respecting the environment. Another 500-strong group of female producers is receiving similar support, while work to promote local production from areas within the GGW is underway.
Research groups from UM6P and Senegal have visited each other's institutions and have conducted workshops to outline the priority areas such as soil health, water quality control, renewable energy, and environmental and biodiversity preservation. Researchers can make use of CoopLab, a laboratory that provides expertise and support for Moroccan and Sub-Saharan African cooperatives, as well as offering a set of innovative support levers to aid social inclusion and sustainable growth. Set up by UM6P and OCP Foundation in 2020, it offers training, sharing and support for the benefit of all stakeholders.
Great Green Wall Flagship Program
In order to support its efforts to mitigate the effects of climate change on the environment and the conditions of vulnerable populations in Senegal, ASERGMV has made research and development a key priority for sustainable development in its section of the GGW. It therefore reached out to UM6P for help in proposing applied research, innovation and development-based projects.
As a result, ASERGMV, UM6P and OCP Foundation have now come together to launch the Great Green Wall Flagship Program. They have called for letters of intent from UM6P researchers and Senegalese research institutes and universities relating to proposed applied research and development projects in support of the GGW initiative in Senegal.
This collaboration aims to identify locally designed and driven solutions centred around the following themes: Water accessibility and water management; Energy needs and accessibility; Communities' development through soil health improvement and ecosystem protection and restoration; and Communities' engagement and knowledge exchange. Interested parties may only submit one project and it should not exceed three years in duration.