The number of Turkish embassies in Africa has ballooned from 12 in 2009 to 43 today, according to African Business magazine research which reveals the extraordinary extent of Turkish President Recep Tayyip Erdogan's ambitions on the continent.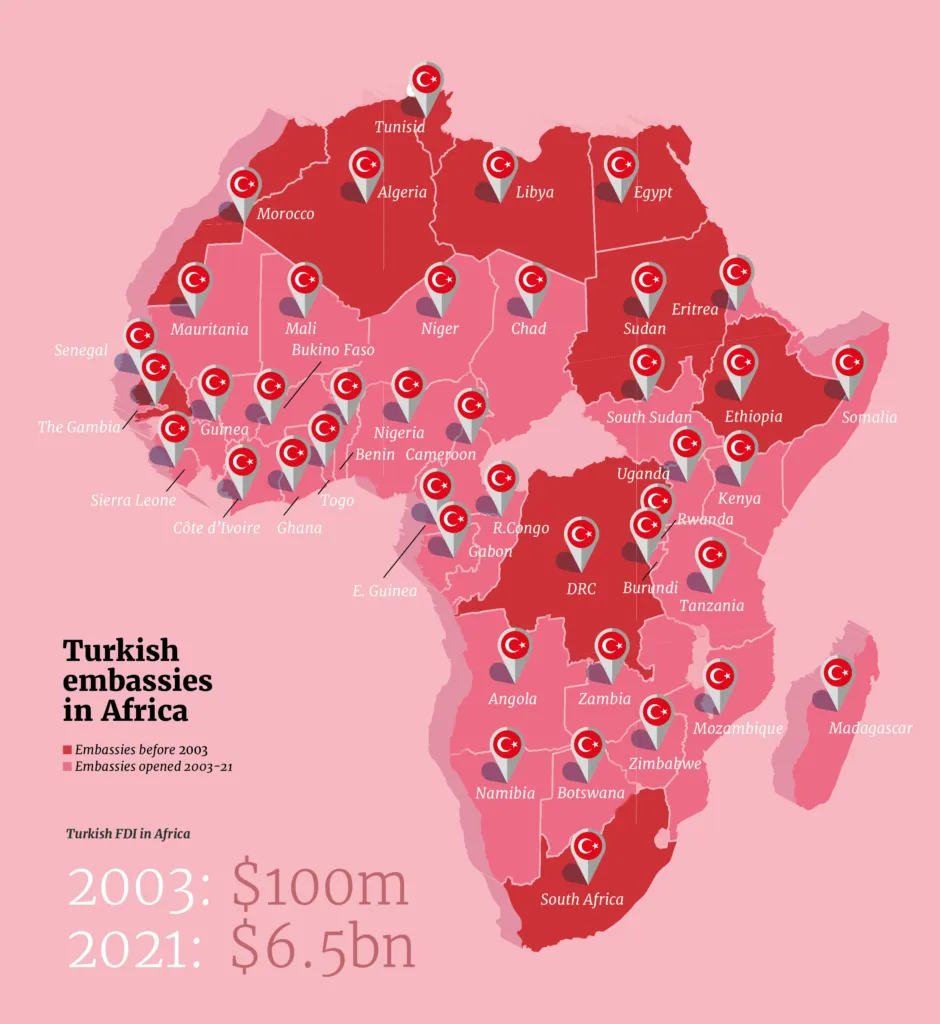 The diplomatic push has led to a huge increase in economies ties between Ankara and African nations. Trade between Turkey and Africa expanded from $5.5bn in 2003 to more than $26bn today, according to Turkish officials.
In 2005, when Erdogan was prime minister, the Turkish government announced the "Year of Africa", and Ankara was accorded observer status by the African Union. Since 2009, Ankara has engaged with African countries at feverish speed. Erdogan has visited 27 African countries, more than any other non-African leader.
The ties soon began to take on an increasingly commercial aspect. Today, total Turkish investment in the continent stands at $6.5bn, officials say. South Africa is today Turkey's biggest economic partner in sub-Saharan Africa, with bilateral trade of $1.3bn in 2019.
More than a third of Turkey's overall investment in sub-Saharan Africa – roughly $2.5bn – has gone to Ethiopia. Turkey's 225 active firms employ more than 20,000 Ethiopians and trade between the two nations amounts to $650m annually.
"Among sub-Saharan African countries, Turkey has some of the oldest relations with the people and government of Ethiopia," says Yaprak Alp, Turkey's ambassador in Addis Ababa, who notes that Turkey is now the second largest investor in Ethiopia, after China.
"As we always like to put it, our bond with Africa is more similar to that between siblings than friends," she says.

Aviation ties are also expanding. Turkish Airlines today flies to 51 destinations in 33 African countries, 26 of them in sub-Saharan Africa. As recently as 2003, it only flew to North Africa.
"It is fair to argue that Turkey's initial engagement with Africa was provoked by economic incentives," says Ali Bilgic, an expert in Turkish foreign policy at Loughborough University.
Today, "it is not possible or advisable to separate Turkish economic, political, humanitarian, and military objectives."
Reporting by Charlie Mitchell.
For the full story of Turkey's diplomatic and economic push into Africa read Erdogan's ambition drives Turkey's Africa surge
Subscribe for full access
You've reached the maximum number of free articles for this month.
Digital Monthly
£7.00 / month
Recieve full unlimited access to our articles, opinions, podcasts and more.
Digital Yearly
£56.00 / year
Recieve full unlimited access to our articles, opinions, podcasts and more.