Africa50 is an infrastructure investment platform that contributes to Africa's growth by developing and investing in bankable projects, mostly in the energy, ICT and transport sectors.
Its COO, Carole Wainaina, talks to African Business about how Africa50 is building a team to support its mission and describes some of its priority projects
Your career has centred around work that mainly involved strategy, people, transformation and development. Why did you decide to join Africa50?
I often get asked this question given that I don't have an infrastructure background. My leadership and business experience across different organisations, sectors and geographies has taught me that, regardless of the entity's mission, people, organisation and partnerships are key success factors.
I therefore consider my "toolbox", which contains diverse experiences, capabilities and networks, not only highly transferable but complimentary and much needed in any organisation today.

Africa50 was particularly attractive because it came at a time when I was feeling more called to play a bigger role in contributing to the transformation of Africa.
The opportunity to help build a more innovative organisation to develop and invest in infrastructure on the continent that had both a commercial and a developmental mandate was exciting. I was also inspired by the fact that Africa50 is an African solution to an African challenge. 

How are you building the team at Africa50 to support this mission?

The journey of building a world-class pan-African organisation is going well. We are up to almost 40 employees now, covering the gamut of project development and finance expertise, backed up by investor relations, communications, and other support teams.
We've been able to attract recognised experts in finance and development who combine outstanding academic backgrounds with extensive and diverse experience. 

Many come from the private sector and have been attracted to Africa50 by our innovative business mode, the opportunity to grow professionally and also because they are firmly committed to making a positive impact on the continent.
While 80% are African nationals, the others hail from Europe, Asia and North America. Such diversity is not only our goal, it is also a great asset to helping us accomplish our mission.

We hear a great deal about the fourth industrial revolution, a global mega-trend affecting the way people live and work. How does infrastructure investment and the work of Africa50 fit into that?

Infrastructure is essential for development and affects industrialisation at all levels, be it building up traditional manufacturing, which is a priority, to the fourth industrial revolution based around ICT and innovative technologies.
It helps diversify production, expand trade, raise productivity, and lower costs. Road, airports and ports open and connect markets; telecommunications enable information and services; water and sanitation improve health; and electricity binds it all together.
In many African countries expansion of traditional infrastructure is unlikely to keep pace with technological advances, so innovative technologies, mostly in ICT, must bypass existing constraints by leveraging alternative forms of tech-enabled infrastructure.

ICT (along with power, transport and midstream gas) is one of the key sectors covered by Africa50's mandate to help reduce the infrastructure funding gap on the continent.
Through close engagement with our 27 African government shareholders we act as a bridge between the innovators, the investors and government stakeholders to finance and implement projects.

We also benefit from having an integrated approach, with the ability to deploy capital for both project development and project finance. This enables us to function like a one-stop shop throughout the lifecycle of a project, including during the crucial early development phase. 

Africa50 has selected ICT as one of its priority sectors. How do you reconcile the rapid progress across Africa in digital business, mobile banking, and similar services with the wider lack of connectivity?
The internet and the digital economy that depends on it is one of the most powerful tools to positively impact and transform lives, bringing great benefits in most sectors of human activity.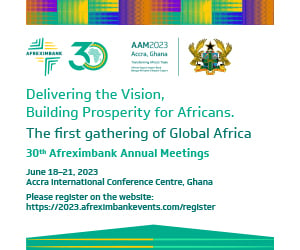 Indeed, Africa is already tapping into many of the opportunities unlocked by the mobile revolution but it must do more to fully engage in the digital economy.
Although the continent has the fastest growing proportion of internet users in the world, it still has the lowest levels of internet access, with 75% of the population offline, including two thirds in rural areas. 

The lack of connectivity infrastructure, including reliable electricity, is a major barrier to increased access, along with high cost, and lack of appropriate local content.
On the supply side we need to significantly ramp up electricity generation, the continent's most pressing need, and find alternative ways of expanding ICT networks to remote areas.
On the demand side we must improve ICT literacy and skills and stimulate interest by providing relevant local content and services. And, most of all, we need to make all this affordable for everyone.

Much depends on what is commonly known as "last-mile" connectivity. We must reach not only the millions of Africans living in large urban cities, but also those far from roads and electricity. This is possible.
Africa's international internet bandwidth has tremendously increased over the past decade. Almost 55% of the population in sub-Saharan Africa now lives within reach of an operational fibre optic network node, compared to about 42% in 2013. If these growth figures can be maintained – and I believe they can even be accelerated – soon the vast majority of Africans will have high-speed internet connectivity, allowing the fourth industrial revolution to really take off.

Africa50 recently launched its first innovation challenge, how will that contribute to reducing Africa's connectivity gap?

As a pan-African investment platform, we are committed to contribute to our continent's most critical and pressing development challenges. Internet connectivity is a key driver for inclusive growth, provided it is accessible, affordable, easy-to-use and adapted to people's needs. 

We just launched the first edition of the Africa50 Innovation Challenge at the 2019 Transform Africa Summit in May 2019. Through this initiative, Africa50 will crowdsource innovative solutions to help increase access to high-speed internet in under-served areas in Africa.
The call is open for ICT developers, innovators, engineers, entrepreneurs to submit workable solutions, via an online platform, to be assessed by the Africa50 investment team and its partners.
The winning solutions will receive cash prizes or be considered for project development funding.
Projects will be rolled-out in Rwanda as the pilot country, with the objective to scale them up to other countries in Africa. This Challenge is an exciting opportunity for us to engage with the most creative minds to find novel solutions that can help address last mile connectivity in a holistic and sustainable manner. 

What is possible, if Africa has full connectivity and internet for all?

The impact of improved connectivity and the technologies and infrastructure that come with it is already having a significant positive impact on Africa and its people, and this is only the beginning. Even some of the most advanced technologies can be applied in many parts of Africa, much like cellphones broke new ground in the face of some scepticism two decades ago.
Disruptive technologies such as AI, robotics, and drones can help countries in Africa leapfrog hurdles in health, education, manufacturing, and transport infrastructure, among other areas as it has already done in financial services.  
One possibility that is dear to my heart as an African mother, is the opportunity for Africa's youth to become key players in the digital economy with the right skills and capabilities to help drive the economic and social development of our continent and, indeed, the world. 
Subscribe for full access
You've reached the maximum number of free articles for this month.
Digital Monthly
£7.00 / month
Recieve full unlimited access to our articles, opinions, podcasts and more.
Digital Yearly
£56.00 / year
Recieve full unlimited access to our articles, opinions, podcasts and more.