Twelve miles off the coast of Namibia and 150 metres above the ocean floor, a fleet of six vessels scans and sifts for the valuable diamonds that boost the economies of southern Africa.   
Honing in on a promising area using geophysical mapping, a crawler cuts and dredges the seabed, sucking some 60 tonnes of sediment per hour through a giant pipe and onto the vessel. Without any human contact, the sediment is washed and sorted for the glittering stones, which are sealed into small, barcoded containers for the first stage of their journey to the boutiques of Europe and Asia.
To many, subsea diamond mining may sound like a far-off vision of the future, a fanciful innovation on a par with asteroid mining. But with 1m carats recovered from the seabed in 2015 alone by global mining giant De Beers, the technology is already well into its infancy. For the firm, which has made a vast fortune sifting the soils of Southern Africa for 130 years, heading to the oceans is not just a technological luxury but also an economic necessity.
With an estimated 95% of diamonds expected to come from the seabed off the coast of southwest Africa and land stocks ever more depleted and costly to exploit, the firm sees the ocean as a vital new frontier in its dominance of the global diamond industry. The sea-bound future of the diamond sector is just one of the thousands of eye-catching ways in which Africa's businesses, policymakers and ordinary citizens are turning their attention to the blue economy – a vast, largely untapped area of potential economic activity that has long played second fiddle to land resources.
From deep-sea mining and oil drilling to fisheries, aquaculture, trade and tourism, Africa is only just waking up to the potential of the vast ocean and lake resources on its doorstep. Thirty-eight of Africa's 54 states are coastal, and maritime zones under Africa's jurisdiction total some 13m sq km, according to the United Nations. Africa's lake zones cover approximately 240,000 sq km while its transboundary river basins cover 64% of the continent's land area.
Yet until recently, this vast canvas attracted surprisingly little attention. While small-scale fisheries and maritime trade have been a feature of the African coastline for millennia, the practical, technical and monetary difficulties of exploiting offshore areas mean that huge economic opportunities have gone begging. After years of neglect, the multilateral community is finally waking up. Policymakers are excitingly speaking of job creation, new sources of government revenue and the limitless potential of ocean entrepreneurship.
The African Union has launched its 2050 Integrated Maritime Strategy in a bid to provide a broad framework for the protection and sustainable exploitation of Africa's marine resources. At its heart lies the creation of a Combined Exclusive Maritime Zone of Africa (CEMZA), a common maritime space intended to boost trade, protect the environment and fisheries, share information and boost border protection and defence activities.
But despite the obvious ambition, the challenges to successful implementation are immense. From concerns around environmental sustainability to the dangers of corruption and a dearth of actionable data, policymakers need vast resources to get to grips with large swathes of their own territory. In June, London hosted the inaugural Africa Blue Economy Forum, where policymakers and businesses met to chart a way forward.
Speaking at the forum, World Ocean Council president and chief executive Paul Holthus summed up the challenge facing Africa: "You need a stable operating environment based on security, the rule of law and a set of policies that are in place and enforced as a fundamental framework. There's clearly some significant challenges with regard to illegal and unregulated fisheries, piracy in relation to shipping, and oil and gas issues. Tapping these problems is really at the front end of having that stable environment, and solving them in themselves creates opportunities."
On land, policymakers struggle to turn well-meaning rhetoric into reality. If the blue economy is to become more than a branding slogan, meaningful resources and rigid policy implementation will be just as important at sea. "We need to be able to govern resources effectively and be able to utilise them in a way that's transparent and inclusive," says Kevin Chika Urama, senior adviser to the president of the African Development Bank (AfDB) on inclusive and green growth. "The capacity to be able to do this requires resources which are lacking in some if not most African economies."
Fishing for opportunities
In tiny fish markets along the coastline of Kenya, locals crowd around as fishermen return with their morning catch. From sleek fishing vessels manned by full-time crews to young boys in canoes trying their luck, all are looking for the best price for their catch. Yet while previous generations returned with the larger species once prevalent along the coast, today's fishermen have to make do with a diminished haul.
After decades of neglect from policymakers, the fishing communities of the coasts are facing potential catastrophe. As fishermen adapt to new technologies and increased populations boost demand for fish, coastal fisheries are being steadily decimated. It's a similar story in West Africa, where the income of artisanal fishermen has dropped by some 40% per canoe over the last decade, according to the World Bank. 
With freshwater and ocean fish contributing to the food security of over 200m Africans and providing income for over 10m, fishing sits at the forefront of debates about how to make the most of the blue economy while preserving a fragile ecosystem. "Small-scale fisheries are collapsing themselves by overfishing – they're completely unregulated and unmanaged," says Jeremy Prince of Murdoch University's Centre for Fish and Fisheries Research in Perth, Australia.
"The number of mouths to feed has been increasing, the value of the fish has been going up. For coastal communities one of the easiest ways to earn income is to sell fish. It's got easier to preserve and transport fish and that didn't exist a few years ago, so the reach of the market is further… the fishing gear is cheap and universal." As well as the trade-off between profit and sustainability, the crisis in Africa's small-scale fisheries also highlights one of the most significant hurdles facing the wider blue economy – a dearth of actionable data with which to formulate policy responses.
"You're seeing food webs collapsing. They just haven't implemented management, fisheries have been below the radar and [policymakers] haven't been able to collect good statistics on them and there's been no way of making scientific assessments. If you can't measure it you can't manage it," says Prince. "We don't really lack policies in terms of the blue economy, maritime industry and ports," concurs Urama. "The problem with the sea is that it's a massive resource and you need massive resources to be able to understand what you have… to manage these things you need robust data, science and technology."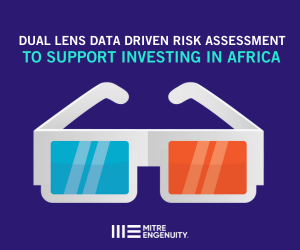 Paradoxically, that has left policymakers with far more data on large-scale fisheries operating miles offshore than the artisanal fisheries that operate under their noses. Indeed, sophisticated blue economy businesses may be easier to regulate than their artisanal peers. Adapting the data-driven approach that characterises attempts to regulate large businesses to smaller operators is one way to harness the potential of a burgeoning ocean sector – from small tourism boats to coastal fisheries and independent fish farms. Bringing small operators into tax and regulatory systems remains a formidable challenge.
"The problem we've had is an inability to apply what we use from large fisheries to smaller ones," says Prince. "These systems are too information and data intensive to apply to coastal communities where [policymakers] haven't even been able to count the number of fishermen. But there are some similarities – the basics of controlling the size of the fish you catch, not catching fish that are too small for their breed… in a big-picture sense the solutions are the same."
Yet building vast data sets, not to mention funding the education required at community and policy level to force through change, requires a huge increase in resources that many African countries lack. Persuading cash-strapped treasuries to splash cash on speculative ocean-based projects is a big ask at a time of on-land austerity. After all, there are few voters to be won in the middle of the Atlantic or Indian Oceans.
"Obviously you're going to need billions of dollars to be able to build all the capacity required to be able to do this," says Urama. "Investing in education, science and technology, robotics and drones and all the technology that advanced societies are using to monitor ocean resources is huge. It's difficult to put a number on it." In a bid to interest countries in ocean management, the AfDB is developing finance mechanisms, including "blue bonds", to catalyse investment into marine opportunities. The AFDB is also looking to boost concessional financing for countries interested in launching ocean projects.
"Most of these states are small so they need concessional financing to harness the blue economy effectively. Within the bank we use the African Development Fund to help small and fragile countries to develop their economies with concessional funding… We find that many African governments are already beginning to work on blue economy development plans," says Urama.
But where there are great opportunities for economic advancement, there are also likely to be opportunities for corruption. Africa is already estimated to lose some $42bn per year through a combination of illegal fishing and illegal logging, according to UNECA. Industries notorious for corruption, including oil, gas and mining, are likely to turn their gaze towards the ocean economy. Meanwhile, the porousness of maritime borders and a lack of ocean security were brutally highlighted by the Somali piracy crisis of the early 2010s. Have policymakers learned from that era of marine criminality?
"Because things are offshore and out of sight, out of reach of direct government intervention, there's potentially more opportunity for activities that are outside the norms or illegal," says Paul Holthus. "On the other hand there is less opportunity for potentially corrupt practices in the sense of engagement by government officials because they're not physically there [at sea]."
"We need to be able to deal with those issues before we are able to sustainably manage the blue economy and resources relating to it," adds Urama.
A blue future
Despite the immense challenges highlighted by the fishing industry, there is little doubt that successfully harnessing the blue economy offers huge opportunities for African nations. That is particularly true of Africa's rarely discussed island nations, for whom the blue economy brings special resonance. While Mauritius may be a small player with just 1,850 sq km, according to UNECA, its territorial waters of 1.9m sq km catapult it to the size of South Africa.
"Island countries like Mauritius, Seychelles, Cape Verde have really already been engaged in the importance of the ocean economy, and with the movement towards the blue economy at the same time as the Sustainable Development Goals, its really coming together for those island countries and those that have a greater historical interaction with the sea," says Holthus. "Major fishing countries have really been out in front with this and that is helping to drive continental and regional efforts to get countries engaged in this – there's some great best practices, terms of finance and investment and enabling policy conditions that are emerging from this."
While policymakers may finally be taking the lead, there remains a crucial responsibility for the business community to put its views across and drive the agenda.
"I would suggest there's a need for much more structure and engagement with the business community so that we really get that real world exchange with policymakers. [We want] business folks to say we've got these solutions, here are the challenges and barriers we are facing. Let's develop a more active exchange so we can fine-tune these frameworks and operationalise them."
The hope is that a new understanding between the governing elites and the businesses that ply the ocean will unleash a new engine of job creation. Whether in diamonds, fishing or tourism, the blue economy should become indistinguishable from the broader currents of economic growth. "The blue economy generally is a huge job creator, from artisanal fishing to high-end aquaculture, marine biology and deep sea mining," says Urama. "For most countries, especially island states, the blue economy is the economy itself."
David Thomas
Subscribe for full access
You've reached the maximum number of free articles for this month.
Digital Monthly
£7.00 / month
Recieve full unlimited access to our articles, opinions, podcasts and more.
Digital Yearly
£56.00 / year
Recieve full unlimited access to our articles, opinions, podcasts and more.