Last July, the Payment Association of South Africa (Pasa) published an interoperability standard for biometric authentication on payment cards.
Until then, the use of biometrics by banks had been limited to operations in their own branches or for use on their own services. The new standard opens the way to using cards with biometric identification – whether in the form of fingerprint, palm, voice, iris or facial biometrics – across the banking system. It will also allow banks to exchange payment instructions with each other via biometrics.
Pasa CEO Walter Volker said: "Biometrics have been around for many years, but they have never been adopted in the payment space. This unlocks network effects, as consumers are not 'locked' in a bank or a tech provider."
Judging by the results of opinion polls, the general public backs the move both for the increased security and the ease of use. Capitec Bank is already working with the Department of Home Affairs to create a biometric database to tackle identity fraud to "make it much harder for criminals to commit fraud against Capitec Bank customers."
In October, First National Bank (FNB) unveiled its new mobile app for both Apple and Android users, which uses fingerprint-enabled logins. FNB Chief Executive Jacques Celliers commented: "The intuitive new features of App 5.0 are a clear demonstration of how we are prioritising customer needs. This platform also puts us in a much better position to continue capitalising on the seamless convergence of banking and telecoms, to produce integrated solutions."
The FNB app also gives private and premier banking customers the option to use Secure Chat to discuss their finances directly with a member of staff. Banks have to tackle fraud but also confront competition from other sources, including telecoms providers.
They are having to face up to the fact that some of their sources of income, such as domestic and international bank transfer fees, are disappearing. The whole architecture of their banking systems is being redeveloped to cope with the challenge and it is very difficult to predict the shape of global financial services and flows in 10 years, never mind even further in the future.
Homegrown technology goes global
The government and banking sector's desire to promote banking technology has encouraged the emergence of fintech start-ups in the country. For instance, S African firm ThumbzUp has developed mobile point-of-sale systems that are available in S Africa through ABSA.
Its technology is now also used in Australia and the US, with more markets to follow, particularly in Southeast Asia. Despite setting up a global operations headquarters in London, ThumbzUp will continue to assemble its Payment Pebble devices in S Africa.
Pretoria is backing the whole move towards biometrics and indeed is developing its own Smart ID card. The card contains a contactless chip, meaning that it does not have to be inserted into any machine and the lack of wear and tear should mean that it lasts longer.
Apart from the chip, it also has security features in the writing on the back to thwart counterfeiters, in much the same ways as a bank note. The card contains biometric data that allows your fingerprints to be checked against it. It could be used as ID in many places, including banks when opening an account.
A separate social welfare ID card using biometrics is also being designed by the South African Social Security Agency to fight fraud and corruption in its social welfare cash transfer systems. At a briefing in March, Bathabile Dlamini, the country's Minister of Social Development, said "biometric verification must be at the centre of recipient authentication" as a way to combat "the worst form of abuse and theft."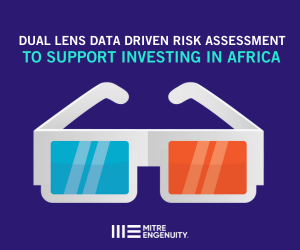 Standard Chartered looks beyond SA
Last year, Standard Chartered started rolling out fingerprint and other biometric technologies in 15 of the 31 African and Asian markets in which it operates, as part of its $1.5bn technology investment package, which is being invested over three years. 
It aims to allow 5m clients to access financial services merely using voice and/or fingerprint recognition. Vocal patterns are as individual as fingerprints and so offer additional or alternative security.According to Standard Chartered, it is the biggest deployment of any form of fingerprint biometric technology by any international bank.
Fingerprint technology is already operational in Botswana, Ghana, Kenya, Nigeria, Tanzania, Uganda, Zambia and Zimbabwe, while voice biometric technology is being rolled out for phone banking services.
The CEO of retail banking at Standard Chartered, Karen Fawcett, said: "Fingerprint and voice biometric technologies give our clients more convenience and security when they want to access their bank balances, cards and investments, wherever they are and whenever they want. We're bringing the latest digital technologies to all our markets so that we can offer easy, convenient and secure banking to our clients."
Finally, a new mobile and online banking platform will provide banking services to 1m customers in eight African countries. The Standard Chartered mobile app is available on all Android and iOS phones enabled with fingerprint sensors.
Standard Chartered has launched video banking in Africa for the first time. Although the technology was already available to customers in many Asian countries, Kenya was chosen as the location for its first African video service. It is also providing secure tablets in branch and off-branch locations for customers to open accounts and seek loans.
Support from Abuja
The Nigerian government too is embracing biometrics, both in encouraging its uptake by Nigerian banks but also through the use of biometric technology on government projects, such as the nationwide census.
The National Identity Management Commission of Nigeria (NIMC) is rolling out a national ID programme incorporating fingerprint, facial and iris biometrics. At the start of April, NIMC renewed its contract with Safran Identity & Security to upgrade its automatic biometric identification system (ABIS).
As in S Africa, this should reduce the scope for ID fraud across the country, including when opening bank accounts. Fingerprint and other forms of biometrics offer yet another opportunity for Africa to leapfrog technologies. Many Africans may find that their first formal bank account is one accessed via a smartphone using fingerprint biometrics.
Yet it is up to the continent's banks to be brave enough to seek out the latest technologies, both for their own security and in order to meet the challenges of the fintech and mobile telecoms companies head on. It is fashionable to now talk of new technology being disruptive but the banks can disrupt the existing order for their own benefit and that of their customers if they so wish. It does not have to be a negative process for them.
Subscribe for full access
You've reached the maximum number of free articles for this month.
Digital Monthly
£7.00 / month
Recieve full unlimited access to our articles, opinions, podcasts and more.
Digital Yearly
£56.00 / year
Recieve full unlimited access to our articles, opinions, podcasts and more.