Jay Ireland, ceo of GE Africa, reaffirms the company's commitment to continue investing in Africa, despite difficult market conditions. 
Are things progressing on the continent like you'd like them to and does that bode well for the continent in terms of what you're doing across a number of sectors, the power sector, the transportation sector etc?
Obviously, the narrative on Africa has gotten a little less optimistic over the last couple of years with the drop in commodity prices and we've seen the impact on some large economies such as South Africa, Nigeria and Angola. But the infrastructure needs are still there across every country.  We are working closely with a lot of the governments and the private sector around bringing more power, rail capability and even some oil and gas equipment. Our outlook is still good.  We're seeing a little bit of growth year on year and I think it's just a question of really continuing to invest in what our commitments have been and we're still committed to Africa in a very strong way.
Are there any particular projects that you're particularly proud of in the past year that GE has undertaken or that you're working on?
We've been active across a number of areas. One has been the power projects that we're doing around the region.  And then I think the other thing is we're continuing to invest developing localised solutions, like our [manufacturing] facility in Calabar, Nigeria.  We opened an innovation centre in June in Johannesburg We opened a $13million training centre here in Kenya back in June, where we will train 10,000 healthcare workers in diagnostic imaging. We're delivering locomotives from our assembly facility in Pretoria for the Transnet deal that we closed a couple of years ago. Those are all major achievements.
Investing in people has been one of the key value proposition of your investments in the continent, so you feel that's going according to plan?
We've taken our employment from about 800 people to almost 2,700 people.  We've continued to invest in skills building around the region with training facilities like I mentioned.  We've got a continued focus around building out capability in a couple of other countries from the standpoint of being able to assemble and manufacture more here on the continent, so I would say none of that enthusiasm has diminished at all and we still feel very bullish about the potential of Africa.
And in terms of investment in infrastructure, and again looking at the power sector which is key for all the countries across the continent, are you confident that 2017 will see a continued increase in the infrastructure spend by governments and private sector?
I hope so and I think so. Obviously many countries are balancing their GDP to debt ratios and at the same point in time trying to continue to invest in infrastructure, so I think it's up to us private sector players to come with some novel financial solutions other than always requiring sovereign guarantees. I think that's one of the things that we're going to focus in on pretty hard.  We've done a great deal, a very innovative deal here in Kenya around healthcare, outfitting 98 hospitals with diagnostic imaging suites with managed equipment sourcing and financing. So the goal for us is to try to figure out and work with other players in the banks and other funders in trying to put together some solutions that will work for.
One notable deal that was announced this year was the one between GE and Atlas Mara in terms of creating a new funding solutions to finance infrastructure, can you tell us a little bit more about that?
We're working with the two of them, Atlas Merchant Capital and Mara Group in putting together an infrastructure fund that we feel can be utilised in providing capital and capability to a number of projects around Africa.
There has been a lot of press around the railway concession in Nigeria that you are interested in?
We don't have a concession and we've not made any bids. The government asked us if we would be interested, which we are, and we're following the procurement process at this point in time.  So there's been a lot of press out there but it's fundamentally now for us focused on just following the procurement.
But you see it as an interesting space to be in, the railway transportation space?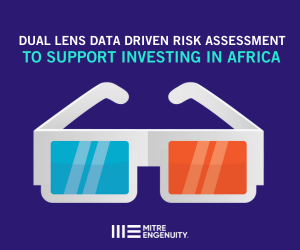 Definitely, I mean when you look at the logistical capability of the countries around Africa, there's a tremendous amount of need.  The fleet of locomotives on average are almost 30 years old across the region, so the track has got to be maintained, many companies ship by truck instead of rail which is much more efficient and effective if the rail line works and so we think that there's a lot of opportunity for this.  In Kenya you've got the standard gauge rail project that's being done by the Chinese that highlights that, so I think there's a lot of opportunity. The key is figuring out how to make it work economically and making sure that you have significant off take for the freight to make it work.
What do you see as GE's unique value proposition compared to what's being offered from Asia for example?
We feel the technology of our equipment is top-notch, number one. It's the most fuel or energy efficient and it has the highest capability.  We now have a digital footprint tying in our Predix platform which gives us a capability on the installed base to really provide a tremendous amount of solutions and upside for our customers.  And then the other thing is we're investing in Africa as well so we're not just coming in and selling something but we're also here for the long-term and we've invested in people and in process and capability on the ground which we also think is very important.  We're as creative as we can be and flexible as we can be from the standpoint of the needs of our customers.
You have been in Africa since 2011. Have you noticed considerable improvements in infrastructure?
Improvement has been made for sure, but the problem is with the rapid expansion of the economies and of the population and people joining the middleclass, it's not a matter of improving infrastructure but also keeping up with demand. There's still a lot of work that has to be done. I feel good that we're making progress but I don't know if we're not losing ground, that's what I worry about.
One of the models that GE has been using in Africa is working closely with governments to put together holistic solutions. Can you tell us more about those partnerships?
We have what we call company to country agreements and in the industries that we operate in, in healthcare, oil and gas, power generation, transportation, we have solutions that we think can help solve some of the problems and issues that countries might have. We engage at a country level with ministers and look at what we can provide along with what is required from the government side to put together a solution including contributing to developing local solutions and enhancing processes to help deliver solutions that have a clear impact. These partnerships I feel put us in a great situation with our clients and it also means the governments can ensure we're that whatever commitments that we make are aligned with their needs.
People have been talking about how the fall in the price of oil has had a significant impact on the sector. What is your outlook on the sector?
I would certainly say we are starting to see growth in the sector but it's still not what it was obviously.  We've just made a big announcement, our venture with Baker Hughes so from our perspective we're looking at providing a lot more capability for our customers.  And so we think as the price increases you will start to see more and more projects come back online.  Countries here in Africa need that oil revenue to drive the economies and help them invest into other infrastructure so it will remain important.
You mentioned the Baker Hughes announcement. What can you clients expect in Africa?
What it does is it brings a company that's a very good company in equipment technology, which is us, with a great company that is in the oil field services area. Add to that the digital capability that GE brings. There is little overlap in terms of what we do, however what this brings is end to end solutions for our oil and gas customers  I think this will be very valuable and we'll be able to really tie in the digital offering from the standpoint of some of the applications and things that we'll be developing in our cloud solutions to the customers.
When people think of GE they don't necessarily think of digital, they think of turbines, they're thinking of locomotives, oil and gas solutions, they don't see you as a digital company. What is this digital aspect you are mentioning.
It's what we call the industrial internet. We've been champions of that over the last few year. We are providing digital solutions from the standpoint of utilising the internet and the cloud capability in computing and providing the ability for the customers to get more out of the equipment that they have – how they operate it, how they maintain it. And then also feeding back into how we develop new products by understanding how these other products function and are utilised.  From a client's perspective, better diagnosis may mean you may be able to postpone maintenance because things are better than what you thought or maybe increase maintenance because it's a harsher environment. Things that you couldn't know before until you kind of opened up the equipment, now you can track that because you have sensors and other solutions that are tracked digitally.
Subscribe for full access
You've reached the maximum number of free articles for this month.
Digital Monthly
£7.00 / month
Recieve full unlimited access to our articles, opinions, podcasts and more.
Digital Yearly
£56.00 / year
Recieve full unlimited access to our articles, opinions, podcasts and more.